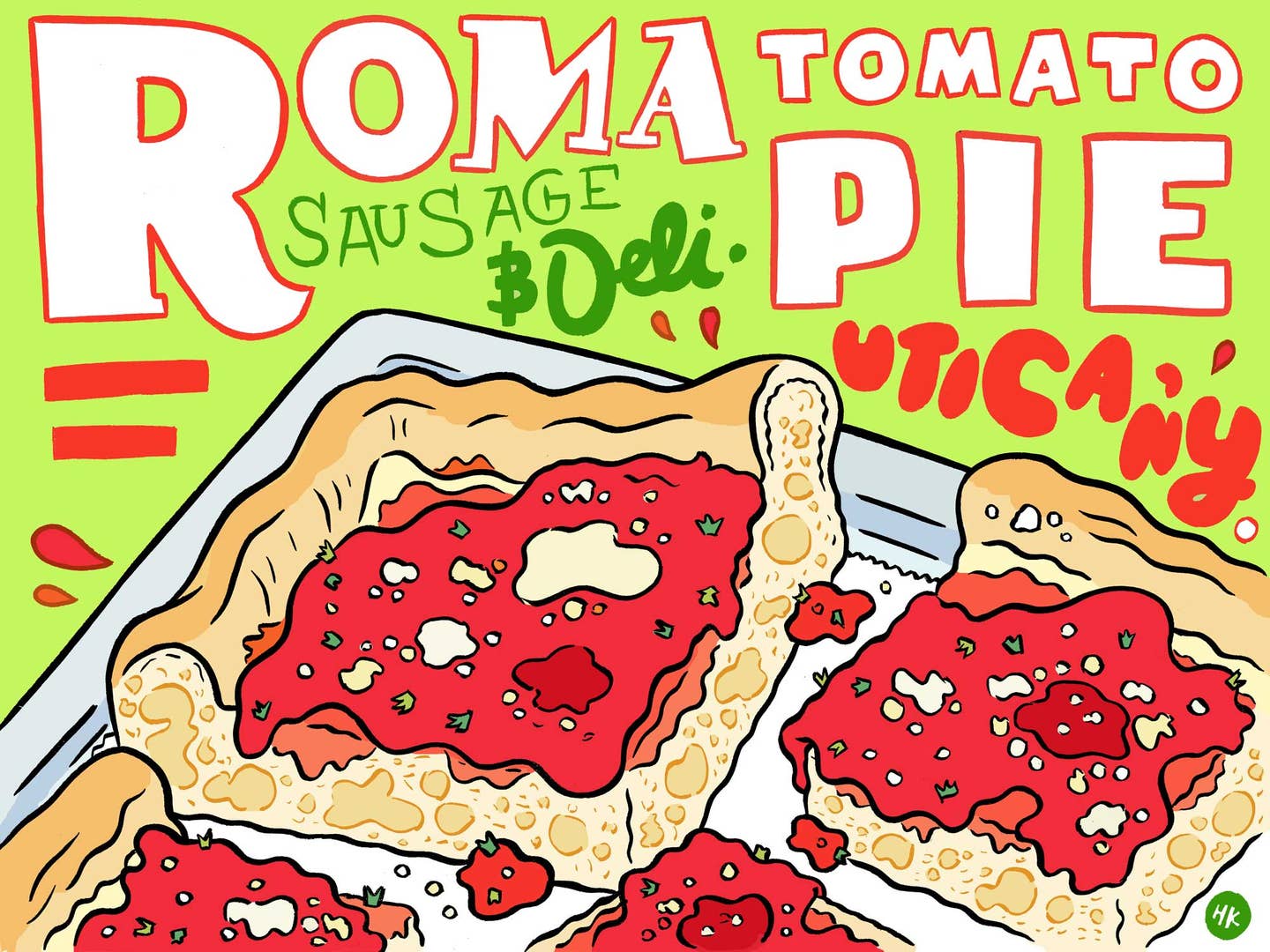 Travel
Never Tried Tomato Pie? Then Get Yourself to Utica Right Now
It's not pizza and it's not pie. But this delicious object of hyper-regional obsession reaches its apotheosis at an upstate New York sausage shop
Welcome to Hawk's Illustrated America, a monthly series following illustrator Hawk Krall's journeys through the back roads of the U.S. in search of our country's most obscure and delicious regional specialties.
A lot of people don't get tomato pie, the hyper-regional, served-cold, thick-spongy-crust-pizza-bread more commonly sold out of bakeries than pizzerias. But for those of us who grew up with it, it's a magical thing: a masterful balance of pillowy dough, slightly sweet sauce, and a savory dusting of parm or romano cheese, best eaten cold out of the box, maybe even on the hood of your car.
Growing up in the Philadelphia area, tomato pie was one of those things that was just always around, and everyone had a strong opinion about who made the best. Later in life, I was shocked to learn that what I called tomato pie was virtually unknown across the country, save for a few scattered regions like central New York and parts of New England. Tomato pie is seemingly everywhere and nowhere; I've tried it in Delaware, New Jersey, and 90-year-old bakeries in the mountains of northeastern Pennsylvania. I've had "pizza strips" in Rhode Island (virtually the same thing, but cut into strips), and oddball variations like Florida's Cuban-influenced scachatta, a specialty of Tampa.
After a lifetime of eating it, I can honestly say the tomato pie at Roma's, an out-of-the-way sausage shop on an industrial strip of Utica, New York, is the best I've ever had.
For such a simple product, tomato pie is made in wildly different ways across the country. Some doughs are thick and almost undercooked. Others are charred and blistered, which is delicious, but takes away a bit of the definitive sponginess that differentiates tomato pie from a Brooklyn grandma slice or Sicilian pizza. Sauces vary from savory and herb-centric to some so sweet they're rumored to contain grape jelly.
Roma's crust is nice and thick, with a nice crispness, but not charred or oily. It's still light and airy in the middle, with just enough sponginess, but not raw or doughy in the least. And the sauce is incredible, layered on thick—half an inch in some spots—where lesser bakeries slap on a layer so thin you can see the dough underneath. Roma isn't shy with the "shake cheese" either; the mix of Romano and Parmesan liberally covers every slice.
Like a lot of the best spots down my way, Roma Sausage & Deli looks more like a warehouse than a pizzeria, on a semi-industrial strip of rust-belt Utica. It's half retail store, half commercial sausage purveyor, with a line of delivery trucks outside. They sell a standard variety of Italian-American products, with the bakery counter on one side, where boxes of the magical tomato pie are stacked 25 high, ready to be instantly passed into the hands of waiting customers.
This is not a pizzeria; there are no tables or chairs. The only dining option is al fresco, on the hood of your car (not an uncommon sight in front of Roma), because if you open that box before you get home, there is no way you are not eating a slice of that beautiful tomato pie.
Maria Broccoli, who runs Roma with her husband Steven, gave me a rundown of the shop's history. Steven grew up in a meat packing family and spent most of his life in the food service business before branching out on his own with Roma in 1999. It started as a sausage maker and distributor for the Utica region, but two years later branched out into bread and baking as well, and decided to add tomato pie to the repertoire. As Maria puts it, tomato pie has "been around [the Utica area] forever," and the business took off like crazy.
Maria also filled me in on what makes Roma's pie so special. Rather than relying on a standard recipe, Steven did his homework; experimenting with different doughs, sauces, and techniques for about a year before settling on what he thought made the best tomato pie. Lesser pies can feel sort of haphazardly thrown together—not a shocker for a product that was likely originally just a use for scraps of dough and extra sauce. But Steven perfected a fairly complicated process for the dough that involves specific proofing times and several separate trips into the oven. The sauce is also tweaked to shine at room temperature and stand on its own as the main flavor of this simple product. Roma doesn't distribute their tomato pie to other shops or retailers like a lot of bakeries do. They don't deliver or ship. The only way you're getting it is by walking in the door.
Even in tomato pie hot spots, people don't know much about its history or where it first appeared in the U.S. I asked Maria if she knew who made the first in Utica, and she laughed. "I have no idea" she said, but she did point me toward Oscungizzi's, which started making five-cent slices of tomato pie in their basement in 1910, but now is more of a pizzeria that serves hot "upside down pizza" (square, with cheese under the sauce, a related but very different product that we also have here in Philadelphia).
My theory has always been that tomato pie is an American version of Sicilian sfincione, a similar flatbread sold on the streets of Palermo at room temperature, dusted with breadcrumbs and anchovy. Swap a few ingredients but keep the general sense of thrift and you have a simple, cheap street food staple of the Italian-American communities of the early 20th century.
Regardless of exactly how tomato pie got to Utica, Roma cranks out their stellar version like there's no tomorrow. The shop often runs out before closing time at 4:30, and long lines form during holidays and sporting events such as the Super Bowl.
Maria says they are looking into a way to ship their tomato pie all over the country. "We get TONS of requests for this on Facebook," she says. "But we would only do it in a way that would maintain the integrity of the product. Keeping the quality is the most important thing." They are also looking into some T-shirts for fans, much easier to ship than food. Maria also stresses that anyone coming in for tomato pie should try their sausage. They do standard hot and sweet italian, as well as a Sicilian sausage made with provolone cheese and red wine. I tried both when I was there, and they are indeed delicious. One more reason to head back.
Hawk Krall is an artist, illustrator, and former line cook with a lifelong obsession for unique regional cuisine, whose work can be seen in magazines, newspapers, galleries, and restaurants all over the world. He focuses on editorial illustration, streetscapes, and pop-art style food paintings.