Travel Guide: Rome
Where to eat, drink, and stay in the "Capital of the World"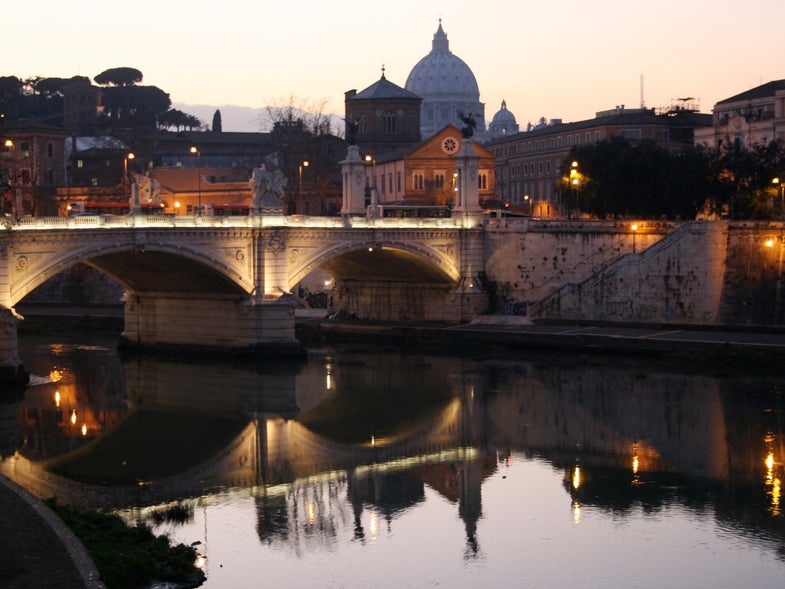 With a city nicknamed Caput Mundi—Capital of the World—it's only natural that Romans are accustomed to seeing their home as unrivaled in matters of history, culture, and food. And while it's true that traditional local cuisine holds a sacred place at the table, the Eternal City is hardly impervious to change. The city's classics, from carbonara to cacio e pepe, are still universally beloved, but Rome's dining and drinking culture, like that of all cities, is in a constant state of slow evolution. Recently, tightening purse strings, a transitioning food economy, and changing palates have conspired to create exciting new ways of dining, drinking, and shopping for food. Visitors to the Italian capital will be endlessly satisfied, whether they are after traditional foods or fresh flavors.
The innovative features of Rome's flourishing food and drinks scene are at their best when they use tradition as a foundation: neo-trattorias like Cesare al Casaletto serve clever twists on the classics, while the nascent craft cocktail culture, embodied by The Jerry Thomas Project, embraces historic spirits and forgotten flavors. Wine bars and craft beer pubs run by enthusiastic experts promote small producers over conventional choices and a revived interest in food provenance has given rise to a growing number of farmers' markets—which contrary to popular belief are relative newcomers to the city's gastronomic landscape.
Where to Eat in Rome
Terre e Domus
"Locavore" isn't a trendy buzzword at this wine bar and restaurant near the Roman Forum; it's an imperative. Terre e Domus is run by Rome's county government and its aim is to support local farmers and winemakers by only using ingredients sourced in the city's environs. Even the bottled water comes from a nearby spring. Chef Marco Pasquali serves seasonal Roman classics like vignarola, a stew of artichokes, fava beans, peas, and lettuce, as well as perennial favorites like potato gnocchi and polpette di bollito, deep fried patties of simmered beef. The espresso is among the finest in town, but you don't need to sit down for a whole meal to try it—just swing by on your way to the Forum and get a quick caffeine fix at the bar. The place gets busy at lunch, so book ahead and request a table with a view of Trajan's Column.
Terre e Domus
Via Foro Traiano 82-4
Piazza Venezia, Rome, Italy
+390669940273
Cesare al Casaletto
If there is any place in Rome that warrants a trip across town, it's this neo-trattoria in the Gianicolense district. Getting there is simple: just hop on the #8 tram at Piazza Venezia and take it to the end. A short walk from the tram stop, chef Leonardo Vignoli serves classic and innovative Roman fare. He has a flair for fried starters like eggplant croquettes, baby octopus, squash blossoms, and polpette di bollito, while his tripe, oxtail, and pig liver always hit the mark on flavor and texture. The wine list, which mixes small producers from Italy and France, is outrageously affordable and features mainly organic and biodynamic producers.
Cesare al Casaletto
Via del Casaletto, 45
Gianicolense, Rome, Italy
+3906536015
Tavernaccia da Bruno
When Bruno opened his "tavernaccia" in southern Trastevere in 1968, he served Roman classics alongside rustic country dishes from his native Umbria. Now, Bruno's daughters are at the helm and follow in their father's footsteps with a few additions to the repertoire. The Sardinian chef—Bruno's son in law—masterfully uses the wood-burning oven to slow-roast punta di petto (beef brisket) and maialino (suckling pig) to tender perfection. The wood-fired lasagna is exceptional and there is a tasty assortment of thin-crusted pizzas and flatbreads, as well.
Tavernaccia da Bruno
Via G. da Castelbolognese, 63, corner with via Panfilo Castaldi 12
Trastevere, Rome, Italy
+39065812792
Salumeria Roscioli
For the past decade, this deli-wine bar-restaurant combo has captivated chefs and food writers drawn in by its exceptional ingredients. They are best when presented simply: burrata with semi-sun-dried tomatoes, mortadella, and 30-month aged Parmigiano-Reggiano; and Isigny butter and Cantabrian anchovies on the house sourdough. The rigatoni alla gricia is dressed in a tight sauce of cured pork jowl, black pepper, and copious amounts of finely grated Pecorino Romano, and the spaghetti alla carbonara is made with the eggs of goat's milk-drinking Livorno hens. Book a table on the ground floor near the kitchen for marginally roomier seating than you'll find in the crowded basement or deli area.
Salumeria Roscioli
Via dei Giubbonari, 21/22
Campo de' Fiori, Rome, Italy
+39066875287
Metamorfosi
Few Michelin-starred venues in Rome are worth the investment or the calories; Metamorfosi is a noted exception. The Rome-trained international kitchen flawlessly executes contemporary cuisine drawing on native Italian ingredients fused with modern techniques and exotic (by local standards) flavors. Signature dishes like candied tomato ravioli with burrata and cured pork jowl and miso-lacquered eel with caramelized onions and tangy vinegar sorbet are supremely balanced; the rest of the menu, which changes a few times a year, is guided by the seasons.
Metamorfosi
Via Giovanni Antonelli, 30/32
Parioli, Rome, Italy
+39068076839
La Torricella
The Testaccio neighborhood, the site of a former slaughterhouse, may be known for quinto quarto (offal and poor cuts), but the menu at this family-run institution on the edge of the district is decidedly fish-focused. The D'Alfonsi family serves fresh catch from the nearby Tyrrhenian Sea, and their antipasti are particularly good: pan-fried anchovies, fried and marinated baby octopus, and fresh octopus salads. Be sure to ask about the antipasto cart, which tends to be rolled only to tables of regulars, before ordering. Pastas and mains change regularly, but there are always whole fish on the menu, served roasted or grilled.
La Torricella
Via Evangelista Torricelli, 2/12
Testaccio, Rome, Italy
+39065746311
Flavio al Velavevodetto
At the edge of the Testaccio neighborhood's nightclub row, Flavio De Maio serves an offal-driven menu of Roman comfort food in a deeply historical setting; the dining rooms are excavated into a hill made of 2,000-year-old olive oil jugs. De Maio's rigatoni alla carbonara is deceptively light in spite of its rich ingredients—eggs, cured pork jowl, and Pecorino Romano—and you'll want to pick up his braised oxtail with your hands and eat it off the bone. The cacio e pepe, simmered tripe, and fried lamb chops are similarly alluring, but be sure to save room for Rome's creamiest tiramisù.
Flavio al Velavevodetto
Via di Monte Testaccio, 97
Testaccio, Rome, Italy
+39065744194
Tempio di Iside
Francesco Tripodi, a Calabrian transplant to Rome, serves exquisitely fresh fish at this cavernous restaurant near the Colosseum. The raw items, including French oysters and Adriatic shrimp, are without rival in the Italian capital, and the pasta dishes—like spaghetti with sea urchin roe and linguine with crab—are elegant in their simplicity. In Rome, fresh fish is a luxury, which is reflected in the prices at Tempio, but you'll be hard pressed to find fish in this category anywhere else in town.
Tempio di Iside
Via Pietro Verri, 11
Colosseo, Rome, Italy
+39067004741
Pizzeria Ostiense
Three young friends opened this lively pizzeria in April 2014 in the Ostiense district, a rapidly transitioning industrial zone. Pizzas may be the main event, but locals know to begin with assorted fried starters like fiori di zucca (squash blossoms filled with mozzarella and anchovies), filetti di baccalà (battered cod), and simmered beans. The pizzas are made in the classic Roman style: briefly leavened dough is stretched, rolled flat, then baked in a wood-burning oven. The result is a crispy, practically rimless pie. The best pizzas are the ones sparsely topped like the Napoli (with tomato, mozzarella, and anchovies) and fiori di zucca (with mozzarella, squash blossoms, and anchovies). Desserts like panna cotta (served dripping with chocolate sauce) and tiramisù are creamy and satisfying.
Pizzeria Ostiense
Via Ostiense, 56 b/c
Ostiense, Rome, Italy
+390657305081
Tonda
North of the city center, Tonda's domed, ceramic-clad oven bakes Rome's finest thick-rimmed pizzas. Although the local Roman style calls for a thin, crispy base, Tonda emulates the Neapolitan tradition of a thicker, slightly chewy crust. Toppings range from classic margherita to innovative carbonara (topped with the ingredients traditionally found in the pasta dish) and there is a wide assortment of fried appetizers to start with. Tonda also serves trapizzini—triangular pockets of dough filled with simmered meats or offal. All ingredients are top-notch and the wine list is well curated, but the gourmet sourcing doesn't translate to a pretentious atmosphere. Tonda is a down-to-earth neighborhood joint with friendly service and a loyal following, so be sure to book in advance.
Tonda
Via Valle Corteno, 31
Nomentano, Rome, Italy
+39068180960
Where to Stay in Rome
Hotel 47
Built on the ruins of Rome's ancient livestock market, this early 20th century building was designed in a rational/fascist architectural style, complete with clean lines and plenty of white limestone. But now, the austere atmosphere has been replaced with hospitable modernity and restrained luxury. The upper floors have views of the verdant Aventine Hill and over ancient temples to the rooftops of Trastevere. The top floor bar, which is open to visitors as well as guests, provides a shaded retreat from the ruins below.
Hotel 47
Via Luigi Petroselli, 47
Circo Massimo, Rome, Italy
+39066787816
Babuino 181
Part of Alberto Moncada di Paternò's Rome Luxury Suites hotel chain, Babuino 181 is located mid-way between Piazza del Popolo and Piazza di Spagna, a bustling shopping district. Each of the 24 rooms is furnished with muted tones, large beds, and marble bathrooms. In the summer, the rooftop terrace hosts al fresco breakfast service and evening cocktails.
Babuino 181
Via del Babuino, 181
Campo Marzio, Rome, Italy
+390632295295
JK Place
Housed in La Sapienza University's former architecture building, the JK Place, which opened in 2013, is a relative newcomer to Rome's growing number of boutique luxury hotels. Each of the 30 lavishly decorated rooms, many of which are set in converted classrooms, are outfitted with fine textiles and beautifully designed furniture, while the common areas are packed with pieces of Neo-Classical sculpture and contemporary art. In spite of its location near the intersection of Via del Corso and Via dei Condotti—Rome's high-end shopping nexus—the rooms are quiet and sheltered from street traffic.
JK Place
Via di Monte D'Oro, 30
Campo Marzio, Rome, Italy
+3906982634
Where to Drink in Rome
Stavio
Just south of the city center, Rome's old industrial zone and commercial port is slowly transitioning into a trendy nightlife district with clubs, cocktail bars, and pubs. Stavio, which is set in an old granary, pours beers from its dozen or so taps and hand pumps. Brews from the eponymous brewery are on constant rotation alongside craft beers from Italy, Belgium, and the UK. Stavio attracts a young crowd for their nightly aperitivo (a sort of happy hour) when they serve discounted beer with complimentary snacks.
Stavio
Via Antonio Pacinotti, 83
Portuense, Rome, Italy
+390694363146
Caffè Propaganda
Caffè Propaganda's long, polished zinc bar is home to one of the city's most exciting cocktail programs. Helmed by top mixologist Patrick Pistolesi, Propaganda serves dozens of classic cocktails with an Italian twist. Pistolesi draws on Italian spirits, citrus, vermouth, and even red wine when crafting his concoctions. The bar gets crowded and patrons are admitted on a first-come, first-served basis, so pop in for an early aperitivo followed by a stroll past the neighboring Colosseum.
Caffè Propaganda
Via Claudia, 15
Colosseo, Rome, Italy
+390694534255
The Jerry Thomas Project
The faux-speakeasy trend may be old news in the U.S., but it is currently in full swing in Rome. At The Jerry Thomas Project, a team of well-traveled friends has joined forces to create a cocktail mecca in central Rome. The house cocktails include historic drinks, many of which were first mixed by the bar's pre-Prohibition namesake, as well as original creations featuring obscure spirits and house-made vermouths based on turn of the 20th century recipes. A booking and a password are prerequisites for entry, so come prepared.
The Jerry Thomas Project
Vicolo Cellini, 30
Campo de' Fiori, Rome, Italy
+390696845937
La Barrique
La Barrique is part of a growing number of Roman wine bars that completely eschews conventional wines in favor of organic, biodynamic, traditional, and natural options. Their assortment of sparklers is stellar and the white, red, rosé, and orange wines showcase excellent and affordable producers from Italy, France, Austria, and Slovenia. The list of wines by the glass is extensive and ideal for solo drinkers eager to taste a variety of styles, but groups should dive into the fabulous bottle list.
La Barrique
Via del Boschetto, 41
Monti, Rome, Italy
+390647825953
Litro
The leafy Monteverde Vecchio neighborhood is home to one of Rome's most dynamic wine and cocktail bars. The owners are obsessive about knowing all their producers personally, and each bottle on the constantly changing list is chosen for its ability to express the terroir of its origins. Recently, mixologist Valeria Sebastiani took over behind the bar and introduced a refreshing assortment of aperitivos, as well as some stiffer cocktails for mezcal and whiskey lovers. The tiny kitchen serves a selection of small plates, cheeses, and cured meats.
Litro
Via Fratelli Bonnet, 5
Monteverde Vecchio, Rome, Italy
+390645447639
What to Do in Rome
Daniela's Cooking School
Taking a cooking class with Daniela Del Balzo feels like learning to cook from your sweetest friend. Guests begin with a trip to the nearby Testaccio Market to shop for ingredients, then return to Daniela's beautiful home on the Aventine Hill to prepare and eat a full meal. She is supremely hospitable and an excellent teacher, so her classes book up well in advance.
Daniela's Cooking School
Aventino, Rome, Italy
Peroni
Not to be confused with the industrial beer company, Peroni is a kitchenware shop a short walk from the Vatican. The showroom brims with pots, pans, tools, glassware, and gadgets, and items range from simple pasta tools to French enamel cookware. At storefront 16-17 on the same square, their other shop, Peroni in Pasticceria, specializes in baking tools and ingredients.
Peroni
Piazza dell'Unità 29
Prati, Rome, Italy
+39063210852
Elifant Archaeo-Culinary Tours
Classical archeologist Elizabeth Bartman and prolific food writer and historian Maureen Fant recently launched a culinary tour company that focuses on food history and archeology in Rome and Naples. Their Roman itineraries sample historic dishes, contemplate ancient food commerce, and explore the city's ancient Jewish culinary tradition, providing a thorough portrait of more than 2,000 years of Roman dining and drinking.
Elifant Archaeo-Culinary Tours
+13478686345
Antiqua Tours
Wife and husband team Sarah May Grunwald and Ettore Bellardini are the hardest-working couple in the local wine tourism business. The two trained sommeliers organize wine events, offer private tours, and coordinate small group tastings in Rome and its environs. For a deeper understanding of Italian regional wine, spend an afternoon with them visiting historic wine bars in Rome's historical center, or take a vineyard excursion to the nearby countryside.
Antiqua Tours
+393497197603
Trionfale Market
Its roughly 200 stalls fill a modern covered space a few blocks north of the Vatican, yet the city-run Trionfale Market remains unadulterated by Rome's notorious tourist flood. Dozens of produce stalls showcase local and seasonal specialties, while several international stalls cater to Rome's robust immigrant community. Roman and Halal butchers sell meat and offal, while specialty stalls sell dried fruits, spices, eggs, and honey. Its atmosphere, energy, and excellent produce make this a great destination to snag picnic provisions or to stock up on ingredients if you're staying somewhere with a kitchen.
Trionfale Market
Via Andrea Doria
Trionfale, Rome, Italy
+390639720786
Biomercato
The farmers' market phenomenon is slowly gaining momentum in Rome. Since the late 19th century, city authorities have actually tried to maintain an elongated supply chain in order to generate jobs and ensure regulation, but a few groups of farmers have emerged to change the game. At the Biomercato, which is held Sundays in Testaccio's converted slaughterhouse, biodynamic farmers sell seasonal produce beside artisanal bakers and pig farmers selling beautifully cured pork.
Biomercato
Largo Dino Frisullo
Testaccio, Rome, Italy
+393337035270
Costantini
This historic wine and spirits shop near Castel Sant'Angelo and the Vatican has a vast basement cellar full of Italian and French wine, but be sure to linger on the ground floor for a look at one of Rome's few prestigious spirits collections. Stock up on artisanal amaro, gentian root-based liquors, and grappa, all beverages traditionally consumed to promote postprandial digestion.
Costantini
Piazza Cavour 16
Prati, Rome, Italy
+39063203575
Prelibato
At Prelibato in Monteverde Vecchio, a bakery that opened in 2014, chef-turned-baker Stefano Preli makes traditional loaves and sweets. Look for heirloom wheat-based breads, classic pound cakes, and sweet leavened buns. Don't miss the pizza by the slice, which comes with assorted toppings including amatriciana (tomato, guanciale, and Pecorino Romano), a riff on the popular pasta dish.
Prelibato
Viale di Villa Pamphili, 214
Monteverde Vecchio, Rome, Italy
+390693577165
Vino Roma
Italian wine lists can be daunting due to complex regional wine laws and an utter lack of consistency from one list to the next. A tasting at Vino Roma, a wine studio in the Monti neighborhood, will demystify the opaque world of vino italiano. During tastings, a trained sommelier guides your experience, pouring wines selected to highlight typical styles and indigenous Italian grapes.
Vino Roma
Via in Selci 84/G
Monti, Rome, Italy
+393284874497
Domus Birrae
This craft beer shop near Santa Maria Maggiore on the Esquiline Hill stocks a well-chosen selection of Italian craft beers and imported brews. At the front of the shop, cold beers are sold from fridges, ready to drink, while the back room is devoted to larger-format bottles and brewing equipment. The selection of sour ales from LoverBeer and Montegioco's beers brewed with heirloom fruit are ace.
Domus Birrae
Via Cavour, 88
Esquilino, Rome, Italy
+390697997570
Pasticceria Regoli
Founded near Piazza Vittorio in 1916, this historic shop sells luscious strawberry tarts, whipped cream-filled sweet buns, and luscious Chantilly cream-filled pastries. It's the kind of place Romans go to fetch pastries when they want to make a good impression as dinner guests. Items are only sold to take away, but in late 2014, Regoli opened a coffee shop next door where you can also purchase their pastries to eat in.
Pasticceria Regoli
Via dello Statuto, 60
Esquilino, Rome, Italy
+39064872812
Katie Parla is a Rome-based food and beverage journalist, educator, and culinary guide. She is the author of the blog Parla Food, the mobile app Katie Parla's Rome and co-author of the forthcoming cookbook Tasting Rome (Clarkson Potter, 2016).