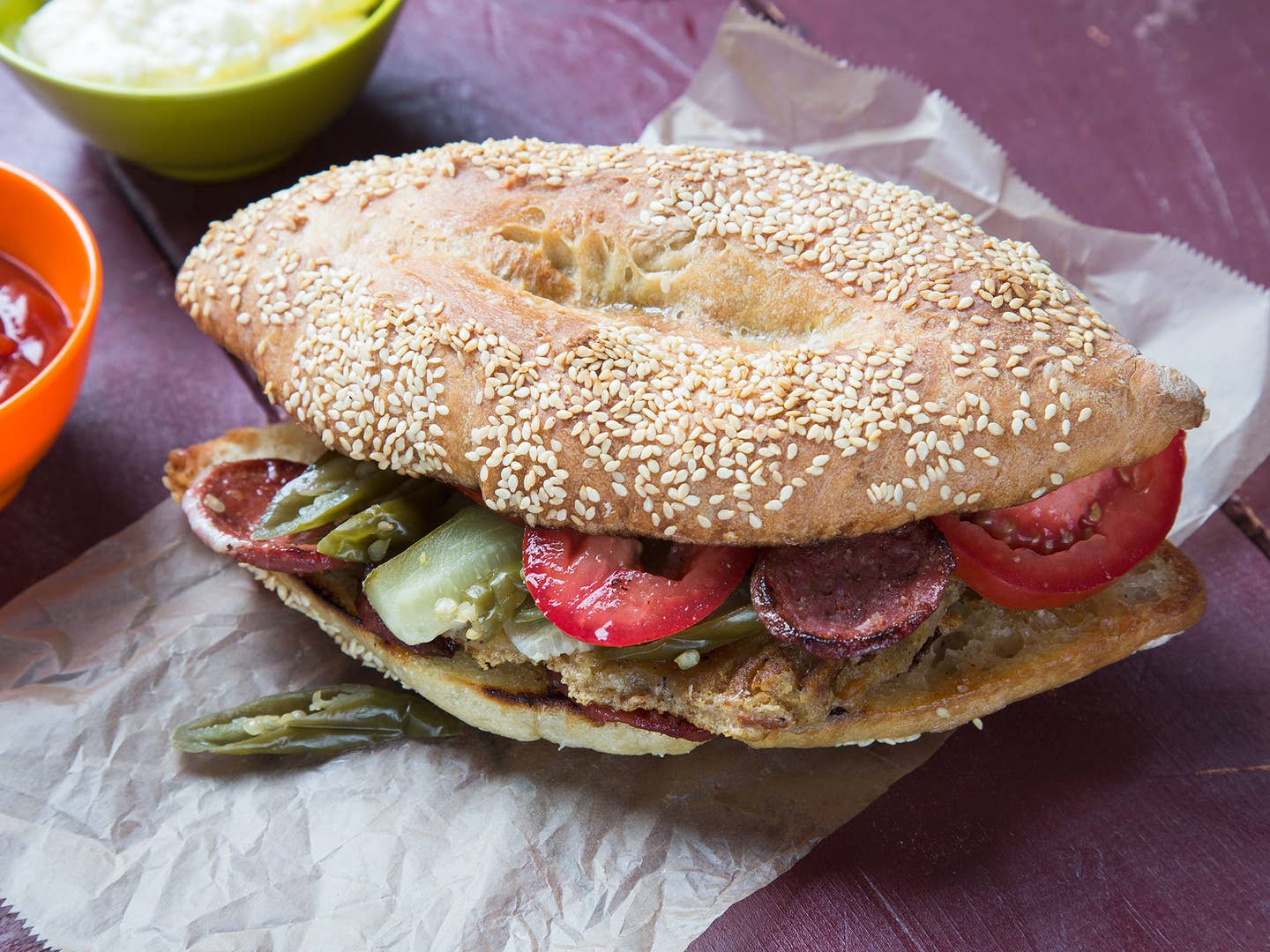 Travel
7 Amazing Turkish Street Foods to Stuff Your Face (Besides Kebabs)
Stuffed mussels, cheese bread, and spicy brain burritos? Yes please
It was early in the morning when I hopped on the ferry from the port town of Chios, Greece, and headed to Cesme, Turkey. I had driven my car the wrong way down one of the town's many one-way streets, resulting in a face to face interaction with a policeman and the revelation (his, not mine) that I couldn't reverse it back down the street under any significant pressure. I made it to the boat and was told by one of the passengers that the sea would be particularly rough that day, the perfect thing for a person susceptible to seasickness to hear.
Cesme looked a lot like Chios' port town, which looks like most port towns in the Mediterranean: quiet, quaint, colorful, littered with signs catering to tourists. But I wasn't staying in Cesme for long. I walked to the bus station, about 10 minutes from the port, and found the bus to Izmir. My plan was to eat my way through the city's market neighborhood, Konak. I had a list of must-try street foods on my phone, and that was basically the extent of what I knew about where I was going and what I was going to eat.
The market district has much more than prepared food—if you need any housewares, rugs, leather products, spices, dried fruits, and birds—Konak is where you want to be. Below is a sampling of just some of the street food you can find there, a representative (though not exhaustive) sample of what you can eat on the street across Turkey. You can find stands selling simit and pide on side streets and busy city roads, and they're often packed with locals who know the best food (and the cheapest) isn't necessarily in a restaurant. And while some of these street foods are new, most of them have been part of Turkish culture for centuries. Because there's so much to eat, the best piece of advice for finding street food in Izmir is to just let it happen. Follow every little alley to the end, try everything, and don't freak out if the buses don't drop you off where you thought they would.
You can find simit, sometimes called a Turkish bagel, pretty easily in parts of the US now, but that doesn't mean you shouldn't try one in Izmir. These chewy bread circles are covered in sesame seeds and crunchy on the outside, and they're the perfect breakfast food. Look for bright red carts with red and white striped awnings around the side. They shouldn't be hard to find—I walked for three blocks and ran into four separate stands. These vendors sometimes sell sandwiches and other carby foods as well.
These were probably my favorite snack in Izmir: in my notes I refer to these several times as "the fucking best." They're mussels stuffed with salty, spicy rice, and you can find them right on the street. Either eat them right at the stand at chuck the shells in the trash, or order a bunch and grab a seat to enjoy them.
Right after I downed my 12 stuffed mussels, I was running on a bit of a Turkish street food high, so I decided to ask the guy who had prepared the mussels if he knew where I should get söğüş. I pulled up a photo of it on my phone. "Söğüş?" He kind of yelled. He clearly thought I didn't know what was in it, but some very quick research had already told me there's brain involved. I nodded, and he laughed and led me down another small side street to a stand selling only söğüş.
The man behind the counter was chopping brain, tongue, and cheek, which he'd then mix up with some tomato, parsley, and onion, and wrap in a giant chewy pita. The guy who made it, as well as all the people seated at my table, kept checking in to see how I liked it. Order this spicy, delicious snack and get a side of serious street cred for free.
If you find yourself by the water in Izmir or Cesme, you may come across little stands selling balık ekmek, Turkey's popular fish sandwich. It literally just means "fish bread," and that's pretty much all it is: crispy grilled fish, a little seasoning, sometimes a lemon wedge, and a few slices of onion and some lettuce. It's a cheap but fresh and tasty sandwich that is definitely worth seeking out.
Like simit, you can find pide just about anywhere. Think of it like extra-cheesy grilled pizza: a customizable set of toppings tucked into a canoe-shaped bread boat. Get it with any combination of vegetables and meat, and make sure to find one with an egg in the middle so you can dip the pide's crisp edges into it.
We've waxed poetic about kumru before, but it's worth reiterating—if you're in this part of Turkey, you should definitely reserve some stomach space for this sandwich. Cooks griddle kaseri cheese directly on the flattop, then plop it on top of a pile of sliced meats on toasted, buttered bread. It's finished off with a beautiful fresh tomato slice.
What's the most stuffed baked potato you've ever seen? Did it involve sour cream? Butter? Chives? If you've ever gotten a baked potato with all this on it and then thought, "this would be even better if I added beets and peas to it," you have to try kumpir. There are so many toppings that can go onto this giant baked potato, and they sit in a case that looks a little like what you'd order gelato out of. Pile on olives, cheese, corn, pickles, tomatoes, cabbage, mushrooms, mayonnaise, ketchup—just about anything goes when it comes to kumpir.