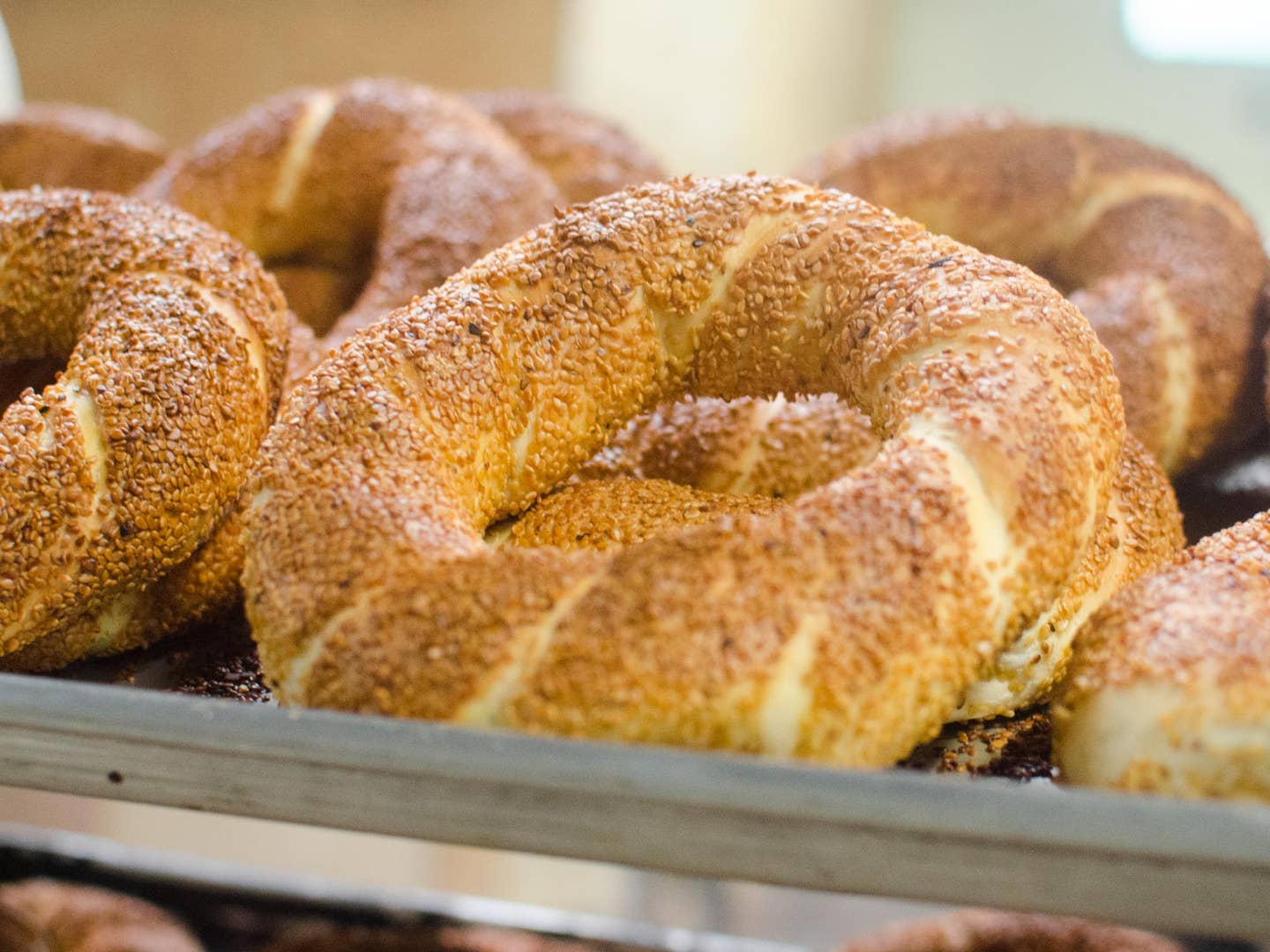 Travel
A Turkish Bakery is Here to Introduce Your New Favorite Breads
The Taskin family has been baking the best of Turkey's bread in Paterson, NJ for almost 20 years; now they've set their sights on the rest of America
In 1997, Kadir Taskin ponied up $1,600 to rent out a corner of an Arab bakery in Paterson, New Jersey, the largest city in Passaic County. Taskin had worked in restaurants in the area, and in Eskişehir, Turkey before that, and decided it was time to try his hand at the Turkish breads and pastries that his family made back home.
He baked at night when the ovens were available and started selling bread to local restaurants and markets—literally on his back, if you ask him. And he joked to his family, who'd recently moved to the U.S. after he spent seven years securing their Green Cards, that if the whole venture went belly-up, all they'd lose was $1,600.
That was nearly 20 years ago. Today, in 2016, the Taskins now own the bakery at 103 Hazel Street, and it's become the launchpad for an Ottoman bread empire spread across four states with more expansion on the horizon. If you nibble from the bread basket at a Turkish restaurant in New Jersey or New York, or pick some up at a Middle Eastern market in those states or nearby Pennsylvania, there's a decent chance you're eating something from the Taskins' ovens, which turn out thousands of breads and pastries a day and sell them to restaurants and markets. And as soon as you take a bite, you see why: This stuff is good. But if you make the trip to the bakery, which is conveniently open 24 hours for your troubles, it's even better—enough to make you consider checking out local real estate.
Bread is life across the Middle East and Mediterranean, but it has special significance in Turkey, which is home to a carb culture as sophisticated and diverse as anything you'll find in France or Italy. Think simit: crisp-chewy bracelets of dough blitzed with sesame seeds and sold from wheelbarrows in the morning. Kumru: football-shaped demi-baguettes, also seed-covered and destined to be split open, blessed with butter, and grilled over flame before getting stuffed with twangy cheese and spicy sausage for the world's best grilled cheese sandwich. Flatbreads of all kinds, from paper-thin, roti-like gözleme folded over with meat or vegetables, to poofy pita-like objects, yeasty and soft to sop up vegetable dips and runny eggs.
Very little of this extraordinary bread makes its way to the States, and where it does, it receives little recognition, even at a time when Middle Eastern cuisines have never been hotter. Most of the restaurants and bakeries that do produce Turkish bread in the U.S. aren't particularly great at it, and of the few that are, even fewer have found substantial commercial success.
There are certainly exceptions to the middling anonymous wholesalers: Turkish import Güllüoglu, more famous for its baklava and other sweets than its bread, is franchised across New York City and New Jersey. Simit Sarayi, another Turkey-based chain, is making inroads to New York. And New York-based Simit + Smith now has eight locations in New York City and New Jersey, where they take a more modern spin, turning simit into sandwich fodder for smoked salmon or Nutella.
But none compare to the breadth and depth of what the Taskins are making in Paterson, a working-class Jersey city once famous for its silk industry that's now undergoing an economic revival from immigrant businesses: Turkish restaurants and markets, Syrian kebab houses, Jamaican curry spots, and Puerto Rican pig roasters all in close proximity.
Taskin bread holds up well for a few days; its crust stays firm, its crumb soft and chewy and gently yeasty. But it's crazy good when you try it from the bakery counter, still warm from the oven. That's when the golden sesame seeds on the simit crackle in your mouth, releasing their nutty essence between your teeth while you tear through the bread's just-crispy crust. A special tahini bread—think a sticky bun run amok through Istanbul's spice market—is croissant-flaky but enriched with tahini and warm spices rather than butter. The dense, flat disk is lacquered with a caramelly glaze and flecked with a few more sesame seeds (noticing a theme here?); great at room temperature, eyes-rolling-in-bliss when heated up so it gets a little molten.
Going to the bakery is also the only way to experience gözleme the way it should be: hot off the flat top, feather-light, fresh-tasting, and a little elastic, with greens poking out of the edges. You're in for a treat if you get to watch them make it at a counter near the door; bakers shimmy sheets of near-see-through dough across the griddle and fold it with exacting precision. Once you've stuffed your face with one, pick up a couple olive paste buns, and greaseless meat pies, and even some Italian bakery-style cookies that are way better than their Italian counterparts.
Derya Taskin, one of Kadir's five daughters and the company's vice president (in her spare time she's Paterson's deputy mayor and the president of the Turkish Institute for Progress), attributes the bakery's success—$2 million in sales this year, she says—to the usual suspects. Respect for tradition, quality ingredients, commitment to stringent standards, that sort of thing. But she also points out the diligence of the people who power the operation.
Her sister Dudunur is the company's general manager, overseeing around 40 employees, mostly Turkish but also Hispanic, Bulgarian, and beyond. "They all get along fine," she says, "and teach each other their culture." The bakers are also around three-quarters women: "We try to keep it even, but in truth, women work harder, and back home they're usually the bakers in their families."
The Taskin empire stretches across New Jersey Middle Eastern communities into New York City, Long Island, Pennsylvania, and a couple satellites in Florida. But with the exception of the shop at the bakery, it's all wholesale business to restaurants and markets. That may change if the Taskins are able to open the cafe space in midtown Manhattan they have their eyes on; they're also looking into opportunities in Washington, D.C. and Virginia. Beyond those regions, Derya says the company website is getting an overhaul to allow for nationwide online ordering. (The bakery currently can fulfill such requests by phone.)
For diehard fans of Turkish bread in America, there's nothing more thrilling. But for those lucky enough to live within driving distance of the original bakery, the real Taskin magic is always about the Paterson shop. The banner outside with the slogan Hand Made Freshly! The gözleme hot off the griddle and the unparalleled freshness of the breads. The cookie or small pastry that every kid who visits gets handed for free. And the golden sesame seeds that leap off the simit when you bite in, bejeweling your cheeks, your clothes, all the hidden crevices of your car. The rings rarely make it past the parking lot.
More Great Middle Eastern in Paterson
Need more reasons to visit Paterson? The city is a hot spot of excellent food from all over the Middle East. Once you've picked up your bread at Taskin, pay a visit to these restaurants.
With three locations around north Jersey, this palatial Turkish restaurant nails all the essentials from mezze to kebabs. The Paterson location is just across the street from Paterson and has a great three-course lunch deal for $13.
Toros
1083 Main Street, Paterson, NJ
(973) 742-6877
Pide is often called Turkish pizza, and insofar as it's a flatbread topped with cheese and baked in an oven or over coals, that's about right. Most versions you'll get in the New Jersey and New York area are wan and lifeless, but at Oz Karadeniz, the crust is well baked with a delicate chew and the cheese has the appropriate twang. It's a far better pide experience than you'll find virtually everywhere else. The menu has many varieties, but I'm partial to the gutbomb "everything" version with lamb, spicy sausage, and a runny egg on top.
A fully-stocked grocery with all the spices, bulk seeds and nuts, specialty cheeses, and pantry goods to build a Turkish kitchen right at home. The homemade sujuk, a spicy lamb sausage, is excellent here.
AK Market
251 Crooks Avenue, Paterson, NJ
(973) 742-3700
This no-nonsense kebab house grills meat over flame and boasts an impressive spinning column of shawarma. We're into the butterflied grilled chicken, tender beneath its well-spiced charred skin. The limp accompanying fries won't do much for you, but they make great fodder for dipping into a nostril-searing garlic sauce.
Al Kumah
970 Main Street, Paterson, NJ
(973) 977-4888
A massive restaurant with a whole separate dining room filled with exceptionally comfortable black leather chairs, the kind you'd find in your accountant's office, that make for a good place to huddle up and pop back some antacids after eating three meals before 2 p.m. Oh, and the food's good, too—flatbreads blitzed with quality za'atar and olive oil, and mezze worth a short stop.
Syraan
1090 Main Street, Paterson NJ
(862) 239-1504
Fried cauliflower and mohamarra (a piquant roasted pepper and nut dip) are both worth an order at this casual kebab and mezze spot. Just save room for the fateh, fried bits of pita topped with your choice of yogurt or hummus, then shavings of excellent shawarma and a dusting of fried almonds.
Al Raouché
169 Crooks Avenue, Paterson, NJ
(973) 279-5131