Culture
Sarah Minnick Shares Her Unique Pizza Ideas
Top your pizza with fairy-tale toppings like cornflower blossoms and fenugreek greens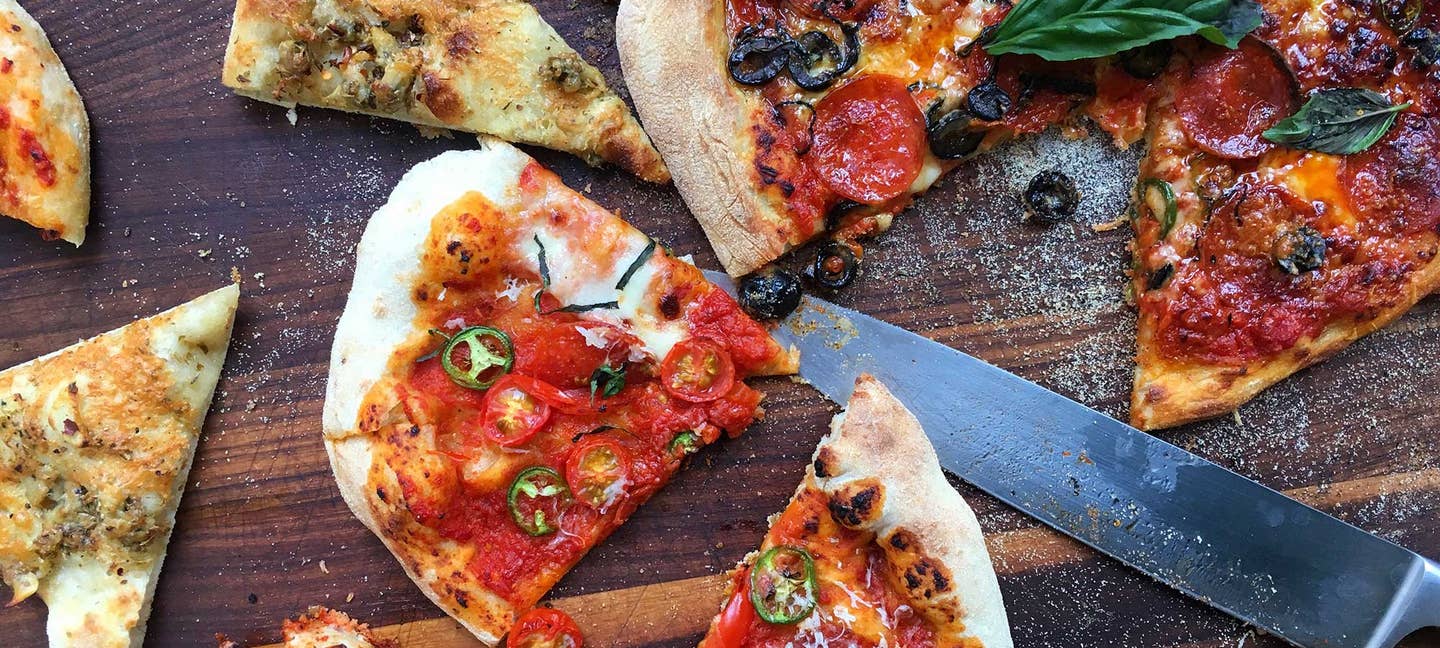 Sarah Minnick of Lovely's Fifty-Fifty had little ambition to become a pizzaiola—which might be why she has one of the most refreshing, liberating takes on pizza around. In 2003, the former art student opened a fine-dining restaurant in Portland, Oregon, with her sister and mother. When the recession hit, the team pivoted to pizza. And when her umpteenth chef quit, Minnick took over the pie making.
"I'd developed a palate for bright, seasonal food at the restaurant," she says. As for mastering pizza dough: "I just kept practicing until I had it right." The recipe, which continues to evolve, is now around 40-percent-whole-grain sourdough and uses up to five different artisanal flours, and the toppings are mostly vegetables­—100 percent Oregon grown. "Now I work closely with just a few farmers, and I use whatever they bring me—even their oddball overwintered or cover crops." Recent deliveries have included almond blossoms, hedgehog mushrooms, and goosefoot greens.
Some Minnick ferments or pickles, others she shaves or sprinkles raw onto pies. Whatever is working best determines the daily menu. "Maybe it's because I approach cooking like art, but I would never want to turn out the same pizza day after day."
Fairy-Tale Toppings Take a cue from Minnick: Use edible flowers, artisanal cheeses, and garden greens to make your pizza innovative, eye-catching, and incredibly delicious.
1. Shaved summer squash, "fake" pesto, fresh sheep cheese, and nasturiums 2. Confit cherry tomatoes, basil, fontina, agrumato, and corn flowers 3. Roasted peaches with padron peppers, sweet corn, sage, and ricotta salata 4. Agretti with orach leaves, fermented chiles and tomatoes, pecorino fiore sardo, capers, and oregano 5. Porcini mushrooms with borage greens, thyme, chile flakes, and ricotta 6. Crushed yellow potatoes, fenugreek greens, roasted pearl onions, taleggio cheese, chopped pancetta, and an egg
What About the Pizza Dough?
Minnick's tricks will work with your favorite recipe or a raw batch from your local pizzeria. Or, check out this recipe for a dough recipe we love.
Look beyond the regular canned tomato purée. "You can find red sauce at every other pizza place," Minnick says. "And it just doesn't pair that well with sourdough crust." These three sauces make great swaps and they'll let the other ingredients shine.
Use Agrumato On Your Pizza
"We use agrumato a lot, either tossed with toppings or drizzled over the pizza after it comes out of the oven," Minnick says. The flavored Italian oil is made by pressing raw olives with whole ripe citrus fruits. "It's super strong, so you don't need a lot," Minnick adds. "And in the winter, when it's getting grim, it brings that brightness."
To avoid using sub-par tomatoes in the off-season, Minnick dries and reconstitutes her summertime harvest for topping pizzas year-round.
It's been a while since it was socially acceptable among the chef circuit to use mediocre, out-of-season tomatoes on sandwiches and burgers. So why should pizza be any different?
While canned whole peeled tomatoes are a perfectly fine go-to for making sauce (Minnick likes to can local, organic Oregon tomatoes herself for this purpose), dehydrating a few pounds of fresh fruit is another way to get summery tomato flavor in the off-season.
"In late summer or early fall, I start putting up tomatoes for the rest of the year," Minnick says. "I do can some for soups and pasta sauces, but I dehydrate the rest for pizza toppings because it really concentrates the flavor." Later, she rehydrates the tomatoes by soaking them in hot water for about 10 minutes in order to plump them and release their aroma. This results in juicier, prettier, more flavorful tomatoes than any sun-dried version you can buy in a store.
You can use dehydrated tomatoes on any non-red-sauce pie that could use a hit of sweetness and acid. "One of my favorite pizzas is topped with rehydrated tomatoes, fresh mozzarella, and kale," Minnick says.
Test kitchen tip: Get a dehydrator. Really. It's how the SAVEUR test kitchen preserves summer produce, and even though it has a reputation for taking up too much counter space, we find ourselves coming to it repeatedly. A good rule of thumb for dehydration is to keep foods no more than an inch thick and start around the 150°F setting. From there, check the contents every hour or so, and adjust the heat as needed.
Minnick might use up to five cheeses to round out a perfect pie.
Ricotta Salata: This pressed, salted, aged sheep's-milk cheese has a sharp, salty flavor. Shave it onto non-tomato pies with a fontina or Toma base.
Pecorino Fiore Sardo: Grated cheese goes onto almost all of Minnick's pies. This smoky, hard cheese from Sardinia has a slightly stronger flavor than Parm.
Fontina: In place of mozzarella, Minnick melts handfuls of this stinkier cow's-milk cheese onto white pies as a dough-blanketing base.
Wrangeback: This historic Swedish cheese is a richer option for complementing a base cheese. "It has an aged-cheddar-with-crystals quality."
Provolone: On tomato pies, where the sauce adds sweetness and moisture, provolones are good, non-weepy choices for a base cheese.
Feta: Once the mozzarella has been layered on, a sharper, crumbly cheese like feta adds complexity. It's especially good on red pies.
Parmigiano-Reggiano: Minnick mixes delicate toppings like kale with olive oil, salt, and Parmigiano; it protects them from scorching and drying out.
Toma: "Walser Toma is a sweeter, mostly neutral cheese with good acidity," Minnick says. Use it as a base with a yogurt or pesto sauce.