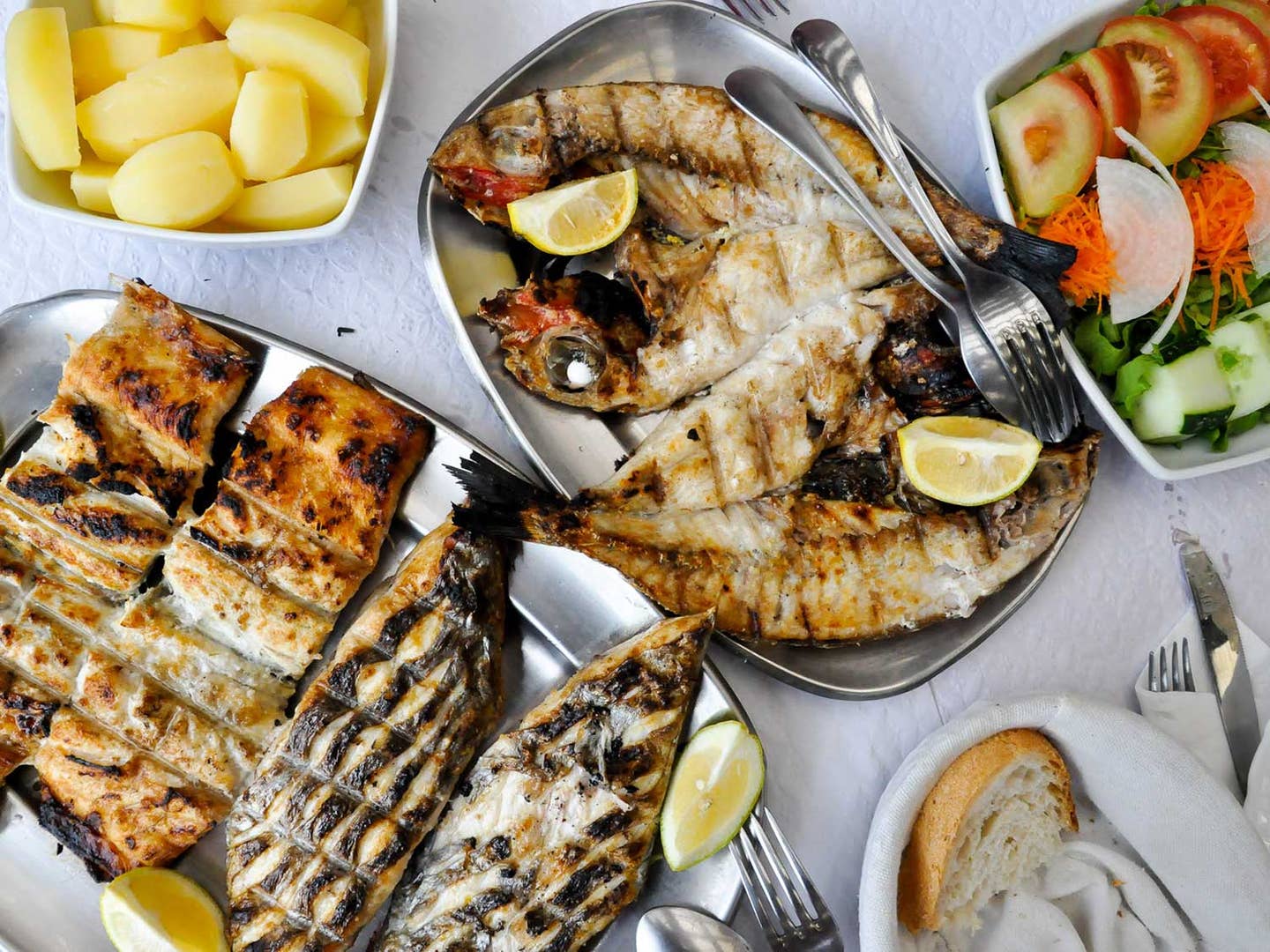 Travel
Exploring the Unique Seafood of Portugal's Azores
Across this island archipelago, there's a penchant for diverse, seasonal seafood. Sometimes, you never know what you're going to get
It's a balmy evening in Ribeira Quente, a sleepy fishing town on the southern shore of São Miguel, the largest of the Portuguese Azores islands. At Ponta do Garajau, an airy, colorful space that contrasts the gray rock landscape around it, a few foreigners sit puzzling over menus. Manager Ana Maria Rita Cidade laughs welcomingly. "Sometimes guests have an image of a fish that will come without bones, without the head. Then we put a fish with all of those things in front of them and they don't really know what to do with it!"
Cidade's referring to the restaurant's chicharros—tiny blue mackerel fried whole until crispy, their shriveled eyes and brittle tail fins piled high in a dish. Salty and sardine-like, larger chicharros must be filleted. But when small enough, the delicate bones dissolve with a bite, and Azoreans eat them whole. "You just put them in the mouth and enjoy," Cidade smiles. "They're wonderful!"
Nine-hundred miles off the European coast, the isolated Azores play home to a unique mid-Atlantic scene. Birds thrown off their migratory paths rest here. The surrounding waters also make a sort of midway point for marine life traveling between the Atlantic and the Caribbean: the blue sharks, dolphins, and whales that nature-loving tourists travel specifically to see, and the sardines, octopus, and unique sea-creatures that Azores inhabitants eat on the regular.
When Cidade's father António Rita Amaral (known locally as Sacadura) opened Ponta do Garajau in 2004, my father brought me there in promise of "the best cracas on the island." My family lives in the neighboring town of Povoação, and I've now eaten there every trip home since. Unique to the Azores, cracas are a local barnacle, not dissimilar from their popular European and South American counterparts known as percebes, or gooseneck barnacles. Attaching to rock, cracas build their conical shell up around them. To keep the flesh intact, fishermen actually cut and remove whole chunks of rock, containing many craca homes. At the restaurant, cooks steam large chunks of this rock in saltwater, then chill the lot down. Served cold to the table, you then pry the barnacle loose in a motion akin to disjointing a stubborn snail committed to its shell. Once freed, eating cracas requires almost no work. They're tender and succulent, like a combination of crabs and oysters, a texture softened by the Azorean seawater you slurp from the cup afterwards.
You may find cracas listed as a menu special if visiting in late summer, when they're large enough in size to serve. But then again, all Azorean fish is a special menu item.
Sitting down to a meal at a local fish restaurant, there will inevitably be a long list of offerings. Some are common to American eyes like tuna, swordfish, and grouper. Others might require some explanation: There's meaty boca negra (blue-mouth rockfish) and cherne (wreckfish). A kind of squid, lulas may be offered in a stew laced with tomatoes or charred to a crisp and plated with fresh herbs and lemon. There's alfonsim, goraz, and pargo (sea bream), many of which defy translation. The list goes on.
For eleven years, Claudia Caetano and her husband Augusto have owned O Sagitáro, a restaurant in Maia, on São Miguel's north shore. Restaurants like hers may list fifteen kinds of local Azorean fish on the menu, but only offer a few at a time: "It depends on the catch of the day," she explains. Every morning, they judge what the fishermen bring in by weight and size. They serve all their fish the same way—seasoned with salt and grilled—so they only use the freshest and highest quality fish.
The day I go to O Sagitário, Augusto first puts espada branco (silver scabbardfish) steaks on the flame. After about fifteen minutes, they transform into flaky white flesh, big bones yielding to an almost swordfish-like texture that we season with hot pepper sauces and vinegars. Barracuda and red-scaled peixão (blackspot seabream) are also added to the grill whole, but on a slightly lower heat. They take on a pungent smoky flavor and a gentle char, their fattier flesh tinged with the flavor of the sea.
Slightly west, in São Brás, Cantinho do Caix is beloved for a chunky fish chowder that Jorge Alberto O. Araújo Silva fills only with such "catch-of-the-day" fish—the thick broth is perfect for slathering on top of the chunks of bread served alongside. At Marcelino's in Angra do Heroísmo, Terceira's largest city, whole chicharros are blanketed in a zesty slaw of onions and açafroa (Azorean saffron). At Beira Mar nearby, a notoriously creamy fish chowder comes served in a crusty round of bread. Pungent mollusks called lapas are grilled throughout the Azores, delivered sizzling with minced garlic, lemon, and hot sauces at snack bars and restaurants everywhere. But on Pico and São Jorge you can find them served alive, still wriggling and bracingly fresh with ocean salt. It's a treasure hunt of an archipelago for a seafood loving traveler.
Cidade's father originally opened Ponta do Garajau to complement their fishing business, which her brothers manage today. In the Azores, such small-scale fishers make up 90% of the fishing industry, creating 20% of total Azorean exports. Preserving this diverse marine life is a constant conversation here—restaurant owners and fisheries alike have to diversify so as to not stress marine populations.
So a trip to any of these restaurants is guaranteed to be a sustainable seafood grab bag; I returned specifically in September because the cracas, lapas, and chicharros have been the absolute best during this month in my previous trips home. But I can't find cracas anywhere.
As I learn from Cidade, it may have just been a bad year for them—and she won't serve any but the best. I'm told around São Miguel that I've simply come too late this particular season. I don't find them on Terceira, either, which historically boasts even larger cracas than the ones on São Miguel.
So instead, I just sit and ask for the catch of the day. And I'm never once disappointed with the eyes and tails that arrive on my plate.