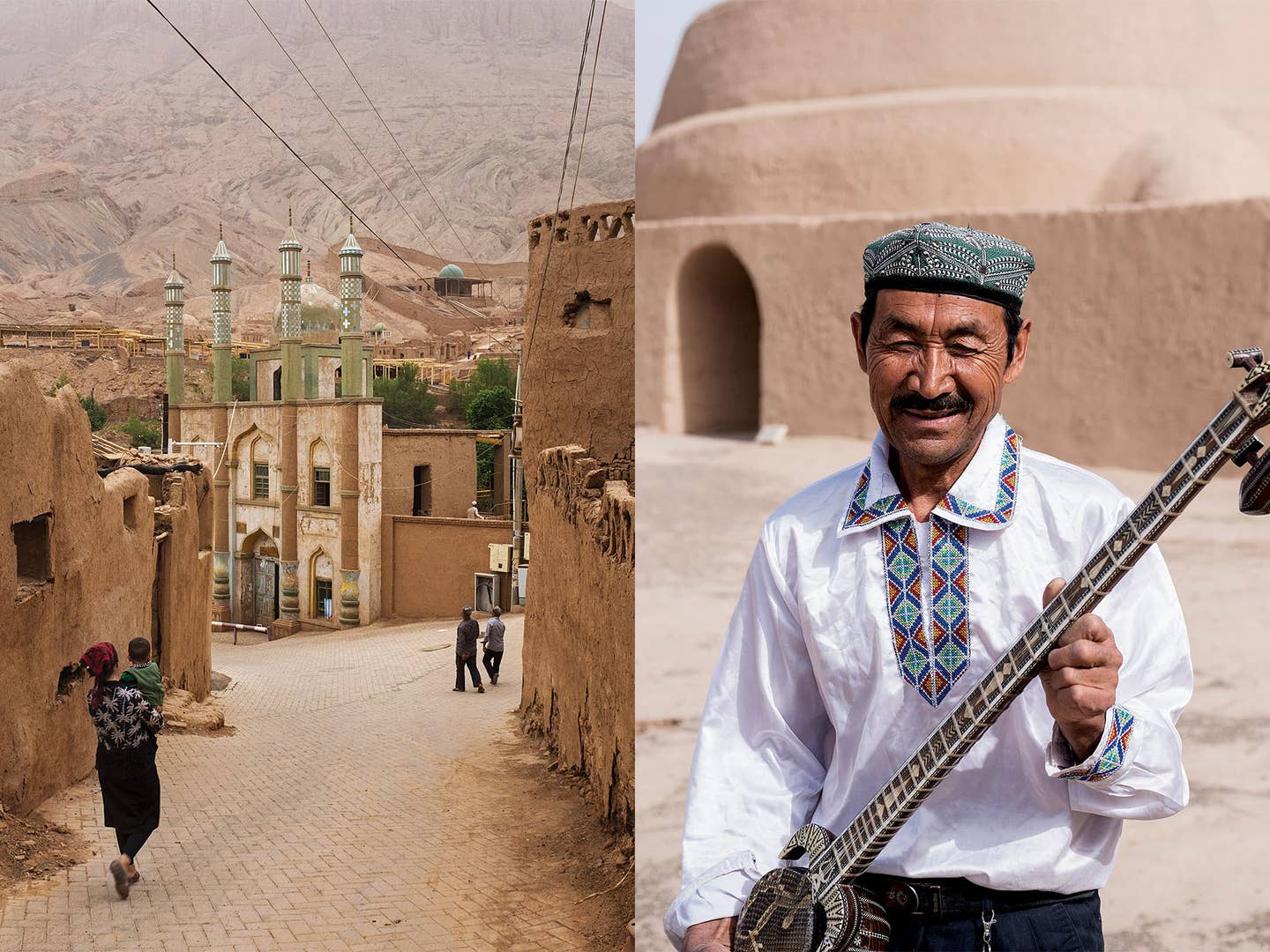 Travel
Eating on the Western Edge of China
The flavors of Xinjiang's Uyghur cuisine, built on trade from the Silk Road, are unlike anything else in the Middle Kingdom
China's far west region of Xinjiang is a place of expansive natural beauty, full of snow-peaked mountains and stony deserts. Located at the threshold of central Asia where the 'stans converge—Kazakhstan, Kyrgyzstan, Tajikistan, Afghanistan, and Pakistan—it is home to the Turkic-speaking Islamic Uyghur people. For centuries, oasis towns on the ancient Silk Roads provided safe harbor and much-needed sustenance on the passage from the Middle East to the Chinese Empire.
Flavors associated with the Middle East predominate—cumin, chile, garlic, and saffron, cooked with peppers, tomatoes, and eggplants. Mutton features heavily, either slow-braised, cooked with rice in polo (a mutton pilaf), or smoke-grilled, and camel is eaten occasionally. Flatbreads called nang, similar to Indian naan, are essential at every meal, along with fragrant black tea scented with saffron and rose petals. It's a far cry from the soy sauce, pork, and rice wine flavors permeating Han Chinese cuisine that most Westerners associate so closely with the country.
In a far-off time, here, beyond the last outpost of the Great Wall of China, prisoners of the Emperor were expelled into the desert on the assumption they would surely perish. Now this area is seductively alive with color, flavor, spices, and trade. A banishment to Xinjiang would be a dream for any food lover, feasting each day on roast mutton with tart, vinegary carrot and radish salad; or plump bready dumplings and sweet walnut pastries. Occasionally, eating adventures lend to cultural misunderstandings.
One night, while researching local food traditions with my Uyghur guide in the small town of Tashkurgan, I caused a serious brawl revolving around a yard-long charred mutton kebab, crusty with cumin and chile. I'd arrived on the day of a country fair, the town's field a circus of flags and horses, blue-ribbon yaks, and prizewinning cross-stitch. Fragrant smoke from charcoal grills hung thick in the air, and I struggled to choose between buttery polo, and hand-pulled noodles, laghman.
With silent, ravenous attention I watched a cook grill three mutton kebabs (known as kawap in these parts) over a waist-high charcoal brazier, sprinkling them with a blend of chile, zīrán or cumin, white pepper, and salt, and sending showers of orange sparks into the air. The juicy morsels of fat in the center of each kawap dripped and spat into the coals, sharpening my hunger. My choice was made. When they were ready, the cook took a round of charred nang, big as a wall clock, and folded it in half around the three long spiked skewers. Then he waved me into a nearby yurt to eat.
At the doorway I removed my shoes and focused on finding a place to sit. Tajik men sat on the yurt's patterned carpet floor, eating and drinking tea, alongside Kyrgyz men in pointed white felt hats, and my lone Uyghur guide in his embroidered green and white doppa prayer cap. The other men glanced up just as my socked feet blundered over the food cloth on the floor, textured and heavy with gold fringes. I'd committed a grievance equivalent to putting my dirty feet up on a dinner party table set with crystal and cutlery. I apologized. Too late. I'd unforgivably offended a Tajik with a handlebar mustache. It being dishonorable to insult me, both a foreigner and a woman, the man—emboldened with clandestine liquor—stood and insulted my guide behind his back. No sooner had the words left his mouth than every man in the yurt was on his feet, fists at the ready or hands on the hilts of knives.
Following the inevitable fistfight, during which the police hauled the drunk Tajik away, I found a quiet spot to savor the charred smoky meat. My guide sat beside me.
"There's a Uyghur saying," he began. "Gep yüzde yahshi, kawap ziğda yahshi." He tore a tender piece of mutton from the stick with his teeth before continuing.
"Words are better spoken face to face; kebabs are better eaten straight from the skewer." Wise words to live—and eat—by.
Get Carolyn Phillips' Western Chinese Recipes
Recipes adapted from All Under Heaven by Carolyn Phillips (Ten Speed Press), which will be released in August.