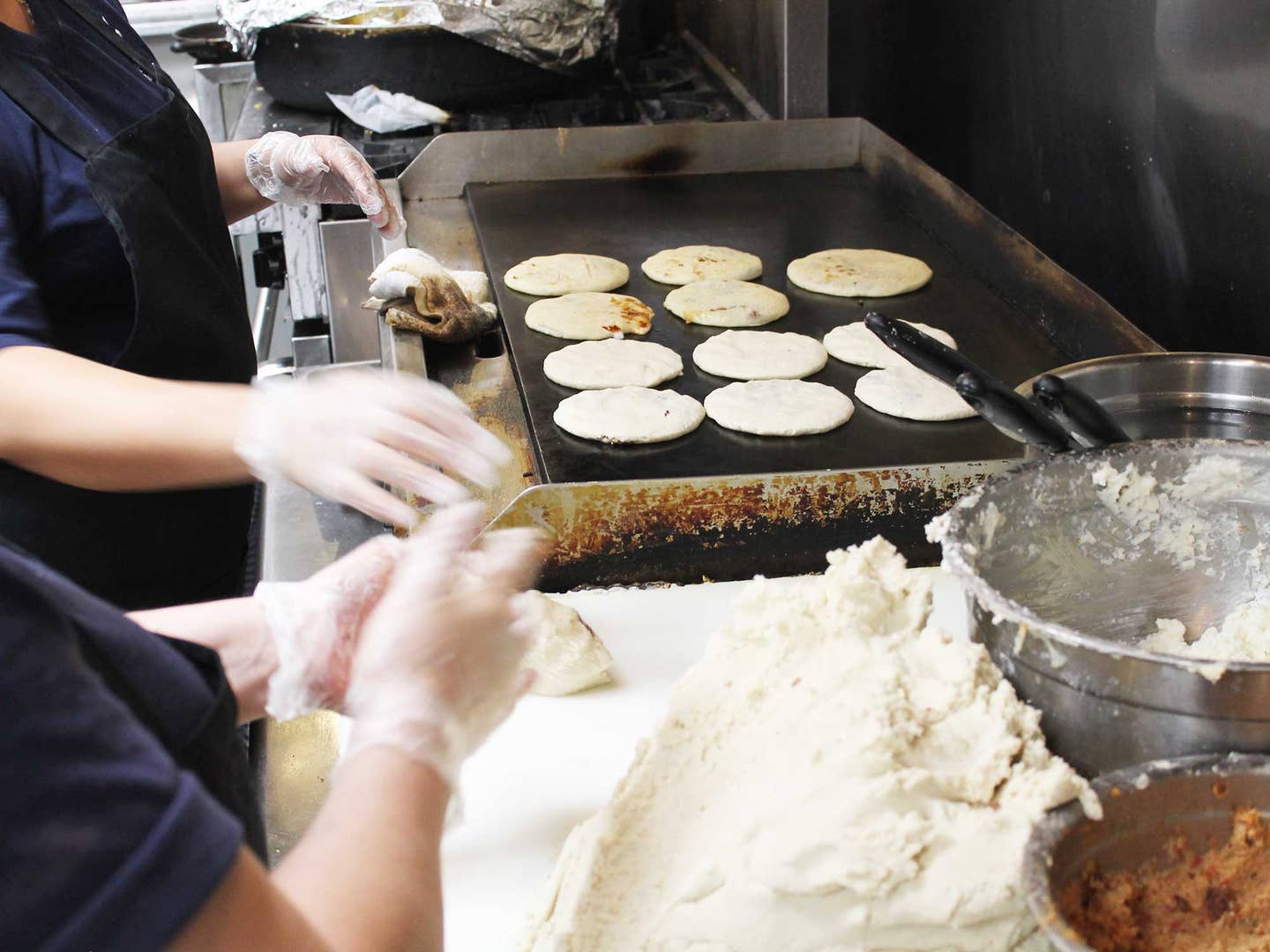 Travel
Follow D.C.'s Pupusa Trail to Cheesy Griddled Happiness
How Washington became the American capital of El Salvador's national dish: comforting corn cakes filled to bursting with cheese
In 1982, when José and Betty Reyes first started selling pupusas, the national dish of El Salvador, there wasn't a whole lot of competition. The Salvadoran population was still new then—José, for instance, had come in 1974 as part of the earliest wave of immigration—not large enough to support much in the way of restaurants. Their restaurant in Adams-Morgan, at the time still a predominantly Latino and Afro-Caribbean neighborhood, was among the first in town to specialize in Mexican-Salvadoran cooking. They called their restaurant El Tamarindo, and made the humble pupusa their specialty. Three decades later, the pupusa is one of D.C.'s defining snackfoods, and pupuserías are ubiquitous.
A pupusa is a simple thing. Made from masa (that's nixtamalized corn, same as what goes into a tortilla; arepas are made from ordinary corn flour), pupusas are round and puck like, fried on a flat-top griddle until the outsides are mottled golden brown, like a pancake with the moon painted on its surface. Served with a lightly pickled slaw called curtido and a bit of red salsa, pupusas are made to be pulled apart while still piping hot, their soft, flat crusts pulled apart to reveal fillings of braised pork mashed to a richly fatty paste, refried beans, gooey white queso, or, the Salvadoran coup de gras, the small white buds of a squash vine, called loroco, which impart a bright herbal crunch.
When they first opened the restaurant, Betty told me, she had no idea how to make a proper pupusa. "It's something you have outside the house," she explained ("like a hot dog," José interjected). But even in the early days demand was high—then, as now, Betty and José kept their kitchen open from 10 a.m. to 2 a.m. on weeknights and 5 a.m on weekends to cater to the post-bar crowd. It wasn't long before she'd learned the proper way of doing it: cupping a ball of masa in the palm of your hand, slapping in the ingredients, then sealing it off before patting it into shape and tossing it onto the griddle. In most pupuserías, this is done to order, the people manning the griddles moving with the efficiency and grace of master short-order cooks.
José and Betty's eldest daughter, Ana, who now manages the restaurant, told me that on a busy weekend day they'll sometimes turn out as many as 1,000 pupusas. Given the demographic changes in the area (read: gentrification by non-Salvadorans) that's a testament to the pupusa's ascendency even outside the Salvadoran community. As Evelyn, another of José and Betty's daughters, put it, "it's rare now to find someone in D.C. who hasn't tried a pupusa."
There's probably no city in America where pupusas are so well known. Of the 870,000 latinos living in the D.C. metro area, roughly 35% are Salvadorans. In terms of pure numbers, LA hosts a larger population, but in D.C., Maryland, and Virginia Salvadorans represent not only the largest proportion of the Hispanic population, but actually the largest immigrant community of any kind. Abel Nuñez, the Salvadoran executive director of the Central American Resource Center in Columbia Heights, pointed out that you still can't find good Mexican food in D.C., but good pupusas are all over the place.
The first trickle of Salvadoran immigration to the U.S. began in the late 1960s, but the major waves didn't start until 1979, when leftist guerrillas revolted against the military government that had ruled since coming to power in a 1932 coup. That year, a military junta installed a new government that the US went on to support through 12 years of civil war and countless human rights violations.
It's not quite clear why so many Salvadoran immigrants chose D.C., but they quickly became the core of the labor force in D.C.'s service and construction industries—long the city's only industries outside of the government—settling around Adams Morgan, Mount Pleasant, and Columbia Heights. The Ontario Theater on Columbia Road, built in the 1940s as a state-of-the-art cinema hall for predominantly white audiences, switched in 1969 to exclusively Spanish-language programming. "Columbia Road was the center of our lives here," José remembers.
It wasn't until that first generation of immigrants had generated enough capital in their early jobs that pupuserías became common. Reyes took his first job at a Mexican restaurant called Casa Maria where, he told me, he learned the business of running a restaurant and developed the idea to open his own. Nuñez, who came to the US in the late 70s when he was in the third grade, remembers the first Salvadoran restaurants opening in the mid-80s, around the time that El Tamarindo opened. The first generation of migrants had finally earned enough to open their own places, and the next influx of immigrants from back home gave them the audience they needed.
35 years later, the neighborhood has changed. In 1999, the Columbia Heights metro station opened, ushering in a new phase of gentrification in the area (now Columbia Heights is home to several of D.C.'s hottest restaurants, including Bad Saint and Thip Khao, which serve Filipino and Laotian cuisines, respectively). The Ontario Theater was demolished in 2013 and the old clubs have long since been replaced by swish coffee shops and rowdy bars popular among the city's young professionals (Kilimanjaro, the club that used to be El Tamarindo's neighbor, is now a gym called Mint).
Many of the old neighborhood regulars have been priced out and gone to the suburbs, Betty told me, but they'll still come down for their pupusas. And late night crowds from the stretch of bars on 18th street, just north of El Tamarindo, still flood in after hours to soak up the liquor, followed by the bartenders and staffers who serve them. Despite their broad popularity, pupusas are still primarily sold in neighborhoods with large Latino populations, but in those areas pupuserías have proliferated pretty intensely.
You'll find the highest density of pupuserías along Mount Pleasant Road a short distance north of El Tamarindo. Venerable institutions like Ercilia's and Haydee's—the former a popular lunch canteen, the latter now more a bar than a restaurant with live music on weekends—have served pupusas—closer in size to American pancakes than the traditional puck-sized Salvadoran version—to Mount Pleasant regulars for years (though both are, to my palate, a touch too greasy). At El Nuevo Migueleño, which doubles as a disco at night, the owner Gilma does a crisp-edged, flavorful masa, and makes her pupusas in the smaller, more traditional Salvadoran size, and stuffs them with mozzarella rather than milder queso: a tasty variation, though a bit too tacky for my tastes. My favorite pupusas in the area come from Betty's kitchen at El Tamarindo and from a relative newcomer called Pupusería San Miguel, a basement cubbyhole where the pupusas are dry on the surface but lush within, the curtido racy and sour with the grassy bite of Mexican oregano.
Back in March, El Tamarindo shut for three weeks, the longest it's been closed in over 30 years, to undergo renovations that, as Evelyn put it, made it "a place for my generation to feel like they were getting the type of restaurant they're used to." The food's the same as always, but the dining room is unusually handsome with big windows looking out onto Florida Avenue, high ceilings, and a nicely tiled bar that turns out margaritas by the bucketful.
But ultimately, as Nuñez pointed out, the difference between a good pupusa and bad one isn't all that huge. They're pretty much always made to order, always loaded with melted cheese, always hot, and always inexpensive—which is to say, they're a difficult thing to really mess up. Pupusas have always been about practicality and adaptation. They were a portable snack for the earliest people who ate them. In the U.S., they grew to sate the bigger appetites of the American dream. At two D.C.-area Whole Foods locations, El Tamarindo will occasionally set up live stations where they prepare pupusas to order, and elsewhere, Nuñez told me, you can even buy them frozen: "emergency food" he called it. What could be more American than that?
D.C.'s Pupusa Trail: Six Pupusa Spots to Try
El Tamarindo
This is the crossover hit of pupusa joints. Snazzed up after its March renovation, El Tamarindo is more of a proper restaurant than anyplace else in the area—and the best place for a late-night cheese-and-masa fix near the Adams-Morgan bars.
1785 Florida Avenue NW
(202) 328-3660
El Nuevo Migueleño
The flickering neon sign out front is a fair representation of what greets you inside: It's dim and has seen better days, but Gilma serves a nice pupusa with a smile, and her husband, Victor, mans the bar with old school bonhomie. Get cheese and loroco and wash it down with a Modelo.
1721 Columbia Road NW
(202) 258-6532
Pupusería San Miguel
This basement shop is the best pupusa in Mt. Pleasant, not just because the pupusa itself beats out everyone but El Tamarindo for flavor and texture, but also because it comes with what is hands-down the best curtido. Come here for a quick snack at one of the picnic tables on street level.
3110 Mt. Pleasant Street NW
(202) 387-5410
Haydee's
If El Tamarindo is the best restaurant on this list, then Haydee's is hands-down the best bar. Come on the weekend for live music and a drink with a fun neighborhood crowd. The pupusas are a good bonus and a solid insurance policy against impending drunkenness. 3102 Mt. Pleasant Street NW
(202) 483-9199
Ercilia's
It's about as simple a canteen as you can hope to find. The pupusas aren't exactly transcendent (then again, pupusas generally aren't so much as they are comforting), but there's something unmistakably special about this Mt. Pleasant standby. The 1950s facade, the big windows, the mixed crowd of neighborhood folk: it's from another era. 3070 Mt. Pleasant Street NW
(202) 387-0909
Doña Azucena
A small chain of three suburban locations, Doña Azucena serves some of the best, most traditionally Salvadoran (read: smaller) pupusas around for an almost entirely Salvadoran clientele. This is also the only place around that serves the lesser-known rice-flour variety of pupusa.
8728 Piney Branch Road, Silver Spring, MD
(301) 434-4230