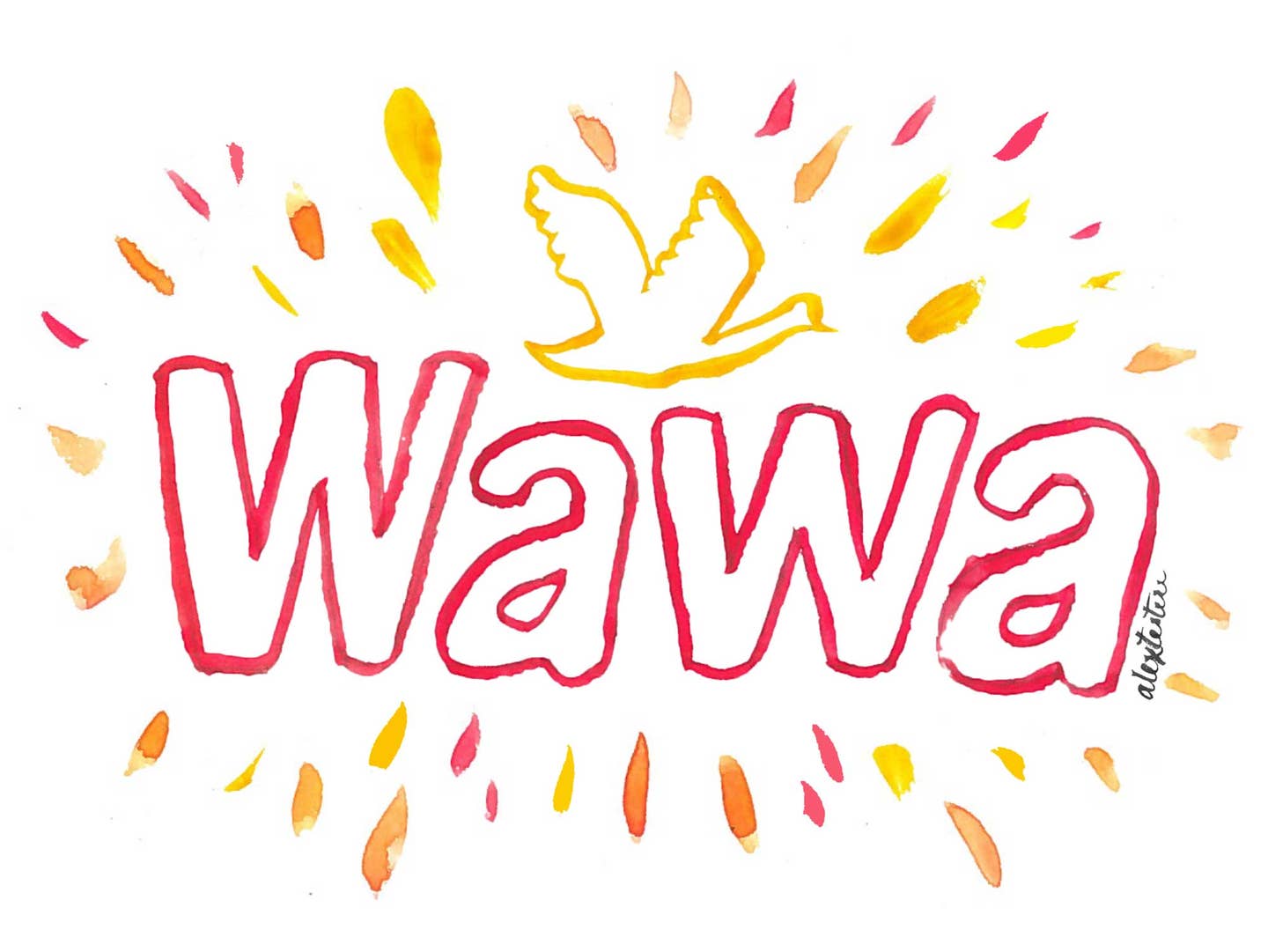 Travel
Why Wawa is the Greatest Convenience Store of Them All
With over 600 locations in Pennsylvania, New Jersey, and beyond, the 'Wa keeps small town soul in one of the world's best chains
Is it rational to drive 15 miles out of my way for a convenience store sandwich? To insist on three or four visits, over the course of a weekend in New Jersey? To feel loyalty toward a convenience store at all? Yes, I would argue, when said convenience store is Wawa.
Of all the lower tiers of eating in America—movie theater concessions, mall food courts, economy class at 30,000 feet—convenience stores must rank right at the bottom. The stale steak taquitos, spinning greasily in their warmer. The soggy refrigerated sandwiches. The palpable layer of grime.
But Wawa—the finest gas-station-cum-sub-shop the Mid-Atlantic has ever known—is the antithesis of such soulless establishments. The chain of more than 600 convenience stores, about half of them with attached gas stations, began in Pennsylvania, but now extends across New Jersey and beyond, and it's become as much a Jersey icon as a hometown Pennsylvania hero. The first Wawa Food Market opened in Folsom, Pennsylvania, in 1964, as an outlet to sell dairy from owner Grahame Wood's farm. 50 years later, coffee and sandwiches are their stock in trade, plus more expected convenience store offerings: sodas, candy, potato chips. (So, so many kinds of potato chips.)
To say that Wawa has a cult following in the region would be an understatement. Wawa ranks up there with In-n-Out and Trader Joe's for the zealotry of its fans. Philly Magazine cites Wawa devotees with the logo tattooed onto their skin; a group of women who visited every Wawa in the country; a couple who married at the Wawa where they first met.
I can't match this level of fanaticism, though I have indeed mapped road trips around Wawa locations. In part, it's nostalgia. I went to a New Jersey university where 3 a.m. Wawa stops were essentially mandatory, whether on nights of study or nights of play. And our Wawa had its own quirks. Karim, the late-night cashier, was always good for a chat; he'd ask for stories of the evening's exploits and offer up opinions (often unsolicited) on everything from your sandwich order to the wisdom of going home with the person who just bought you that iced tea. From his particular perch as a sober observer, Karim once submitted an article to the campus paper, ranking his most-valued Wawa customers—"Most Charming Drunk," "Most Friendly Female Duo," and self-servingly, "Most Diehard Karim Fanatic."
Wawa employees are encouraged to become part of their communities, according to the New York Times, to "impress regulars who will come in five times a week or more." (Karim, I'd still venture, is a special case.) But as dramatically as Wawa exceeds expectations of convenience store service, it overperforms in the food department.
I defy you to find a better fast-food sandwich. The bread, made through a partnership with legendary Philadelphia bakery Amoroso, is par-baked, then finished hot in the store. The vegetables are surprisingly fresh and appealing. The cold cuts—well, they're as good as one can fairly expect generic cold cuts to be. But the real genius lies in customization. At Wawa, one orders a sandwich by touchscreen, with page after page of choices indulging all my micromanaging tendencies. Options like "little mayo" and "extra mustard" are offered up freely and thus condoned. There's none of the stigma of Starbucks, when a ten-modifier order earns you side-eye from fellow customers. No, Wawa is validating. "Be as particular as you want," it entreats. "We'll make the sandwich your way."
Other Wawa fans profess allegiance to the coffee, or the breakfast sandwich "Sizzli," or the seasonal turkey-stuffing-cranberry "Gobbler." I personally adore the hot pretzels in the warming tray by the cash register—the sweet cream cheese pretzels, in particular. When at that perfect temperature, right out from under the warming light, the crust is crackly, the pretzel just doughy enough, a molten core of sugared-up cream cheese, like a liquid cheesecake filling, oozing out on first bite. A primal, straight-to-the-id pleasure.
And while there's no telling what you'll find at a standard convenience store—soda and cigarettes are about the only guarantees at any Wawa, your options seem limitless. Whole rows of potato chips, in flavors and brands you didn't know existed. An entire wall of sodas. Coffee, and vanilla coffee, and hazelnut coffee, and dozens more. A Wawa is a place of order and abundance.
In interviewing Wawa die-hards, the Times cited fans who proclaimed particular devotion to "their" Wawa, in a way you can't imagine others anointing "their" 7-11 or "their" Subway. It's sensible enough that Wawa produces regulars; good sandwiches and good coffee together fulfill many of life's needs. And my own Wawa, which students dubbed "the 'Wa," certainly holds a place in my heart. (I would still recognize Karim, ten years later.)
But as I ventured out to other Wawas over the years, I was delighted to see echoes of my own store elsewhere. Every Wawa has those walls of soda and coffee, not just the ones that cater to caffeine-dependent students. Every Wawa has individually wrapped Reese's Cups by the cash register, just the right size for an impulse buy. Every Wawa lets you order sandwiches by glorious touchscreen. The shops have personality, but the chain has personality, too, distinctive in everything from the layout to the lingo. Wawas have the soul of a small-town store, but the consistency of a successful chain.
Am I doing Wawa's bidding in saying so, manipulated by corporate overlords who've engineered my entire experience to seem familiar and comforting? Maybe. Probably! But that doesn't make the sentiment any less real. It may be Wawa Kool-Aid that I'm drinking, but if I can keep finding such joy in a friendly convenience store sandwich chain—refill my cup, please.