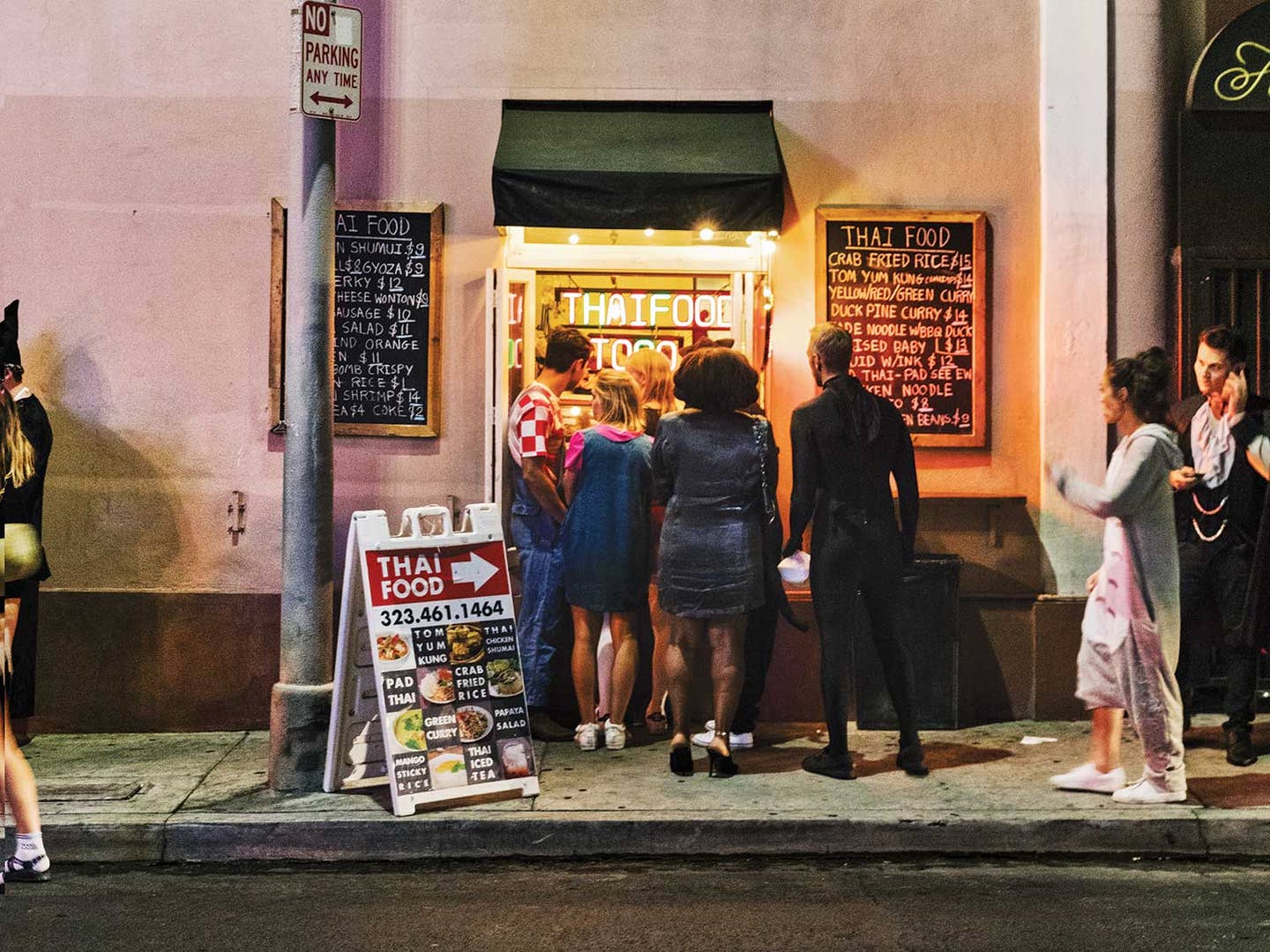 Travel
Four Unforgettable, Weird Places to Eat in Los Angeles
Who knew that a Chevron station would have a tandoori oven?
Rising rents across Los Angeles have forced would-be restaurateurs to go underground and consider some creative locations. Can't afford a stand-alone retail shop? Open one inside a magic theater. Have an idea for a Mexican-inflected Korean spot but don't want to deal with a standard retail space? Try a local swap meet.
From Angelino Mexican-inspired Korean at a local swap meet to stuffed naan roti rolls in a family-owned West L.A. Chevron station, here are four excellent, unforgettable dining experiences to try when visiting the City of Angels.
Black Rabbit Rose is a house of illusion, with Prohibition-era magicians performing nightly shows—but the more potent sorcery is found with Crying Tiger, the Thai restaurant housed in its adjacent bar (with a street-front window for passersby). Diners indulge in baskets of crisp chicken-skin chips and crab fried rice with Chinese sausage and edamame while roaming characters survey the dark room, proffering playing cards. Phuket-native chefs Noree Pla and Fern Kaewtathip love the unusual vibe—and the low rent for the prime location—but the dinner rush comes with an added level of pressure: The food must be served before the show begins, when the old Holly­wood performers take to the stage.
Crying Tiger Thai
1719 N Hudson Ave
Los Angeles, CA 90028
(323) 461-1464
Cookbook author Cecilia Hae-Jin Lee chose to locate Nabi, her Mexican-influenced Korean food counter, in a low-rent swap meet in East Hollywood to "get her sea legs," she says: Her goal is to open a proper restaurant. At the swap meet, her counter is tucked between the numerous stalls and hallways of the crammed warehouse space. While other vendors sell discounted underwear, pet supplies, or stationery piled to the rafters, Lee offers tortas made with ginger-marinated pork and kimchi grilled cheese. When she opened Nabi, Lee wanted to find an affordable place to introduce Angelenos to the food of her heritage. "I do that every day now," Lee notes with pride.
Nabi
4632 Santa Monica Blvd
Suite 16
Los Angeles, CA 90029
(323) 986-0107
Most evenings, the Hi Hat attracts indie music lovers in rapidly gentrifying Highland Park on the city's hip east side. On weekend mornings, however, it's lox and bagels that drive the crowds to its diminutive window out front. (It doubles as a burger joint during shows.) Co-owners Nick Schreiber and JD Rocchio were selling bagels out of their Echo Park apartment when a friend opened the Hi Hat last year and mentioned the small serving window. Now, Belle's Bagels sells their hand-rolled bagels in brown bags by the dozen, or with made-to-order sandwiches like the Loxsmith, which, in addition to paper-thin slices of locally smoked fish, features neon pink beet-and-dill cream cheese with crispy salmon-skin flakes. It's a new approach to an old-school classic—the shop was named for Schreiber's great-grandmother. "The food that we're making is grandma food," he explains, "if your grandmother had a septum piercing and a bunch of tattoos."
In the back of a Chevron station convenience store, near a Highway 405 ramp on Los Angeles' west side, is the Bombay Frankie Company. With a clay tandoori oven built into the countertop, naan breads are baked fresh to order and filled with housemade chicken tikka masala, pickled vegetables, and a fresh mint chutney crema for a California twist on the roti rolls, or "frankies," of Mumbai. Priyanka Mac Griffith, who co-owns the shop with her husband and brother, and whose family owns the gas station and several others throughout the area, said they chose to use this popular and low-budget location to experiment with a culinary concept they couldn't find elsewhere in L.A. Fuel sales have increased since opening the original Bombay Frankie, and they already have two more locations set to open this year.