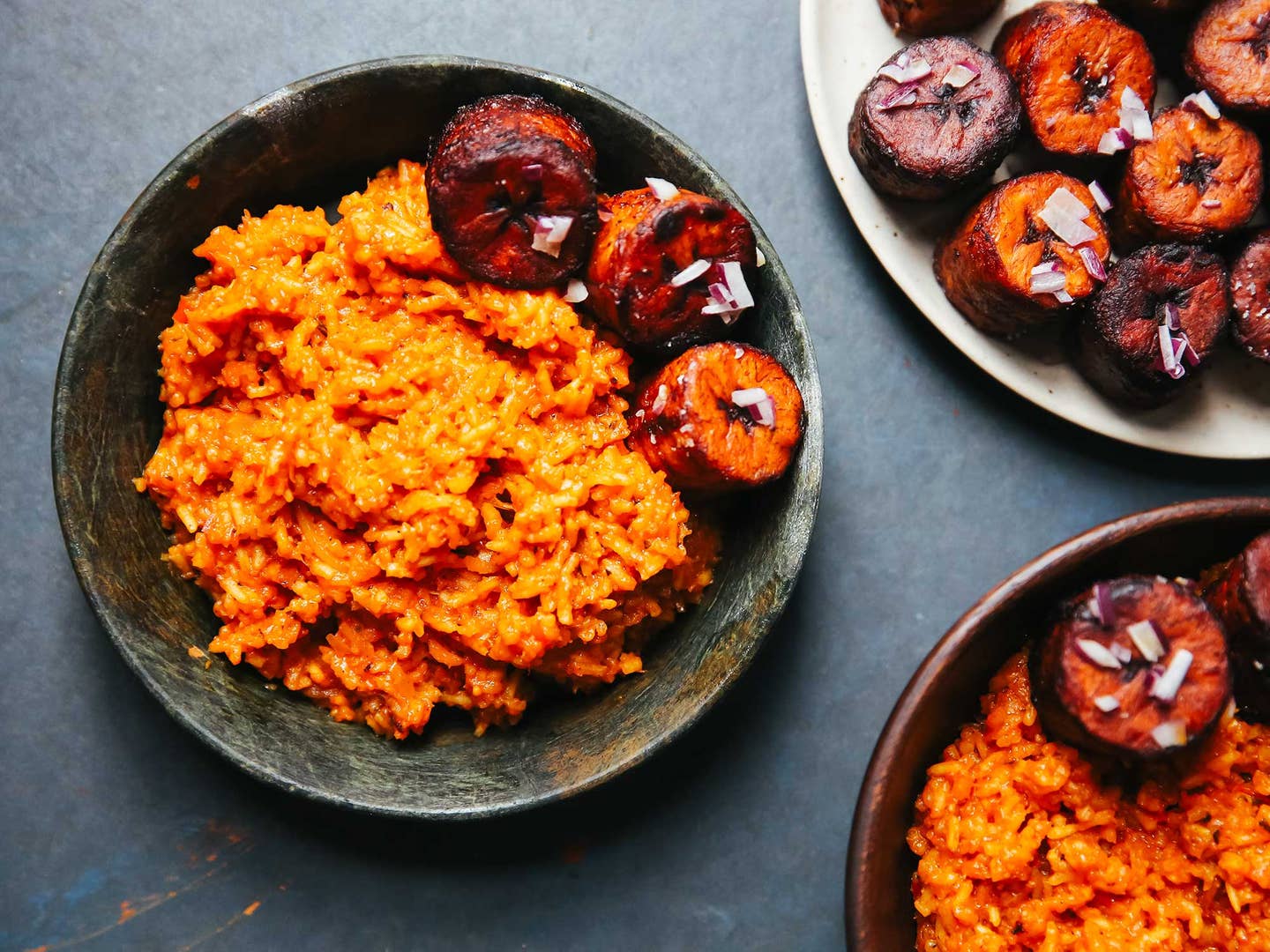 Culture
A Beginner's Guide to Jollof Rice, the Essential Dish of West Africa
For cooks from Nigeria, Senegal, Ghana, and beyond, jollof is more than just a rice dish—it's the thread that ties diverse peoples together
Growing up in the Deep South, the daughter of a woman from Alabama and a man born and bred in Lagos, Nigeria, who I was and where I came from never had an easy answer. Food helped me find the way. Especially jollof rice.
Jollof rice is a one-pot rice dish consisting of fried and stewed tomatoes as its flavor base. The rice is a deep red in color once finished, and can either be served as an accompaniment to other NIgerian dishes or on its own alongside some plantains.
It's a melding of ingredients—tangy tomato, fiery chile, tearjerking onion—that yield something greater. It crosses borders and inspires feelings of togetherness. And as a young girl navigating the maze of a mixed identity, it became a source of inspiration.
Jollof belongs to all of West Africa, though it likely originated in Senegal from the Wolof people. Its etymology traces back to the country's Senegambian region, whose rulers were known as the Jolof Empire. More than a rice dish, the West African love for jollof is so strong that we get into fights about how to make it on social media. In Washington, D.C. the playful, witty banter between us Nigerians and Ghanaians even inspired a Jollof Festival. During the inaugural festival held in July, Cameroon, Sierra Leone, Nigeria and Ghana competed for the title of the best jollof.
Jollof in Senegal will be different from what you taste in Nigeria, Liberia, Ghana or Sierra Leone. It varies from region to region, even family to family. No two pots of jollof are the same. It can include meat—chicken, beef, pork, fish—or vegetables, or both. Peas and carrots make frequent appearances. Even the base flavors can vary. One of my aunts shared the secret to her recipe last summer: she adds coconut milk to the tomatoes for a moist, creamy pot of rice.
For West Africans, jollof represents interconnectedness. Despite our cultural and national differences, this pot of seasoned rice ties us all together. It's home. It's comfort. For me and many others.
Jollof is most commonly cooked on the stove, like most rice dishes, but in Nigeria like to cook the dish over a live fire, so the wood imparts a smoky taste and finish—we call it party rice.
To begin, tomatoes, onions, and scotch bonnet or habanero peppers are pureed in blender until smooth. I recommend using plum or roma tomatoes—they have more flesh and fewer seeds. Then fry some onions in your choice of oil (I always use canola) in a Dutch oven, and add tomato paste after they turn translucent. Then in goes the tomato-onion puree, which fries until thick, rich, and sweet.
From there, you can add in any number of seasonings: seasoned salt, curry powder, bay leaves, thyme, and maggi cubes. Add in chicken broth to lift up the browned bits, then stir in parboiled rice. It's ready when there's no more liquid in the pot.
Tips for Jollof Greatness
Parboil the rice: For fully cooked—but not overcooked—jollof, boil your rice in ample water for five minutes before adding to the pot. Strain it through a sieve. Whether or not you rinse the starch off is up to you; I always do and was taught to do so as well.
(Almost) Instant Smoke: Don't have a wood-fired stove on hand? For a smoky taste in the Nigerian tradition, let your jollof brown a bit on the bottom and form a nice crust. This should be done as the rice and tomato stew base are near melding together at the very end of the cooking process. Another option is the roast the tomatoes, onions, bell peppers, habanero peppers or whatever other vegetables constituting the tomato sauce. Remove the skin of bell peppers if used before pureeing the vegetables and frying.