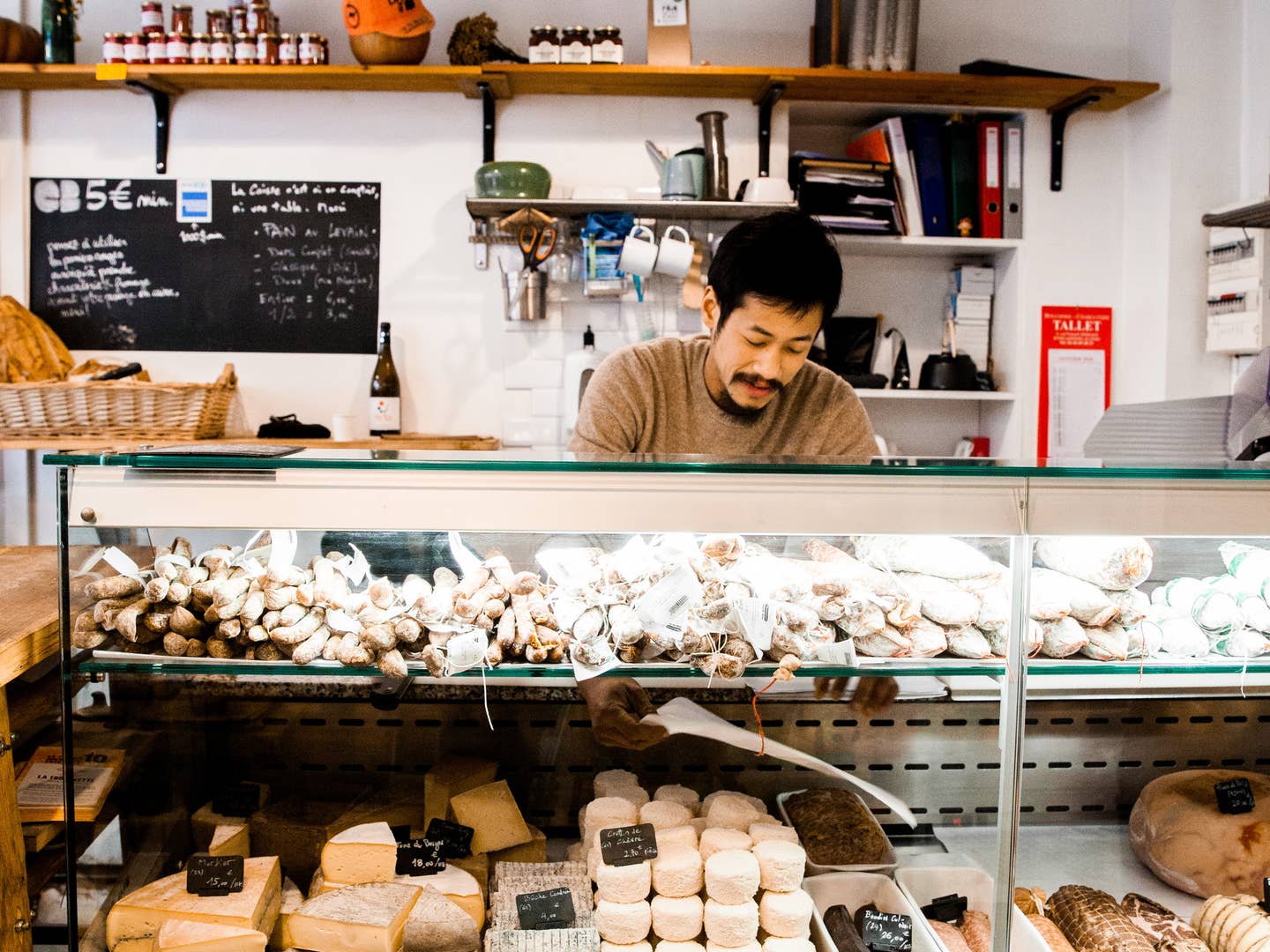 Travel
Where to Shop and Eat in Paris
A new school guide from the sisters behind the chic and cheerful Le Servan
In 2014, Le Servan, an airy, light-filled bistro, opened its doors in Paris' 11th arrondissement, an up-and-coming neighborhood that has since become the hub of cool. At its helm: Tatiana (left) and Katia Levha, two Philippine-French sisters. Tatiana honed her skills at L'Arpège and L'Astrance, and in her small, open kitchen, turns out inventive yet comforting dishes, like clams in Thai basil broth and asparagus with tandoori cream. Katia sources the impeccable wine list and runs the warm, informal service. Sit down for a meal, and Katia comes over to recommend a glass or answer a question about an appetizer. As she goes to confer with Tatiana about something, you feel as if you're dining at the home you wish you had—a feat all the more impressive because of the sisters' youth. Here are a few spots around the city that are run by the people who inspire and feed the two restaurateurs.
Located in a suburb on the outskirts of Paris and started by American Mike Donohue and his college buddy from Alsace, Thomas Deck, this brewery makes craft beer that is quickly becoming some of the best in the city. "We started our businesses around the same time," says Katia, "and have watched them grow." Visit their workshop on Saturdays to learn about the production process, meet the founders, and sample beers. Pay close attention to Trouble #6, the sisters' favorite, a riff on a traditional farmhouse ale that pairs well with spicy foods.
Two sisters—"Kind of like us!" says Tatiana—and one of their husbands run this new shop, which fuses typical French pastry techniques with Lebanese flavors. Tatiana and Katia find themselves noshing on pastries here frequently. "It's simply impossible to stay away!" says Katia. Don't miss the lemon cake, topped with a hard, almost crispy icing.
Marie Quatrehomme—the daughter of the business's founder, who opened his first shop in 1949—is the first woman to win an M.O.F., a Meilleur Ouvrier de France, a designation that marks her the best in her craft. "It's fascinating to go into the shop and hear the stories behind each cheese," says Katia. One of the sisters' favorite offerings from Quatrehomme is the cheesecake—not a pastry but layers of cheese alternated with layers of jams, nuts, or truffles.
This narrow wine shop, where you can also grab a drink before dinner, is situated next to Inaki Aizpitarte's Le Chateaubriand restaurant and was opened by its sommelier, Sébastien Chatillon, in 2013. It specializes in non-French wines. The sisters enjoy pinot grigio from Dario Princic and gin from Belet in particular. Infused with citrus, rose, and pepper, it's perfect as an aperitif, or with a splash of tonic.
Located a two-minute walk from the sisters' restaurant, this neighborhood épicerie sells everything from locally grown organic produce to bread and sausages, and serves as Le Servan's unofficial pantry. "We go there almost every day when something is missing," says Tatiana.
Watch how to make the perfect quiche