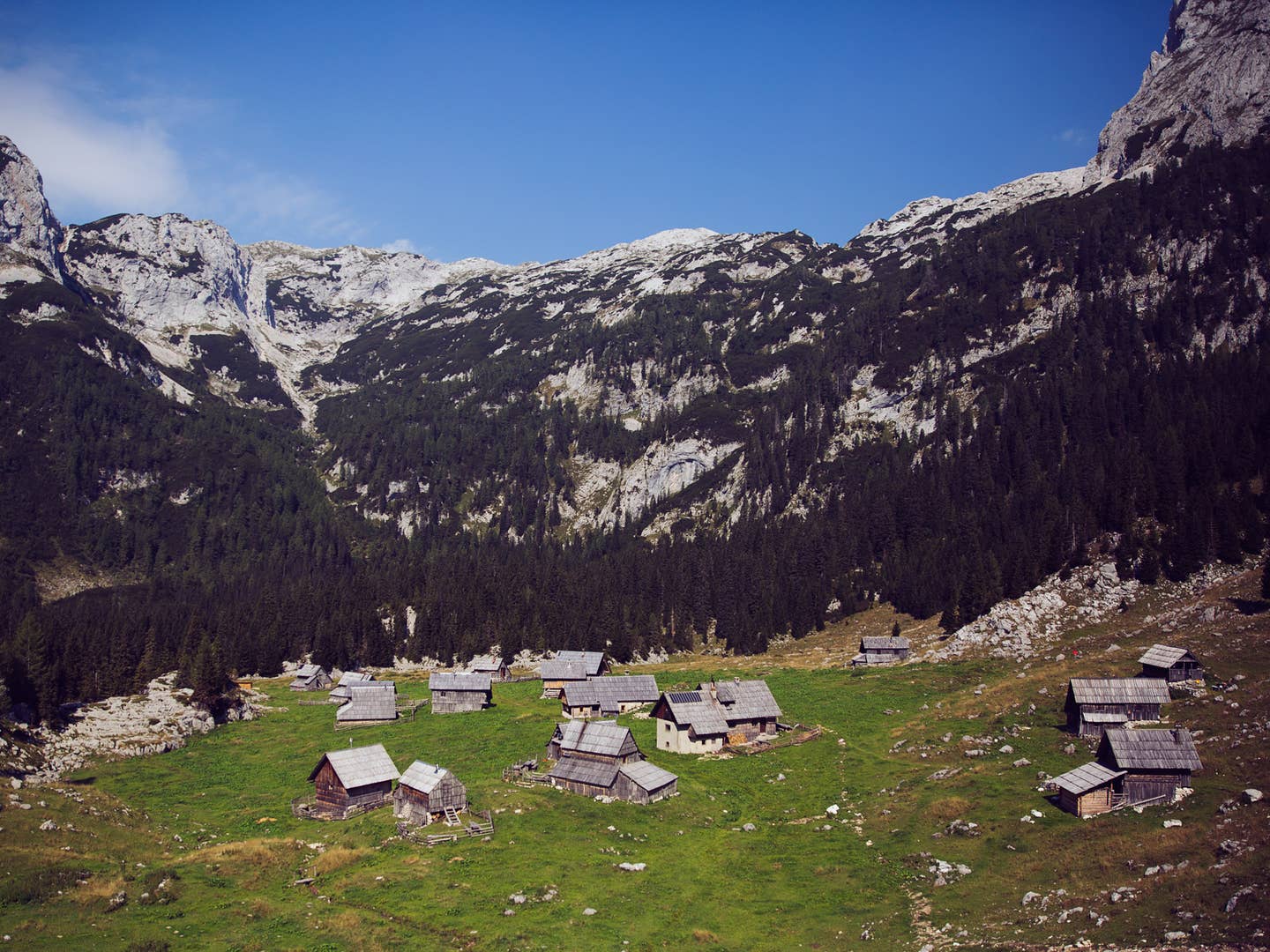 Travel
The Local's Way to Eat the Alps
There's incredible food in the Slovenian mountains if you know where to look
"Do you rock climb?" my guide Maja asked as I balanced myself, along with my 30-pound backpack, on an edge nearly 6,000 feet above Lake Bohinj, contemplating my next move. While I don't have much technical climbing experience, it was nearing lunch, and if I wanted to eat, I had to push forward. I wasn't just hiking Slovenia's Julian Alps for the breathtaking views and fresh air; I was here for the food.
The Julian Alps, which lie just over an hour's drive from Slovenia's capital, Ljubljana, draw locals and tourists alike for fresh air, hiking, and picturesque views along the shores of Lakes Bled and Bohinj. Small villages and farms dot the mountains, and if you know which doors to knock on, locals are more than happy to serve hikers a home-cooked meal or provide them with a place to sleep for a few Euros a night.
That's where Miha came in, the certified hiker behind Slo-Trips, a company that provides travelers with guides who know not just the Slovenian terrain, but also where to stop for tastes of local food and drink across the country. Miha and his guides customize everything from trip duration to destinations to difficulty, so all a hungry hiker has to do is show up ready to climb. After arriving in Slovenia (I was there on photo assignment for a travel story), I was introduced to Maja, a hiker familiar with the Alps who was more of an adventurous best friend than formal tour guide.
Once I hoisted myself onto flat land, I had a clear view of the rugged landscape that sprawled beneath the limestone peaks higher up the Alps. In a fairytale-perfect village, Maja introduced me to Gabrjel, who spends his summers here, as he was completing daily maintenance work around the family farm. After some brief discussion with Gabrjel and his wife Valerija, Maja explained what they had to serve that day and we decided on a lunch menu. Soon enough we were eating smoky boiled krainer sausage, Slovenia's version of kielbasa, with sauerkraut in their small kitchen.
More Photos: A Hiker's Alpine Feast
Recharged and refreshed, we paid a few Euros as our fee and set out for more hiking. By the end of the day, lunch felt like a distant memory; long climbs through the mountains mean you always have a good appetite.
As evening approached, the faint ringing of cowbells in the distance broke the silence of the wilderness. We made our way to another village, where we eagerly joined a lively bunch of hikers sitting around a group of picnic tables, rewarding themselves with cold beers offered by Henrik and Maja (another Maja, not mine), who also provided us beds for the evening.
Hearty, filling buckwheat porridge is a traditional dish in this part of Slovenia; so are chunks of fried pig fat, just the thing to fill your belly after a day of hiking through the mountains. We also feasted on local cheese with dried sausage and pleasantly doughy dumplings filled with cottage cheese and topped with honey. It's the kind of simple but utterly delicious food you only find in home kitchens, not restaurants. And the hospitality couldn't be better.
Dinner's not dinner in the Alps without a round of shots to finish off the night. Maja poured us glasses of the local schnapps, kosutnik, made from a flower with a bracing, bitter kick, and we toasted to the Perseid meteor shower twinkling above us.
Over dinner conversation that night I learned that the woman responsible for our cheese lived a mere hour's hike away. The next day I figured, even though her home was in the opposite direction and visiting her would lengthen our already ambitious hike, it was a necessary detour. We made our way through a thick pine forest still dusted in morning frost, which opened onto a pasture offering incredible valley views.
Maja made introductions, and I learned that the cheesemaker and her family mostly produce a sharp, semi-soft mohant cheese as well as butter, both there and at a farm in nearby Studor. We asked for some breakfast, and she soon offered a simple but fortifying meal of toast and soured milk, a local favorite reminiscent of yogurt.
Breakfast taken care of, we set out for our final meal. Farmers Milka and Matjaz live at a trailhead in a more easily accessible part of the Alps, and their home is a popular destination for hungry hikers. While other people in the area are more likely to serve you whatever they have on hand, Milka and Matjaz offer a menu with generations of family recipes. When we arrived, a fire pit was already ablaze cooking goat, chicken, and potatoes. I sipped on a cup of bright and floral elderflower juice and paged through the photo album Milka has kept through the years, a guestbook of the family, friends, and friendly hikers that have stopped by their home for a taste of her cooking.
After we stuffed ourselves again, I asked Maja how many miles we'd hiked over the past few days. "I don't keep track of the distance," she explained. Why bother when you're in a place where time seems to stand still, where it feels like you're hundreds of miles from the nearest city, but never too far from the ringing of cowbells and your next meal.
If you're looking to book a hiking feast of your own, visit Slo-Trips. Private hikes for one to two people cost about 210 € a day with an additional 5 to 10 € per meal and between 8 and 25 € for sleeping accommodations.