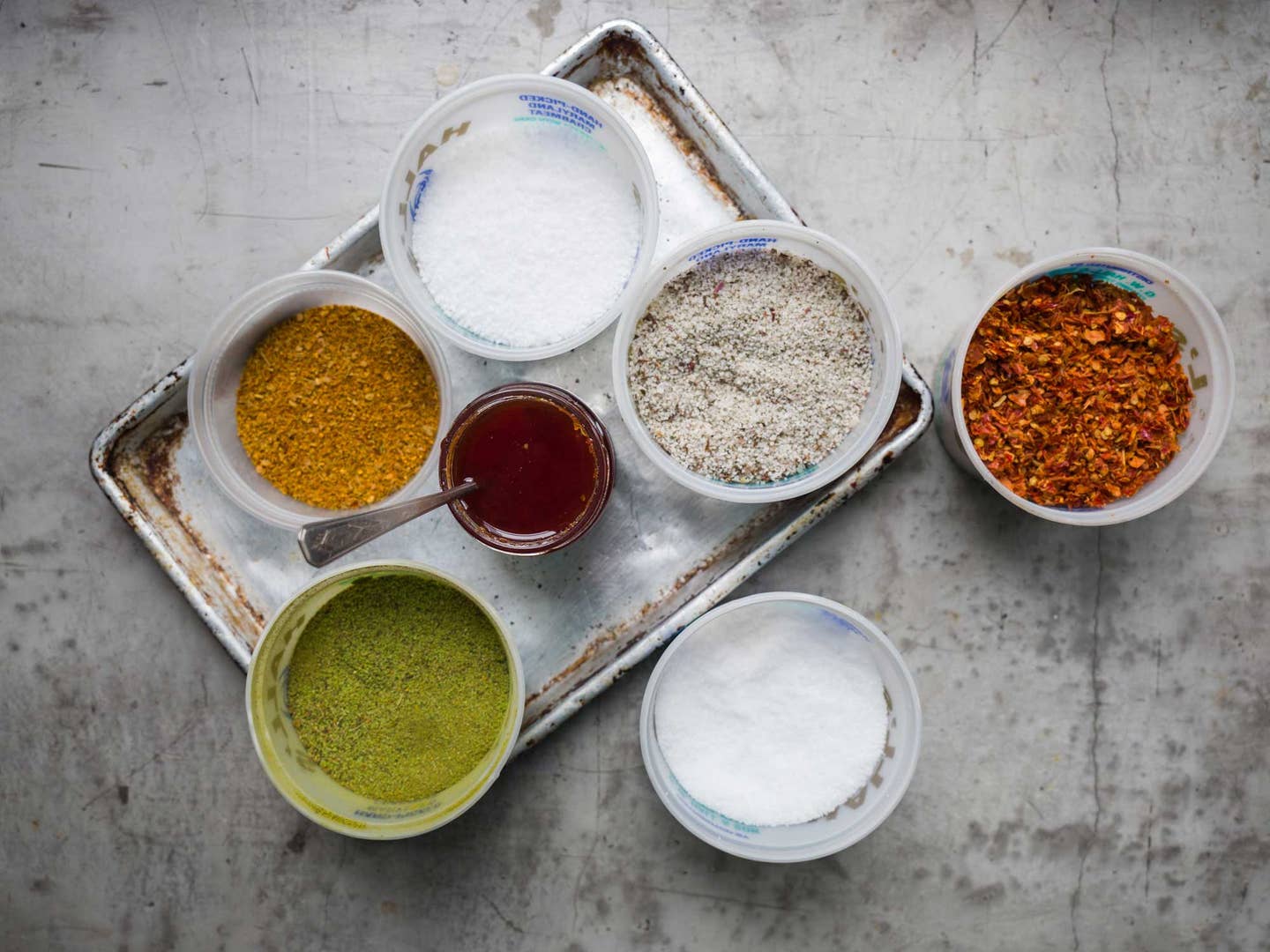 Techniques
7 Unusual Pantry Essentials from a Preservation Expert
Chef Spike Gjerde of Woodberry Kitchen in Baltimore preserves over 60,000 pounds of fruits and vegetables each year. Here's his guide to some of the restaurant's most prized pantry staples.
Last year, Gjerde's canning operation, Woodberry Pantry (run by preservation enthusiast Lauren Sandler), put up 42,329 pounds of vegetables and 21,510 pounds of fruit between June 1 and October 28. This is not to mention 1,197 pounds of herbs. In Gjerde's kitchen, nothing goes to waste—stems, pulp, and skins are all used somehow—and nearly every ingredient is sourced from the surrounding states or Chesapeake area, which means no lemons or limes, black pepper, or processed grains. Currently, the team is figuring out how to completely eliminate processed sugar, turning instead to sorghum, maple syrup, and honey to solve most of their sweetener conundrums.
While in the SAVEUR Test Kitchen previewing his latest project A Rake's Progress (opening in May at The Line Hotel D.C.), Gjerde and his executive chef Opie Crooks gave us a peek into their pantry arsenal, filled with interesting salts, preserves, and spices.
J.Q. Dickinson Salt: Gjerde and his team recently made the decision to stop using black pepper because they aren't able to source it nearby. Finding salt, however, has never been an issue. They use coarse and fine salt from J.Q. Dickinson, a seventh-generation salt maker in Malden, West Virginia that traps their small batch crop from an ancient sea locked beneath the Appalachian Mountains.
Verjus: The juice from pressed, green (unripened) grapes, verjus is fundamental to Woodberry, A Rake's Progress, and A Rake's Bar. Because the kitchen and bar don't use citrus, Gjerde and Corey Polyoka, the group's beverage director, derive acid from alternative sources including vinegar and verjus from Black Ankle and Old Westminster vineyards. The tart, slightly fizzy juice makes a regular appearance in cocktails and Gjerde uses it in everything from beurre blanc to salad dressings and marinades.
Turmeric: "It's maybe the first time we've ever been on trend," says Gjerde of his kitchen's enthusiasm about turmeric, the bright yellow-orange root they source from a couple of nearby farms. The kitchen dries and grinds it for salt blends, while Woodberry, Artifact Coffee and the forthcoming coffee shop at The Line Hotel, The Cup We All Race 4, serve a turmeric and ginger latte called Golden Milk.
Woodberry Tomato Jam and Spike's Maryland Tomatoes: The most fundamental ingredient of Gjerde's pantry are tomatoes—whole, crushed, milled, jam, and paste. Each year, Woodberry's canning operation puts up 240,000 pounds or six trailer-loads of Maryland-grown tomatoes. "When we first started, we bought tomato paste like any kitchen," says Gjerde. "Now, we know exactly where it comes from and exactly how it was processed." Woodberry's operations support a whole economy of tomato growing and processing, but some Gjerde's very favorite produce comes from Cleo Braver of Cottingham Farm in Easton, Maryland. "She grows 30 different heirlooms. We call her the tomato whisperer," says Gjerde.
Woodberry Pantry Jams: "This year was tough for our jam production. We had a late frost in mid-April and lost all our apricots and cherries," says Gjerde. The challenge of depending on hyper-local agricultural economy means having to make do with what the weather delivers. Not all was lost though. Peaches, tomatoes, rhubarb, berries, peppers, and rhubarb all filled Woodberry's pantry shelves and made an appearance in cocktails, sandwiches, and breakfast spreads. Jams from 2016 are still available with jars from 2017 coming once warm weather hits.
Snake Oil Hot Sauce: Grown near the Chesapeake in centuries past, fish peppers were brought to the Mid-Atlantic by African slaves, but lost to time until foodways historian William Woys Weaver made Gjerde aware of their existence. His beekeeper grandfather grew them after Horace Pippin, a black painter in Pennsylvania, gifted him his seeds in the 1940s. Now, Woodberry sources thousands of pounds of these peppers each year, which tranform from creamy white to green to dark red as they mature. They're the base for Woodberry Pantry's iconic Snake Oil hot sauce, which Gjerde uses on oysters, breakfast sandwiches, and burgers. Get your own bottle here.
Flake: According to Woodberry's philosophy of keeping waste to a minimum, almost everything gets used—stems, ends, bones and all. "Flake" is the name for the leftover mash used to make the Snake Oil once it's been dried. Made of mostly skins and pulp, it's salty and full of flavor having been fermented and seasoned during production. "The economy of our business is finely tuned, so we avoid waste at all costs," says Gjerde. He uses flake on popcorn and as an alternative seasoning to black pepper.