Recipes
Peach and Fennel Salad with Sweet Tea Granita
Fennel pollen, piment d'Espelette, and a drizzle of peppery olive oil elevate late-season summer produce in this refreshing and elegant starter.
Serves

4

Cook

2 hours 15 minutes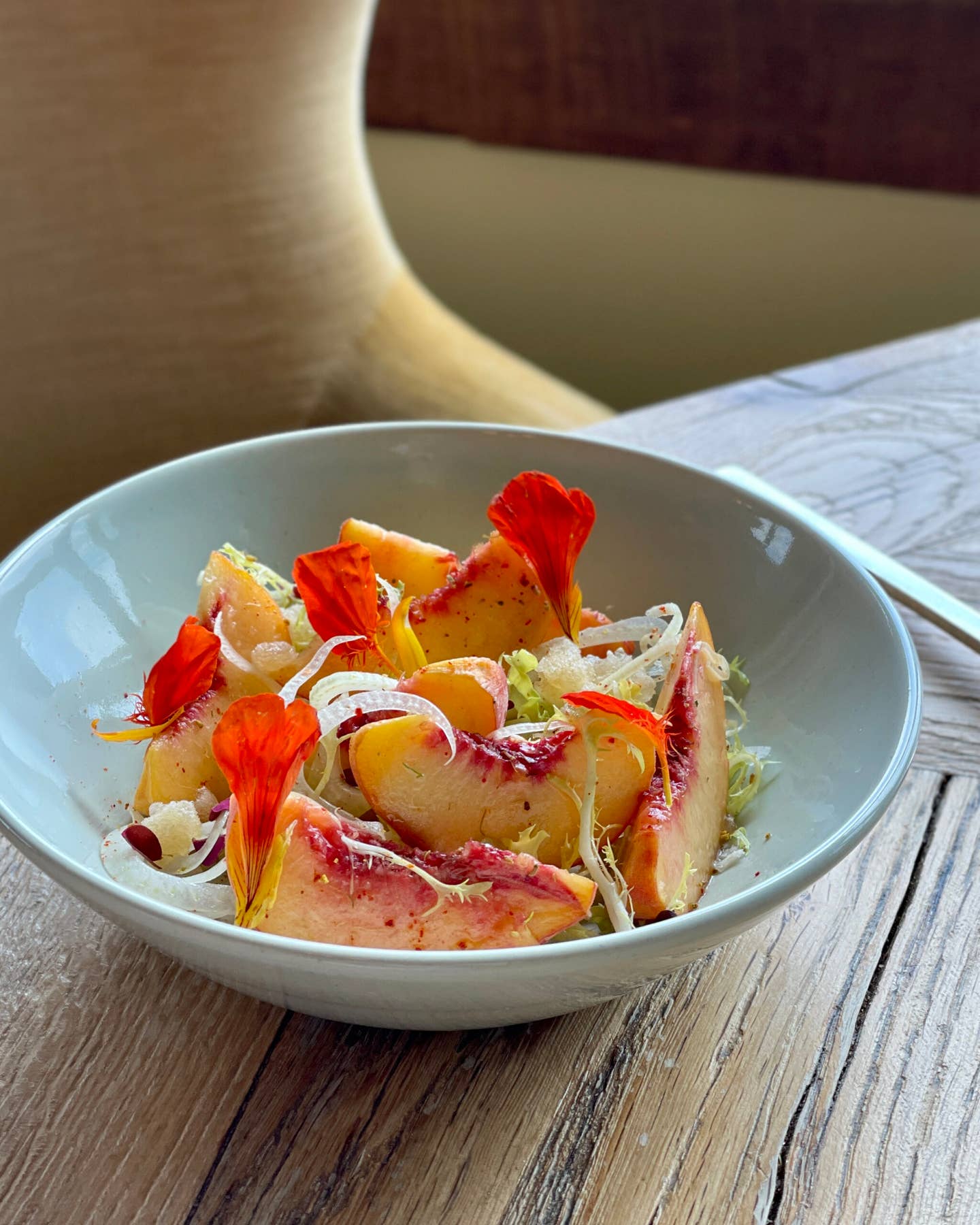 Located in Tennessee's Great Smoky Mountains, the dining program at Blackberry Mountain celebrates the flavors of the surrounding region alongside global ingredients and techniques—as seen in this simple yet elegant late-summer salad from executive chef Joey Edwards at the property's Three Sisters restaurant. In the American South, peaches and sweet tea are iconic refreshments; this recipe features both, in an elevated and unexpected presentation that's doable for any home cook entertaining on a hot summer night. Increase the recipe based on your farmers market haul and your guest list; the ideal ratio is about 50 percent peaches to 30 percent fennel and 20 percent frisée. Edwards advises using a light hand when dressing this peach and fennel salad; most of the dish's seasoning comes from the granita's sweet-sour-salty flavors, as well as the peppery richness of good-quality—preferably Sicilian—extra-virgin olive oil.
Ingredients
For the granita:
1 single-serving bag black tea (English breakfast tea works great)
3 Tbsp. honey
1 tsp. kosher salt
¼ cup plus 1 Tbsp. fresh lemon juice
For the salad:
2 ripe yellow peaches (8 oz.), sliced into wedges
1 small fennel bulb (6 oz.), cored and thinly sliced, fronds reserved
1 small head frisée cut into bite size pieces (about 1½ cups)
Pinch fennel pollen
Pinch piment d'Espelette
2 Tbsp. extra-virgin olive oil
1 Tbsp. lemon
Fine salt
Edible fresh flowers, such as basil or mint blossoms, lavender, or sunflower petals, for garnish (optional)
Instructions
Step 1
Make the granita: To a small, nonreactive bowl, add ⅔ cup boiling water and the teabag; set aside to steep until the tea is strong and deep amber in color, about 3 minutes. Remove and discard the teabag, then stir in the honey and salt. Set aside to cool to room temperature, then stir in the lemon juice. Transfer to the freezer until solid, 2–4 hours.
Step 2
When the granita is fully frozen, assemble the salad: To a large bowl, add the peaches, fennel, and frisée. Just before serving, dress with the lemon juice and olive oil, season lightly with salt, and transfer to a wide salad bowl. Using a fork, scrape the surface of the frozen granita gradually to make a fluffy snow. Dollop the granita over the peach and fennel salad in little clusters, then sprinkle with fennel pollen and piment d'Espelette, garnish with edible flowers, if desired, and serve immediately.