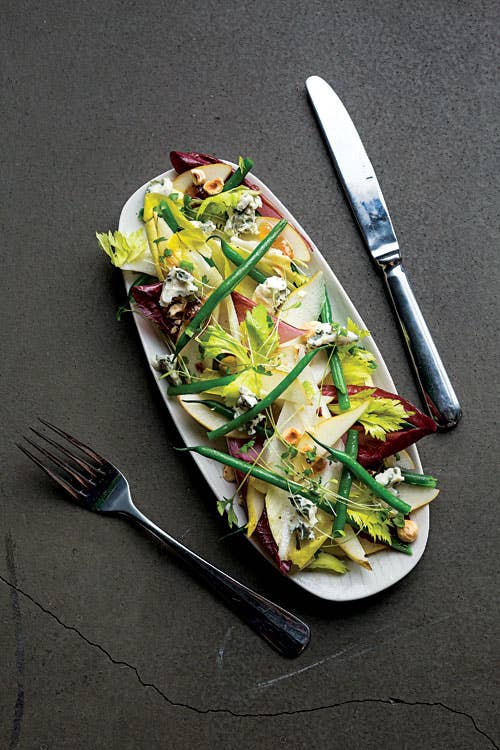 I enjoy breakfast and lunch far too much to mash them together. This, and the fact that I don't do restaurants on weekends (too crowded, too noisy), means that I am not what one would call a brunch fan. So when my vegetarian friend asked me to join him for brunch at a place called The Grain Store (did I note I'm also a serious carnivore?), I was anything but thrilled. Then I entered Bruno Loubet's airy London restaurant and exhaled. Sipping one of the foxiest little eye-openers I've ever had—white grenache with smoked paprika cordial—I browsed the menu, which trots the globe and puts vegetables first; several dishes include meat but always as a garnish, never the main event. I ordered a French classic—endive, pear, and Roquefort salad—brilliantly nudged off-center by smoked pepper jelly and roasted hazelnuts; and then a smoky corn and quinoa tamale with salsa and a chunk of slow-roasted, sticky pork belly. For him, roasted beets with pink grapefruit, gherkins, grated bottarga and mustard oil; and kimchi-and-potato dumplings in a lobster broth. Every dish came off as a thrilling little constellation of textures and tones—a dash of acidity here, a funky umami base note there—right down to the horseradish ice cream with strawberry balsamic jam for dessert. Loubet's sassy vegetable-focused cooking sure has a lot of meat on its bones.
The Grain Store
Granary Square, 1-3 Stable Street
King's Cross, London
4/20/7324-4466
Alexander Lobrano is a SAVEUER contributing editor.