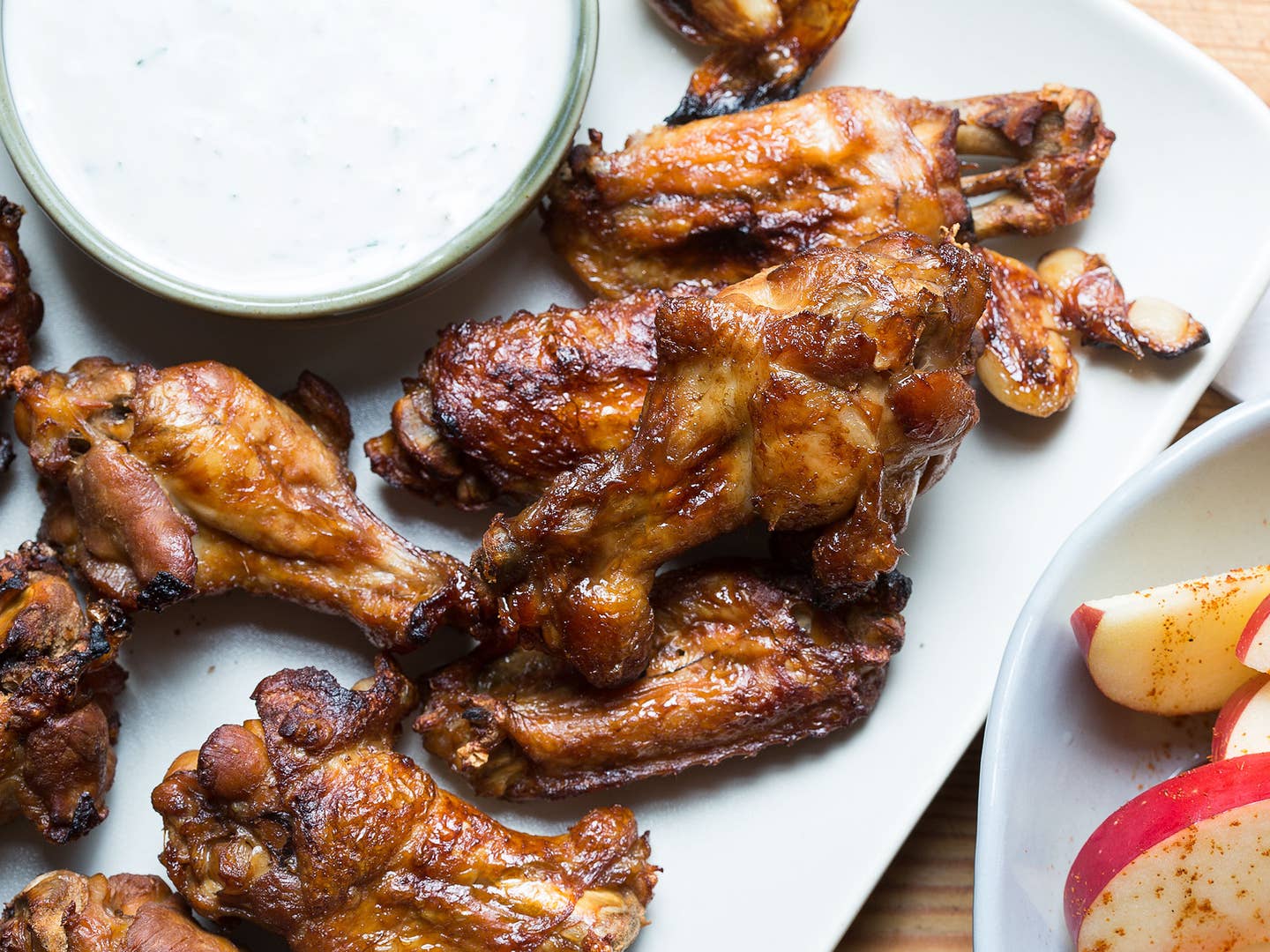 Travel
The Pride of the Philippines Makes a Killer Bar Snack
An underground New York pop-up gives chicken wings the adobo treatment
In Asia, drinking-food (and drinking properly with food) is an art form. So welcome to Asian Drinking Food Adventures, where Dan Holzman, chef-owner of The Meatball Shop, and Matt Rodbard, author of the Koreatown cookbook, seek out the best food from bars, izakayas, pojangmachas, and then some.
On a recent Monday afternoon, a legendary craft beer bar, famous for its selection of geeky farmhouse ales and esoteric dubbels, was perfumed with the lingering smell of soy and garlic. And all was right in the world.
For over a decade, a very likable guy named Jimmy Carbone has run Jimmy's No. 43 in New York's East Village like a personal clubhouse. Jimmy's is a basement-level relaxed drinking den where the ever-present owner offers regulars, and those who wander in from the street above, tastes of the latest keg he's wrangled from some cult Colorado alehouse or nano brewer upstate.
Like hanging out in your beer-crazed buddy's man cave, the food at Jimmy's has never been the main attraction. For a while he served gastropub favorites—plates piled with pig trotters and slow-smoked lamb ribs to wash down all that gose. Then the menu transitioned to a Cajun theme with a proud New Orleans expat cooking up boudin and gumbo. Carbone—who describes himself as "Italian on both sides"—is attuned to the rhythms of the food world. So, after a forced closure due to a devastating explosion that nearly leveled his block, Jimmy reopened with a menu that satisfied what the umami-crazed people of New York were yearning for: adobo chicken wings, crisp-skinned finger food soused in the high-octane salty-sweet sauce of the Philippines.
The rest of the food on the slim menu is very good, and definitely built for beer. Lumpia are deep-fried pork spring rolls served throughout the Philippines and Indonesia, and King's version at Jimmy's are excellent, breaking apart in that way all good lumpia should, shattering at the slightest touch. Halo halo fries? Don't worry if you have no idea what this is, neither did we. The name (translation: "mix mix") is a reference to the mountainous shaved-ice dish usually served at the close of a Filipino meal. Here it's transformed into the ultimate bar snack by topping a pile of fries with sizzling sautéed pork, Kewpie mayo, and bonito flakes. It's more like okonomiyaki poutine than anything, and you should order it.
But more about that adobo.
Adobo is the national dish of the Philippines, which wears the influence of the Mexicans, Spanish, and Chinese on its stain-speckled sleeve. The term refers to the technique of simmering meat, seafood, and vegetables in a marinade of vinegar, soy sauce, bay leaves, black pepper, and garlic. Like kimchi to Koreans, adobe is less a specific dish then a style of cooking that can be applied to many ingredients. At Jimmy's, the protein of choice is the classic American bar snack: chicken wings. Instead of the Western salty, spicy, and eye-watering Buffalo-style wing, these adobo wings opt for an Eastern trifecta of sweet, salty, and savory. They may be even easier to inhale than their Buffalo bretherinkind.
The man behind these wings is no stranger to high-flying Filipino cooking. King Phojanakong runs Kuma Inn and Umi Nom, popular and long-established restaurants that reflect the chef's mixed background; he was born to a Filipino mother and Thai father. Tito King's Kitchen at Jimmy's is his partnership with Carbone, and we're hesitant to call it a full-scale restaurant because we're not sure how long the pop-up will last. Which is why we scribbled down the recipe for the wings as fast as we could.
For this recipe, we adapted King's version, keeping his basic marinade but opting to crisp the skin under the broiler rather than in deep fryer. (Feel free to fry them up if you're up for it, but we prefer to spend more time cooking, eating and drinking beer then cleaning a slippery floor). We also added a recipe for crispy lime- and chile-marinated apple slices and an Asian-ish ranch dipping sauce. Cuz they just ain't wings without ranch dressing and something to crunch on.