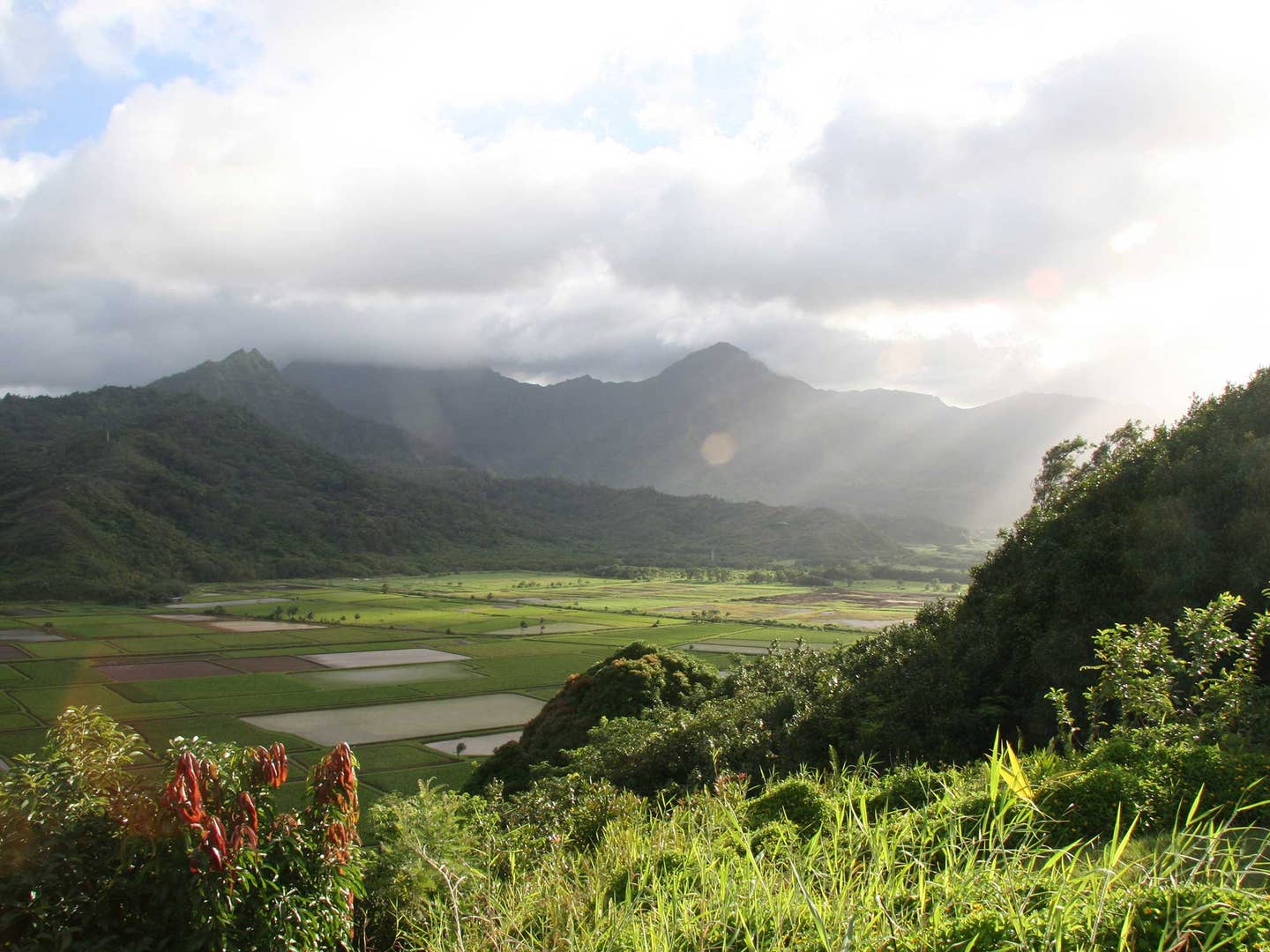 Culture
The Unsung Hero of Hawaiian Cuisine Cares More About Homegrown Limes Than Bowls of Poke
For chef Amy Ferguson, who's spent 30+ years pushing Hawaiian food behind the scenes, the future of the food on the islands means importing less produce and making the most of some of the world's most fertile farmland
Chef Amy Ferguson jokingly attributes her close friendship with Julia Child to their shared astrological sign, Leo. And back in 1991-era New York City, when the two happy Leos sat down for a lunch, Ferguson waxed poetic about her adopted home, Hawaii, and her dear friend listened. Ferguson was enamored with the hearts of palm, breadfruit, and the seemingly endless varieties of mangoes she could find. Warm-hearted Leo that Child was, Child gave Ferguson some advice—"You should write about Hawaiian food"—and she hooked Ferguson up with her publisher, Random House.
So on that very trip to the city, Ferguson unexpectedly found herself on her way to Random House, off to pitch a book. But when she sat down with the company and delivered her spiel, it was met with one very simple, straightforward response: "Nobody wants to hear about Hawaiian food."
That was in 1991. Now, in 2016, Hawaiian poke bowls are one of the year's "hottest food trends." Restaurants are opening around the country and dedicating themselves solely to the dish, while countless publications such as Vogue, Wall Street Journal, and restaurant business magazine QSR, are posting trend pieces calling Hawaiian food The Next Big Thing.
The tide of national interest in Hawaiian cuisine has changed. But, poke shops opening in coastal cities aren't enough to sustain and enrich Hawaiian food culture back home. For that, the answer may really lie in Ferguson's citrus garden and chicken coop.
Ever since Ferguson landed in Hawaii in 1985, she's been a behind-the-scenes force pushing Hawaiian cuisine forward. She started as the food and beverage director at Kona Village, a small Hawaiian resort on the Big Island, where she first wrestled with the state's agricultural paradox: On a set of islands that can produce everything from kale to pork to countless types of mangoes, why is so much food being imported at the expense of enriching the local economy? Hawaii's distinct food culture is in large part due to its tropical bounty, but only a fraction of what grows around the islands is harvested for food. Why not make the most of it?
"When I arrived, there wasn't a food movement," Ferguson says, noting that resorts—including her own—served continental-style food that you could really find anywhere. "If you wanted local food, it was found in the homes, it was not found in the restaurants or hotels." Which is how she found it—riding around in the back of her produce purveyor's truck to farms and houses, watching home cooks make meals out of taro, Waipio valley snails, and Pohole ferns.
On a large scale, Ferguson has organized events bridging the gap between local chefs, produce, and people. In 1991, she co-hosted the first ever Big Island Bounty, gathering the island's chefs to cook dishes for people looking to sample Hawaii's produce; in 2003, she started "Hook and Cook" as part of the Keauhou Big Island Bounty, inviting chefs from all over the U.S. to catch and cook with local fish, as well as produce.
On a smaller scale, she's learned what it takes to grow everything from three types of oregano to eggplant, complete with a chicken coop, on her 5,800-square-foot plot of land. You won't see her name listed in most newspapers or magazines, but Ferguson has dedicated her life to supporting food culture in Hawaii as much as more famous names like Peter Merriman and Sam Choy.
Even during her years running professional kitchens, Ferguson had her eye toward supporting Hawaii's local economy and farmers through celebrations to promote awareness. As the first female executive chef at the Ritz Carlton Mauna Lani in the 1990s, she was one of the first on the island to bring in local farmers to supply her needs for goat cheese, papaya, and baby lettuce, which she took took with her to her Kona restaurant, O's Bistro, until she was forced to close it in 2008.
Ferguson recalls feeling ashamed of that closing, but it wound up becoming a turning point. 2008 was the year she turned her attention toward all of Hawaii, not just those who visited her restaurant.
"When the restaurant closed, my lawyers thought I would go crazy, so one of them gave me two chickens, which is what began my personal research into sustainability," she says.
According to a 2012 study by the Department of Business Economic Development & Tourism and Hawaii's Department of Agriculture, the islands import between 85 and 90 percent of their food, even though Hawaii's varied microclimates can produce nearly any fruit and vegetable, as well as coffee, chocolate, and other commodities. Were Hawaii to replace just 10 percent of the food it currently imports, it would have $313 million more per year—an amount that would go far in the state that currently has the nation's highest rate of homelessness per capita. The 2012 study also attempts to address Hawaii's paradox, offering straightforward objectives: increase demand for, production of, and access to locally grown foods, and provide organizational support to meet self-sufficiency needs.
Adjusting this imbalance will go a long way toward furthering the growth of a cuisine so defined by its use of local tropical ingredients, and Ferguson figures it's best to lead by example. So she's raising her own chickens and harvesting eggs, and has turned her backyard into a garden of edible wonders. She now grows an insane number of citrus fruits—calamansi, rangpur, and Tahiti limes, as well as grapefruits and lemons and tangelos—all which have been extremely expensive to buy on the island in the past few years. She still works as a personal chef and runs Cater Hawaii, but during the day, she focuses on what she loves: research.
"I'm turning 61 this July, but I feel as young as I did when I was 40," she says. "I'm excited about developing a sustainable for Hawaii. I'm exciting to keep cooking and learning."
There's a Hawaiian word that locals use to describe a white person who is clearly not from the islands—haole—and that's exactly what Ferguson was when she landed on the Big Island in 1985. Born in Houston in 1955, she wasn't raised on island cuisine, but instead Southwestern food—and she excelled at cooking it. It was during her time working as executive chef at Houston's Charley's 517, a popular old-school dinner house, that she started getting attention; it's also when she first met Julia Child, who visited her after hearing that a talented young woman was making great food in the middle of Texas.
"French nouvelle cuisine blossomed [at Charley's 517] under chef Amy Ferguson," the Houston Press reported in 2002, and way back in 1990, the Los Angeles Times cited Ferguson as one of the chefs who popularized the use of chiles in desserts. "Amy Ferguson, as the chef at Charley's 517 in Houston, made culinary history when she sparked a chocolate souffle with ancho chiles," the article reads. But after starting to tire of running restaurants, Ferguson wanted an out, which came in the form of an offer to be the food and beverage director at Kona Village.
"That's how I ended up here on this giant lava rock, where I stuck out," she says. "I really was a stranger to this land and this culture. I'm talking 'white girls goes down to the beach and gets sunburnt while she's cleaning sand out of the imu [an underground Hawaiian oven].'"
Through genuine interest and an acknowledgement of her ignorance, Ferguson went on to immerse herself Hawaiian food. She became the executive chef at Rosewood's five-star resort, Hotel Hana-Maui. She became the executive chef in the Ritz Carlton chain. She was nominated for a James Beard Award in 1995. And she was one of 12 people (of which only two were women) to develop the concept of Hawaii Regional Cuisine: Think tropical dishes that these days might sound a little dated, like lilikoi cheesecake and macadamia nut-crusted fish.
This easily marketable "Hawaiian" cuisine emerged in the early 1990s as an effort to promote local farmers and produce, with techniques from European and East Asian traditions. And it's through this cuisine that she often gets attention (though much less than her male peers). After all, these are the dishes that floated onto the mainland, shaping broader American perceptions of the islands' food.
But what hasn't yet floated onto the mainland is a deeper understanding of what's required for modern Hawaiian cuisine to thrive. Buying into poke shops is just the beginning; Ferguson is more concerned with strengthening the connections underneath. After 31 years on the island, that, to her, translates to learning how to be the best producer and consumer of resources she can in Hawaii. Which means a backyard full of limes and chickens.