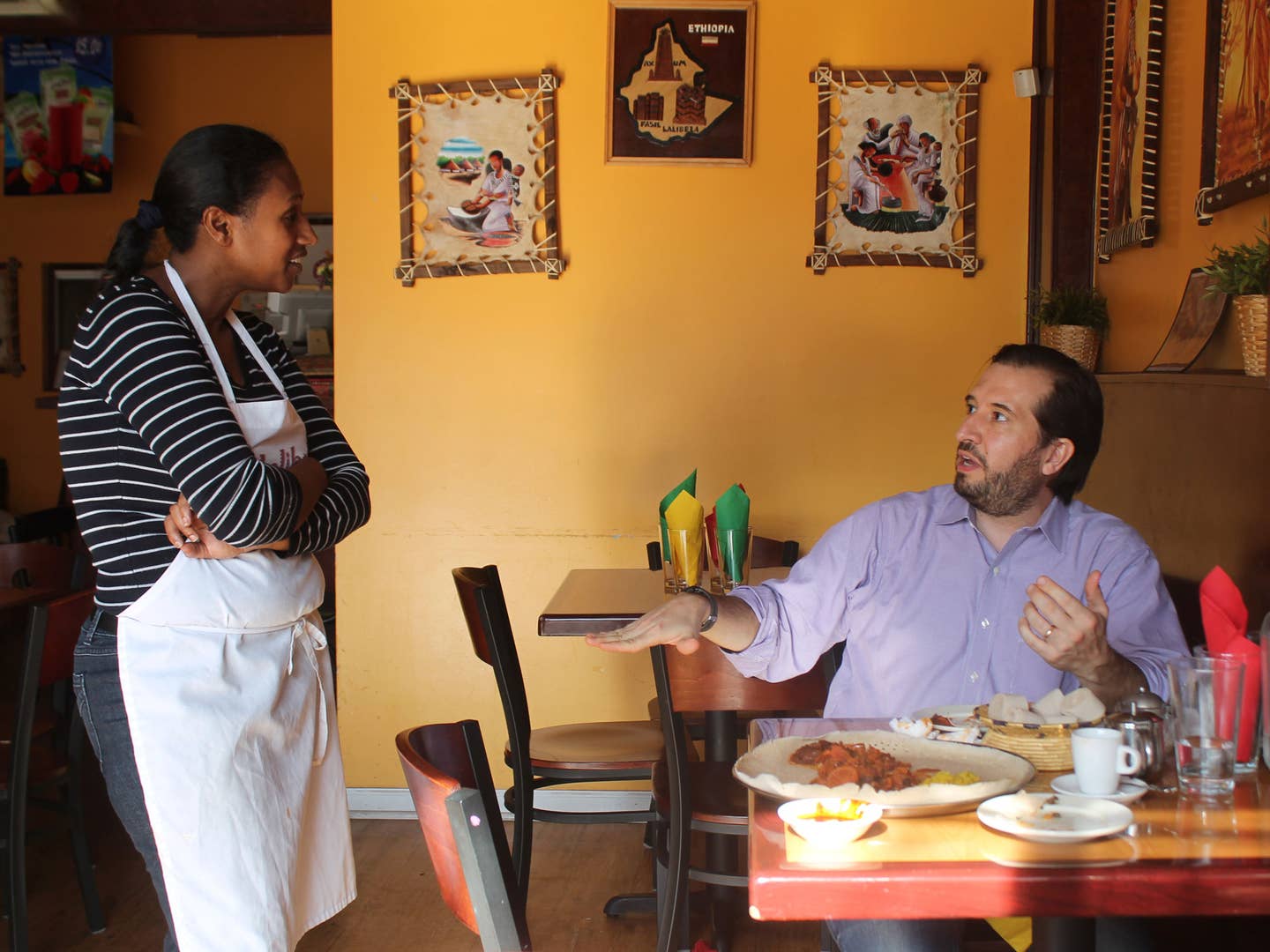 Culture
Lunch With the Food Obsessive Who's Mapped Over 1,000 New Jersey Restaurants From 40 Countries
Lawyer and suburban dad Anthony Ewing, the scribe behind EthnicNJ, is New Jersey's most meticulous and globally-minded culinary cartographer
"I love maps," Anthony Ewing says from the driver seat of his minivan, its keys on his lap. "And I don't like asking for directions." This is the meticulous man behind ethnicnj.com, a mind-boggling digital account of the state's culinary offerings from across the world.
EthnicNJ is not another food blog, Jersey or otherwise. It's a painstakingly thorough demographic archive, the result of a lifetime (mostly) spent in Jersey supplemented by research all around the world. Since launching the site in 2010, Ewing has pinned 1,100 restaurants throughout the state on a restaurant map coded by nationality, reflecting the incredible diversity of food you can find there—if you're willing to look.
"New Jersey is the third most diverse state in the country," Ewing says "But I think New Jerseyans as a whole are reluctant to explore unless they have the directions and know where they're going. That's EthnicNJ."
I meet Ewing at the Grove Street PATH Station. I climb into his van, which is meticulously organized and free of clutter. Ewing strikes me as someone who always likes having the answers, and he hands me a thick packet of paper that's perfectly squared and held together with a small, carefully placed binder clip. Keys go from lap to ignition before I have a chance to digest what it is I'm holding. "Those are the places we'll go to today," he tells me.
We head west on Christopher Columbus Drive, destined for Kearny, New Jersey, a working-class town known for producing members of the U.S. men's soccer team (Tony Meola and Tab Ramos). Ewing clears the air by giving his take on a fraught and complicated term at the heart of his work: "ethnic" food.
"If people visit the states from abroad," he says, "they're often looking for iconic Jersey food." For Ewing, Jersey hot dogs, disco fries, and burgers are just as integral to the ethnic diversity of culinary offerings in the Garden State as, say, Afghan and Haitian cuisines. And his site reflects that. EthnicNJ doesn't put foreign cuisines on exhibition; it regards all food as coming from somewhere worth studying and celebrating.
In 2011, in addition to soccer players, the town of Kearny became known for producing Argentinian-style empanadas. You can get those at Stella's Empanadas & Argentine Grill. So we hop on Route 7, drive over the Jersey swamps, talk about Springsteen and Hoffa, and eventually park on Elm Street. "This is my favorite kind of place," Ewing says of the pizzeria-style booths and bare room at Stella's. "No frills."
In the EthnicNJ post about Stella's, Ewing has this to say: "The rich empanada culture of Argentina helps explain the extensive menu at Stella's Empanadas & Argentine Grill in Kearny, NJ. Stella Barulich, from Argentina's third-largest city, Rosario, makes more than 20 empanada varieties, both savory and sweet, all from scratch." And you can taste the freshness. Rosario's empanadas, once fried, strike a balance between crisp and soft, with the chew of a thinned out macaroon. Break them open and white steam races to the ceiling. Take a bite and cayenne, cumin, paprika, salt—performing their own balancing act-—race to your palate.
After graduating Somerville High School, Ewing studied international relations at Yale and then went to Columbia law school. His day job as a business consultant (focusing on business and human rights and corporate responsibility) has taken him across the globe, from Peru and Costa Rica to Ethiopia and Pakistan, where he spent two weeks evaluating a program to eliminate child labor in the production of soccer balls. The focus was child labor, but "I ate along the way and paid attention to the food," Ewing tells me while we wait for our order. All that travel has given him perspective that many grassroots food writers online lack: an authoritative sense of what's good.
Empanadas arrive and Ewing bites into his spicy chicken. "I've always been interested in local food as a way to understand the local community," he says. Stitched into Ewing's motivation for EthnicNJ is the same unifying For The People spirit that's embodied New Jersey since Springsteen made Asbury Park famous. "Our immigrant past is what all new Jerseyans have in common," Ewing says. "Sharing our many cuisines and communities is a Jersey strength."
Home for Ewing is now Maplewood in Essex County, where he lives with his wife and three children. They moved here from Brooklyn in 2004 after their third kid was born. "After living in Brooklyn for seven years," he says, "one of the biggest adjustments when we moved back to the Jersey suburbs was easy access to diverse restaurants." The six years leading up to EthnicNJ were spent online doing research, traversing the state ("Suddenly, my wife and I had to drive everywhere."), eating in restaurants, taking notes, and keeping lists. "The lists, and my reluctance to ask for directions," Ewing says, "led to my idea for a New Jersey food map." So he consulted developer Craig Phares at Six Overground in Asbury Park to build out the map and "launched EthnicNJ to share what I have found."
But he doesn't need to rely on a map himself; Ewing seems to have completely internalized his database. There are only three nationalities he's never found in the state: Canadian, Burmese, and Swedish (save the pinned Ikea cafeteria). Everything else he recalls with ease. Ethiopian restaurants? "There are five," Ewing says. Ask him about any other cuisine and he'll tell you the county where it's most prevalent. Korean? Bergen County. Uzbek? Monmouth. Vietnamese? Atlantic. Middle Eastern? Passaic. Jamaican? Essex.
We pay and make our way to Kearny Avenue. Our next stop is an eleven-year-old Peruvian restaurant named Oh! Calamares. Before we get there, though, Ewing pulls over and double parks. We're just past Afton Street. He points to a Brazilian-style sandwich chain called Hamburgao and tells me about the pao de queijo (Brazilian cheese puffs) and heaping sandwiches piled with steak, ham, cheese, lettuce, and tomato they serve there. It's a great example of the Brazilian immigrant population here and in the Ironbound district of Newark, where there is a large Portuguese and Brazilian population, and another Hamburgao location.
Ewing puts on his blinker and refocuses on Peru. "I would argue that outside of Peru," he says, "New Jersey is the best place to find Peruvian cuisine." There's a break in the traffic and we merge back onto Kearny Avenue.
Ewing estimates he's eaten at close to 250 of the restaurants pinned on EthnicNJ. In a perfect world, this number would be equal to his 1,100 pinned restaurants. But Ewing is the site's sole contributor, and EthnicNJ, despite its breadth and thoroughness, is a part-time passion project. "There's a single point of view," he says. "But if you like EthnicNJ you probably like my opinion about the places." He only writes about places he likes, and whenever he visits a restaurant, he does so with a low profile.. He may ask if the owner is there so he can introduce himself and talk about the food, but he never calls ahead and he doesn't take free meals. "I pay my way wherever I go," he says. "I'm a lawyer at heart. If the credibility of the site is finding the best food in New Jersey, and I'm getting freebies, there's a conflict of interest."
Those conversations have given him (and EthnicNJ) a deep insight into the historical contexts and regional particularities of Jersey's immigrant food. On Atlantic City's Vietnamese restaurants: "There is a significant Vietnamese community in South Jersey between Philly and Atlantic City because when they came as refugees in the '70s they were resettled by church groups in the Philadelphia suburbs." On regional cuisines: "New Jersey is home to the third largest Indian population in the United States," Ewing writes on EthnicNJ. "Like 'Chinese' food, 'Indian' is the catch-all American description of many distinct regional cuisines (and often the shared historical cuisines of India's South Asian neighbors—Pakistan, Bangladesh and Sri Lanka)."
Sitting at Oh! Calamares, Ewing orders ceviche mixto (extra spicy) from our server in perfect Spanish—he studied it in high school and college (as well as Russian) and became fluent living in Central America—and tells me about the grant he earned from New Jersey News Commons in 2014 that allowed him to add demographic maps to his website.
"I added U.S. census data to the existing food map," he says, "and had it done in a way that allows users to sort by county, city, or town. So now you can see the percentage of people claiming certain ancestries in those areas." Ewing uses the maps to his advantage. "I noticed there was a significant Jamaican population in Long Branch," he says. "So I went to Long Branch and, sure enough, found a really good Jamaican restaurant."
Ewing takes a sip of his ginger ale. I stir my blackberry smoothie. "NJ Spotlight is taking a yearlong look at the impact of immigrants in New Jersey coinciding with this election cycle," he says, and adds with enthusiasm, "EthnicNJ is part of that project, and by updating the demographic maps each year with the newest census data, reporters and others are be able to use them as a reliable source."
Back in the van, we drive over the Passaic River toward the Oranges. Ewing doesn't need a GPS, but his van came with one. So the dashboard speaks at random and to no one in particular. On Scotland Road, on our way to Lalibela, one of the five Ethiopian restaurants in Jersey, a billboard catches Ewing's eye and he reads aloud from the driver's seat. "Mobile rates to Nigeria," he says, and then draws the only logical conclusion a man and a mind like Ewing's is able to make: "There must be good West African food around here."
I can hear the gears turning as Ewing takes us through the beautiful Montrose Historic District and eventually parks on Livingston Street in South Orange. That's where, a stone's throw from Seton Hall University, Lalibela is. Meklit Brookens, who moved to the States for college and to Jersey in 2002, recreates the flavors of her hometown of Addis Ababa there. She breaks between chatting with us (the starter for her injera is seven years old, she roasts her own coffee, and her nine-year-old daughter knows more than most when it comes to Ethiopian cooking) and cooking our lunch: lentils, chickpeas, and beef that's dried and smoked. Brookens retreats to the kitchen while Ewing and I sip aromatic Ethiopian coffee and wait for our last lunch.
New Jersey's population is growing. "The entire growth can be attributed to new immigrants," Ewing says. "Which is great for ethnic food."
After lunch we hop back into the van and Ewing drives me to the train station. It's a short drive. I unbuckle my seatbelt and we shake hands. "This loop was realistic for a two-hour visit," Ewing says. "But really, you could do a loop like this anywhere in Jersey."