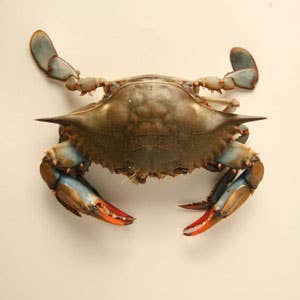 These unusually hued crustaceans, harvested from the Atlantic Ocean, are renowned for an appearance as breathtaking as their meat is delicious. Their scientific name, Callinectes sapidus, comes from Greek and Latin roots that translate roughly to "tasty, beautiful swimmers." These crabs, particularly revered on the East Coast, are delicious when their meat is picked and used to make Maryland-style crab cakes or pasta sauces. Possibly the best and most authentic way to eat them, though, is simply to steam them and serve them with a mallet and a nutpick; use the tools to break the shell and dig out every tasty morsel.
Featured Blue Crab Recipes
Most blue crabs on the East Coast are sold live. Choose those that are feisty and energetic.
Live crabs should be eaten within 12 hours of purchase. Until you're ready to cook them, they can be stored in the refrigerator in a deep dish covered with paper towels. Do not seal them in an airtight container.
For an explanation on how best to dig in, check out our detailed guide.
Blue crabs can be found in season at your local fish market and occasionally behind the fish counter at supermarkets. Selecting a reputable purveyor is an essential step when buying fresh seafood: if you have any doubts as to the quality, try another location.