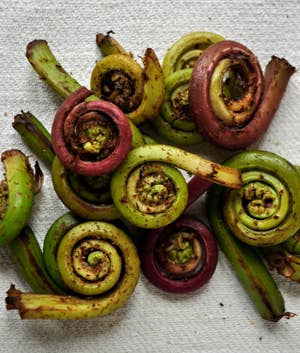 A fiddlehead is simply the coiled shoot of a new fern. The ostrich fern, of Asian and European origin, is the species that's most widely harvested as fiddleheads in Canada and the United States. Fiddleheads can be harvested for only two weeks in the spring before they unfurl into full ferns; they appear in early April in the South, in May in the Northeast, and in June or July in much of Canada.
Fiddleheads have a bright, earthy flavor that calls to mind asparagus, artichokes, and green beans. Raw fiddleheads have a chewy texture and can be bitter and hard to digest; cook them for at least five minutes, by steaming, simmering, or sauteing them. Serve them much the way you would asparagus, topped with a vinaigrette; a butter, cream, or cheese sauce; or even soy sauce and sesame seeds.
Featured Fiddlehead Fern Recipes
[Fiddlehead Ferns with Garlic and Herbs ](https://www.saveur.com/article/Recipes/Fiddlehead/ Ferns with Garlic and Herbs)
Choose small, firm fiddleheads that have a bright jade color; avoid those with yellow or soft patches.
Use fiddleheads as soon as possible; they can be refrigerated for up to two days, tightly wrapped in plastic.
Before using, wash them thoroughly, scrape off any fuzzy brown scales, and trim the ends.
Since the season for fiddleheads is so brief, you'll need to keep a sharp eye out for them in the spring—farmers' markets are your best bet, but your supermarket may carry them. When in season, fiddlehead ferns can also be purchased online at Melissa's Produce.