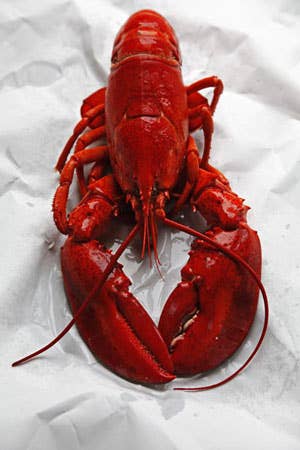 This luxurious shellfish favorite, revered for the silky mouth-feel of its firm meat and its slightly sweet flavor, has long been touted as the "king of seafood," yet it was once thought of as little more than an underwater menace. Because of its abundance, lobster used to be a common meal among New England's less wealthy; by the 1840s, though, the shellfish had gained status and appreciation, and it has since become standard fare at upscale restaurants. Lobster can be served simply steamed, broiled, or baked, with its meat dipped in melted butter. To add a note of class, blend its delicately sweet meat into everything from macaroni and cheese to an inventive elegant "napoleon." Even its shells can be parlayed into a delectable treat: boil them with onions, celery, leeks and white wine for a phenomenal, delicate stock.
These hard-shelled leviathans are often sold alive. To cook a lobster without risking an Annie Hall-style escape scene, either plunge it alive into boiling water or cut straight through the middle of its head just prior to cooking.
When selecting a lobster, as with any crustacean that's sold alive, look for one that's still feisty and energetic. Avoid those with sagging tails or claws and those with foam spouting from the head.
If you're going to boil lobsters, we recommend cooking them in salted boiling water for an average of five minutes per pound. When finished, the meat should be slightly translucent.
Look for lobsters at your local seafood market or purveyor, or at the seafood counter in some supermarkets.