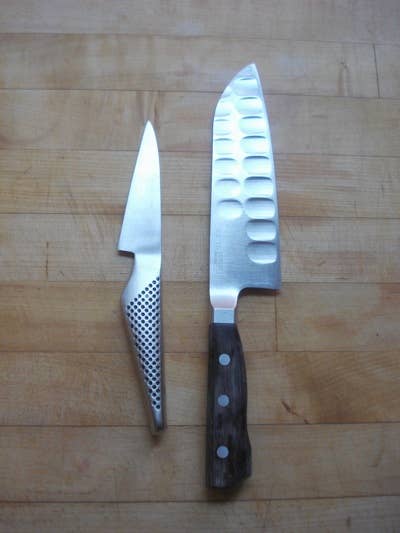 In 1999, I moved from California to New York with two suitcases of stuff—neither of which held a single kitchen implement. I also had a two-month starter apartment sublet, no job, very little savings, and a constitutional inability to live on Top Ramen alone.
What I did have was a roommate, Julie, who knew how to cook. She had a cast iron pan that was carefully-seasoned, a collection of Le Creuset gear inherited from a former roommate, and a proper set of knives—the sort of well-worn, roughed-up gear that made her kitchen a pleasure to cook in.
After I moved out and became employed, I started outfitting my own kitchen in the same vein. I grit my teeth and plonked what was a lot of money to me on things that I thought would last as long as Julie's things had.
12 years and four apartments later, I now have a kitchen worthy of a homemaker's dowry. Some of the things we use have been inherited from my current roommate's grandmother. They not only make me a better cook, but they also make the kitchen aesthetically-pleasing and therefore a joy to be in. And tell us—what's the oldest kitchen tool in your arsenal?