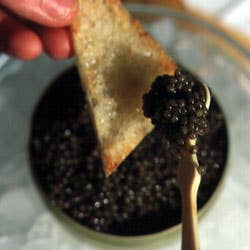 Techniques
A Short Course on Caviar
Few foods evoke images of the high life like caviar, but do you know your sevruga from your imperial osetra?
Caviar is the roe, or eggs, of the sturgeon. Of the 20 extant species of this prehistoric fish, just three, all found in the Caspian Sea, provide the world with the vast majority of its caviar. The finest quality eggs come from fish caught in the coldest waters, from late fall to early spring.
Overfishing has threatened the continued health of the species, however, and the rarer types may be subject to limited—or no—exports.
SEVRUGA is the smallest and most plentiful species, producing the least costly eggs. Each fish weighs between 50 and 75 lbs., is about 3 feet long, and matures in 7 years, producing small, gray, subtly flavored, creamy eggs.
OSETRA, the second largest sturgeon, weighs 150 to 300 lbs., grows 4 to 6 feet long, matures in 12 to 15 years, and produces medium-size, gray-brown to nearly golden, peppery eggs. One fish in 100 will deliver large, dark gold eggs—the pricey imperial osetra.
BELUGA, the largest and rarest species, can weigh up to 3,000 lbs., grow to 12 feet in length, and live up to 50 years. Beluga eggs are the costliest. They are large and gray, with a very delicate skin and a clear flavor.