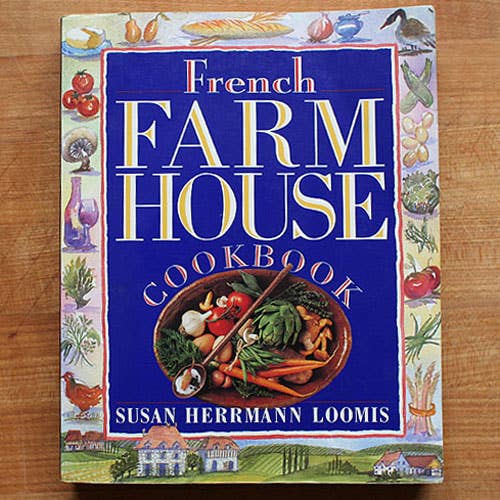 Culture
Back of the Bookshelf: The French Farm House Cookbook
Some of the most beloved cookbooks in our library are the dustiest: books we grew up with, inherited from our grandparents, found at yard sales, or bought new decades ago. In this column, we celebrate these bibliographic treasures, and our favorite recipes therein.
It is at this time of year, when autumn begins to fade into winter, that I most often return to the pages of The French Farmhouse Cookbook (Workman, 1996). An almost anthropological compilation of recipes and stories gathered throughout author Susan Herrmann Loomis's life and travels in France, it is a dream come true for a Francophile like me, and a welcome escape from the months of cold that winter brings to my home in the Midwest. Each time I open the hefty volume, which a friend recommended to me years ago, I'm greeted with warm casseroles, hearty soups, and rustic tarts, each accompanied by a story about the particular French kitchen or farm the recipe comes from. It is one of those cookbooks that I value just as much for the stories it tells as for the recipes it provides, both of which seem as fresh today as when I first opened the book.
The Author: Susan Herman Loomis is living the dream. In addition to her prolific work as the writer of nine cookbooks and contributor to numerous magazines, the expat, who moved to France almost 20 years ago, teaches cooking classes in Louviers and Paris. Her food writing is notable for her observant and detailed approach to the rituals and practices cooking, food production, and culture.
Notable quote: "Being with people who are intensely involved in what they do, and who have passions, is compelling enough, but finding individuals who want to share those passions is thrilling. Farmers are like that, for farming is based on sharing, anticipating the needs of others, and producing to meet them."
Favorite Recipe: The book is full of iconic French dishes and everything from the pate to the buckwheat crepes is fantastic. But with winter looming, this salad of endive, comte and walnuts is a great choice for cold weather. Crisp and bright while still being satisfyingly hearty, this recipe is from a cook in Vinay, a small town in eastern France famous for its walnut production.
Tim Mazurek is a freelance writer and the blogger behind the site Lottie+Doof.