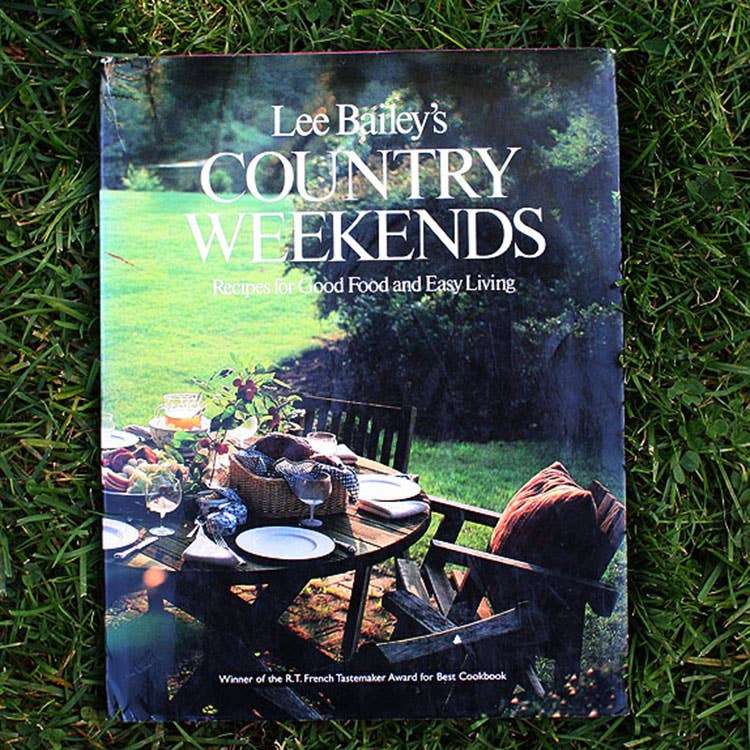 Shopping & Reviews
Back of the Bookshelf: Lee Bailey's Country Weekends
Some of the most beloved cookbooks in our library are the dustiest: books we grew up with, inherited from our grandparents, found at yard sales, or bought new decades ago. In this column, we celebrate these bibliographic treasures, and our favorite recipes therein.
I'm not sure how or when Lee Bailey first entered my life, but I am so glad he did. It's most likely that I found one of his cookbooks in the dusty stacks of a used book store or in a bin at a yard sale somewhere; however it happened, that first book lead to others, and now quite a few of his titles have made their way onto my bookshelves. My favorite of all his books, Lee Bailey's Country Weekends, is written for readers who own weekend homes in the Hamptons (or for those of us who wish we did) and is structured around a series of menus that take the generous host through the day from breakfast to cocktails, from the backyard to the beach. It's a heady mix of relaxed, Southern-style comfort (Bailey was a Louisiana native) and definitively 80's glamour, with dated but charming good-life photos of sailboats, guest houses, and sunsets from private docks. I like to turn to Country Weekends whenever I need entertaining inspiration, or am feeling nostalgic for the 80's—the great thing about all Bailey's cookbooks, particularly this one, is that they capture his beautiful life but manage to make it seem accessible to those of us in small city apartments with no dock in sight.
The Author: Lee Bailey, 1926-2003, bon vivant and cookbook author was, in short, fabulous. He wrote for publications ranging from Australian Vogue to the New York Times, in addition to producing many beautiful books on cooking, entertaining, and interiors. He was pals with Nora Ephron, and even had his own boutique of home goods at Henri Bendel, and lived between famously well-designed homes in Manhattan and Bridgehampton.
Notable quote: "There is a kind of appealing grace in having the end result of a project, food or otherwise, seemingly brought off without strain."
Favorite Recipe: It's hard for me to choose just one Bailey recipe—the flaky biscuits with parsley butter are always a hit, and his grapefruit sherbet with candied grapefruit rind is refreshing and bright. But for my money, the Spice Applesauce Cake is the perfect snacking treat for autumn. The moist, warmly-spiced cake is topped with a thick brown sugar glaze that's completely irresistible: it reminds me of the homey sweets I ate as a child. Simple to prepare, the cake keeps for days, ensuring you'll have plenty to snack on all week. I sometimes omit the raisins and increase the pecans, especially if I'm serving this to raisin-haters.
Tim Mazurek is a freelance writer and the blogger behind the site__Lottie+Doof.