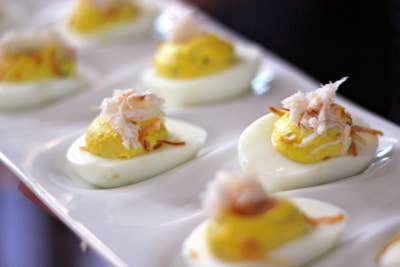 Culture
Deviled Eggs for Breakfast
For someone who's not a fan of breakfast foods, the old cocktail party standby just might be the answer
I've never really been a fan of breakfast foods. I find that people who are breakfast-eaters absolutely cannot fathom the possibility that I don't share their enthusiasm for Belgian waffles, veggie omelets, bowls of cereal, and stacks of flapjacks. Over the years I've tried to isolate what drives my distaste for American breakfast (a maple aversion? Carb avoidance?), but I can't seem to find one single thread. It's just not the meal for me.
This morning, I faced the enemy at a breakfast thrown by W Hotels at which Jack Yoss, chef de cuisine at the brand's Bali property, was in charge of the menu. At most breakfast events, I find myself facing down a continental spread that couldn't be less exciting: leaden scones, gooey buns, listless fruit salad. But for this party, Yoss went with a concept seemingly tailor-made for me: breakfast canapes. For the traditional breakfast-eaters, there were mini frittatas and single squares of waffle filled with peach compote. For me, there was an entry point into luxury breakfast heaven: bite-size banh mi, cups of truffle-spiked congee, and mugs of briny, creamy oyster bisque. And then I saw the deviled eggs, and I realized I'd found the answer.
It's not that I don't like breakfast eggs — faced with no other choice, they're the subcategory of morning food I'm most likely to enjoy — but I love deviled eggs. The contrast of a creamy, savory yolk mixture against the cool neutrality of the white hits me in exactly the right way. As a breakfast food, they're ideal: they're surprisingly easy to make for one (just keep a baggie of yolk mixture in the fridge, the halved whites in a separate container, and fill the eggs to order), and they won't provoke the outraged "How can you eat that?!" reaction that I get from the breakfast-food partisans when I start my day with spaghetti in red sauce or leftover chicken curry. In fact, I wouldn't be surprised if some of the die-harders drop their waffle allegiance and ask me for a bite.
Any version of deviled eggs would work for breakfast, but these are particularly well-suited for the morning: