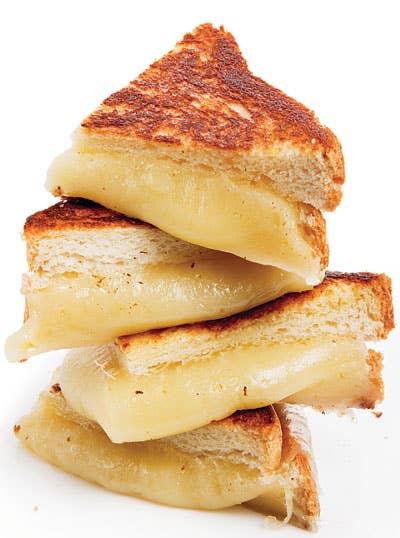 You can always count on a grilled cheese sandwich
Plans falter, economies and empires collapse, the no-fail recipe fails. But you can pretty much take it on faith: Grilled cheese will not disappoint.
I'm not just talking about the ones at those increasingly rare diners, frozen thrillingly in an Edward Hopper past: vintage greasy spoons with flexible refrigeration standards and relaxed thinking about how often the griddle gets scoured, where the bacon may be a relic of yesterday's breakfast, but the grilled Swiss on rye is always fresh and fabulous. Grilled cheese was one of the first things I learned to make as a kid, and certainly one of the earliest on which I dared to experiment—mozzarella instead of Velveeta, sourdough instead of Wonder. Whatever the version, it has everything you want in a savory: crunch and yield, oil and snap, warmth and salt and butter.
By some estimates, Americans consume more than two billion grilled cheese sandwiches a year, but my favorite bit of grilled cheese lore is this: For much of its early life in this country, from the 1920s until the '70s, a grilled cheese sandwich was called a "cheese dream." How perfect. —Francine Prose, author of My New American Life (HarperCollins, 2011)