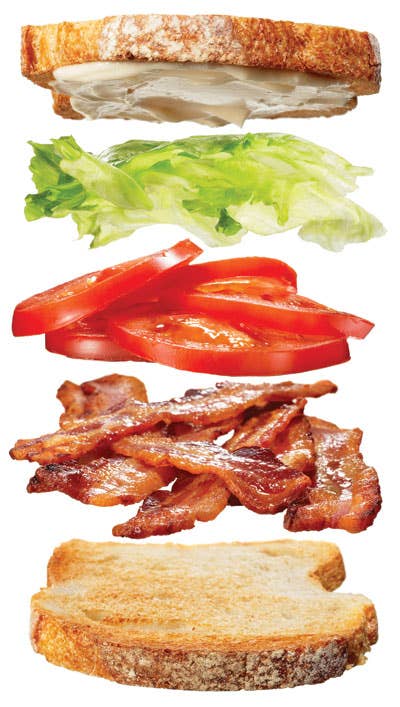 Some people shrink at the idea of feeding 50 guests at once; I live for it. I serve gougeres and canapes at dressy holiday fetes, big trays of pulled pork and mac-and-cheese to indoor picnickers, and cookies and punch to late-night dance revelers.
Of the get-togethers I host, the most popular food-themed gathering of the year is the BLT party. Yes, that's right: BLT--as in bacon, lettuce, and tomato sandwiches. It only happens once a year, when colorful peak-season tomatoes are abundant and piles of frilly lettuce can be purchased from the farmer's market for a song.
It's an easy and economical way to entertain a big group—most everything can be prepped in advance and the one task that might need to be kept for party time (cooking the bacon) is a simple one that doesn't need constant monitoring.
How to calculate how much food you'll need per person:
1/3-1/2 lb. bacon
1/3 loaf of bread
2/3 tomato
1/7 head of lettuce
About a month before the party, I order bacon from my favorite supplier and store it in the freezer. Two weeks before, I send out invitations by e-mail. In the three days leading up to BLT, I prepare the various condiments I want to serve alongside the sandwiches. The day before the party, I pick up all the tomatoes and lettuce I need from the farmers' market.
On the day of the gathering, I prep vegetables in the morning. About an hour before my guests are scheduled to arrive, I start cooking bacon. To make enough for the crowds, it helps to have three or four half-sheet pans (the kind with a lip) which will help keep bacon fat from spilling onto the oven floor. I also fry more bacon on the range in large, heavy skillets, which heat evenly without burning.
Here are some key things I've learned over the four years I've thrown this party:
The best time of year to throw a BLT party is late summer or early fall.
The tomatoes are at their best at that time. I love being able to select a variety of heirloom tomatoes; the different colors and shapes make for a beautiful spread. My favorite tomato of all for a BLT is a Jersey beefsteak, for its firm, dense, juicy — but not watery — flesh and robust flavor.
Ask guests to BYOB&B.;
That is, Bring Your Own Bacon and Bring Your Own Bread. I usually assign a few guests to each bring a pound of their choice of bacon, and a few more to bring a variety of loaves of bread. Everyone else can tackle beverages.
Almost everything can be done ahead of time.
Bacon can be kept in the freezer for up to two months, says the USDA. Mayonnaise can be made up to a week in advance and refrigerated. I like the tomatoes and lettuce to be as fresh as possible, so I buy them at the farmers' market the day before.
As for cooking the bacon, I prefer to leave most of it for during the party, because I like the temperature contrast of warm bacon amid the rest of the ingredients, which are all cool, and also because half of the bacon comes with the guests who have volunteered to bring some. Room-temperature bacon and BLTs are perfectly tasty, though, so if you end up supplying all the bacon yourself, you can just cook it earlier that day.
People can eat a lot of bacon.
Most bacon will shrink when cooked, and there will be people that go back for seconds and thirds. It's fun to order different kinds of bacon, such as Allan Benton's, made in Madisonville, Tennessee (423/442.5003, bentonshams.com) The thick, meaty rashers are super smoky and don't shrink when cooked. You can also try curing your own bacon.
Choose sandwich breads with sturdy crumb.
Heartier supermarket bread works fine, but I like to go to local bakeries for Pullman loaves, named for their resemblance to the train cars of the same name. Also known as sandwich loaves, the slices hold just the right amount of filling, are still tender when toasted, and provide a little sweetness to the sandwich.
The biggest bottleneck happens at the toasting station.
Toasting the bread makes a better counterpart for all of the other ingredients in both flavor and texture. It's best not to do this ahead of time, since the slices will get soggy as they sit and the oven will likely be occupied by bacon. Because a single toaster cannot handle four straight hours of continual toasting, I borrow a couple of toasters from friends. I found it worthwhile to buy a cheap extra toaster to handle the load. One toaster for every ten people should suffice.
Go crazy with the condiments (and other stuff).
I always make sure to put out a big jar of that standard-bearer, Hellman's, but it's easy to make your own mayonnaise. For variety, doctor store-bought and homemade with different flavorings. Over the years, we've had scallion, roasted garlic, olive-anchovy, basil, bacon-chive (using rendered bacon fat instead of oil), chipotle, and—my favorite—pimenton (Spanish paprika). One quart of mayonnaise will feed about 15 people.
Sweet condiments are also always a hit.
I make this wonderful tomato jam and also put out chile jam, bacon jam, apple butter, chutneys, honey, cane syrup, and maple syrup.
Bacon drippings are great for cooking.
Twenty-five pounds of bacon renders a lot of fat when cooked— nearly a gallon, it turns out—and can be saved for later use. The most resourceful and savvy among my guests know to bring a jar so they can take some home. It's excellent for sauteing greens, roasting potatoes, or baking cornbread—making the bacon party spirit last through the end of the summer.