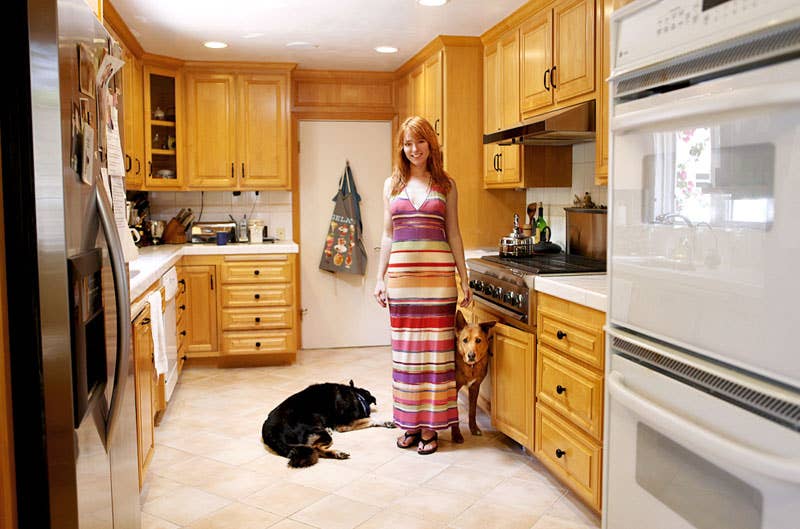 Culture
I Love My Kitchen Because: Alicia Witt
The multitalented Friday Night Lights actress Alicia Witt has a lot on her plate these days: she just wrapped two films, with four — including the recent Cowboys 'n Angels — scheduled for release this year. She's also tending to a burgeoning musical career, with a current tour in support of her album [Live At Rockwood](http://www.amazon.com/gp/product/B008A38SQW/ref=as_li_ss_tl?ie=UTF8&camp=1789&creative=39095
• My kitchen is one of my favorite places in the house. Like most, it seems to be where everyone congregates whenever I have a party or even just a few people over. But as much as I love having family and friends around, my favorite times are when I'm preparing for guests to come over and just doing all the work by myself, listening to music.
• I love the view of my front yard from the window over the sink. It's full of beautiful succulents and at this time of year, jasmine, which makes me very happy.
• One of my favorite things about my kitchen — a simple but awesome detail — is that it came with a full strip of power plugs underneath every cabinet. Every one! So no matter which counter I'm using, there is always a place to plug in whatever I need.
• I was really lucky when I bought my house eleven years ago: the kitchen was pretty much the same as it is now. It came with a six-burner stove and a double oven, which comes in handy when entertaining. One change I made though was adding wrought iron fixtures to all of the cabinets and doors, and I did it all myself with a power drill, so it felt like I was really making the space my own.
• Every month I prepare a batch of dog food for my two large rescue dogs, Jake and Maggie. I started making it about a year ago (organic chicken breast, brown rice, broccoli and carrots) and as much work as it is cooking, grinding, mixing and storing the batches in my freezer for the month, I really enjoy the time and process of making their food.
Interview conducted and condensed by Vanita Salisbury