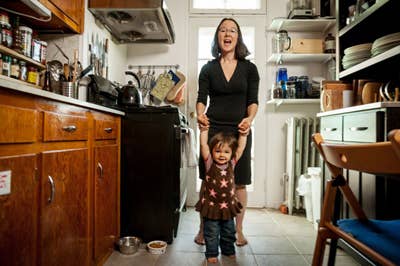 Culture
I Love My Kitchen Because: Karen Shimizu
SAVEUR associate editor Karen Shimizu shares her Brooklyn, New York kitchen with her husband Chris, daughter Aki, and her brother and sister-in-law. It's a small but mighty space, and they've arranged things so that they are all able to cook and eat together. Here's what Karen loves about her kitchen:
• My kitchen is located at the back of my apartment, with a door that opens out onto a terrace. The natural light makes me very, very happy — and when the weather's nice, we can eat outside (which is good, because there's not a lot of room to eat in the kitchen itself). We're also growing lots of herbs on that terrace — parsley, dill, and some shiso (perilla). At night, it's a pleasant place to sit, drink beer, and watch lightning bugs in the garden one story down.
• We've got incredibly high ceilings, so we installed shelves waaaay up high to keep single-use items that we can't bear to part with — the lacquered Japanese jubako boxes for osechi ryori, the spherical avocado-green midcentury fondue set that I dragged home from SAVEUR — out of the way. The folding chairs from Ikea can get put away while we're cooking, and brought out again when we're ready to squeeze around the table to eat.
• It's an idiosyncratic arrangement — I think a former owner of the building built the kitchen without a lot of attention to standard measurements — but there are drawers and cabinets galore so we have lots of places to store the big stuff (pots, pans, mixing bowls).
• When the grownups are cooking, Aki comes in and pulls out the pots, mixing bowls, and Tupperware that are strategically stored in the bottom cabinets, where they're easy for her to get to. She stacks and sorts them, bangs them together, and generally makes a mess and has fun while we're doing the same as we cook.
• In this kitchen, and every other kitchen I've had for the past 8 years, is an appliance we use every day: an old cast-iron hand mill that Chris bought for me when we first moved in together, and that's moved with us from Oxford, Ohio to Tbilisi, Georgia to Syracuse, New York to Brooklyn. We use it to grind coffee beans. My mom has one just like it, and I've always associated the sound of it first thing in the morning — the growly grinding noise the mill makes and the crackling of the beans as they get pulverized — with home. The grounds then go into our Aeropress, which just makes a stupidly good, easy cup of coffee.