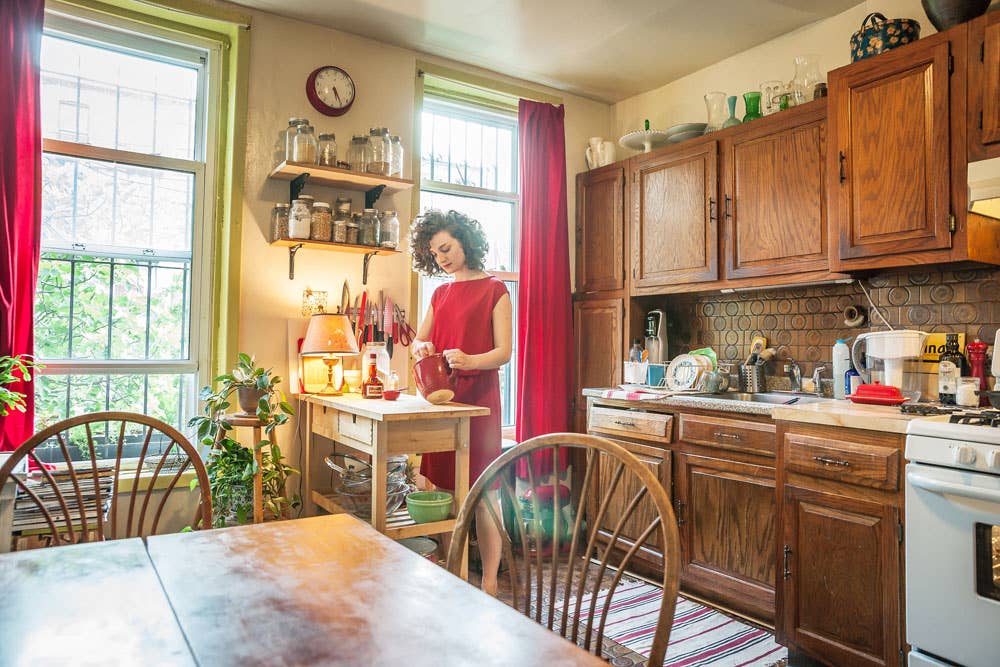 Culture
I Love My Kitchen Because: Anna Stockwell
SAVEUR assistant editor Anna Stockwell has lived in her Park Slope, Brooklyn apartment for just over two years. When she found the place it was in bit of a state of disrepair, but the abnormally large kitchen, complete with two big windows that look out into the landlord's fig tree-filled garden, convinced her to move in. Though she's shared the two-bedroom apartment with a few different roommates, the kitchen—with its red accents and family art collection— is undoubtably hers, and it's where
• Despite a perfectly lovely living room, the kitchen is where I (and everyone else) always hang out. In addition to being where we eat, the kitchen table doubles as an extra cooking surface, is a natural gathering place for guests, and often serves as my work desk.
• For an affordable Brooklyn apartment, the kitchen is huge. I really lucked out with that. The place hasn't really been renovated since the 70's, and my landlord keeps telling me that whenever I move out she's going to turn the kitchen into a bedroom and build a new small galley kitchen in the windowless middle of the apartment—which kind of breaks my heart and makes me never want to leave. For now, the space is big enough that I can pull my table out into the center of the room to seat as many as ten for dinner parties.
• The light is fantastic, especially in the afternoon. I love spending whole afternoons cooking or working in the kitchen when I can watch the two big boxes of light from the west-facing windows move from the counters to the table to the walls then eventually fade into a pink glow as the sun sets.
• My Lodge cast iron skillet sits almost constantly on the gas stovetop. I inherited it from a former roommate in a different apartment, who moved across the country and didn't want to carry it with him. I'm pretty sure it was his grandmother's from Texas, and its surface is perfectly smooth and nonstick from years of cooking. I use it for everything.
• Just after this photo was taken, I replaced the countertops on either side of my stove with pieces of the the butcher block from the kitchen I grew up in. My parents renovated and took the old butcher block counters out, but they cut me two pieces to fit perfectly in my apartment, and I love that now I have a little piece of my old home in my new home. I've also got a whole family art gallery in the kitchen—my dad, middle sister, and grandmother are all incredibly talented artists, and a piece from each of them hangs on the wall above the table.