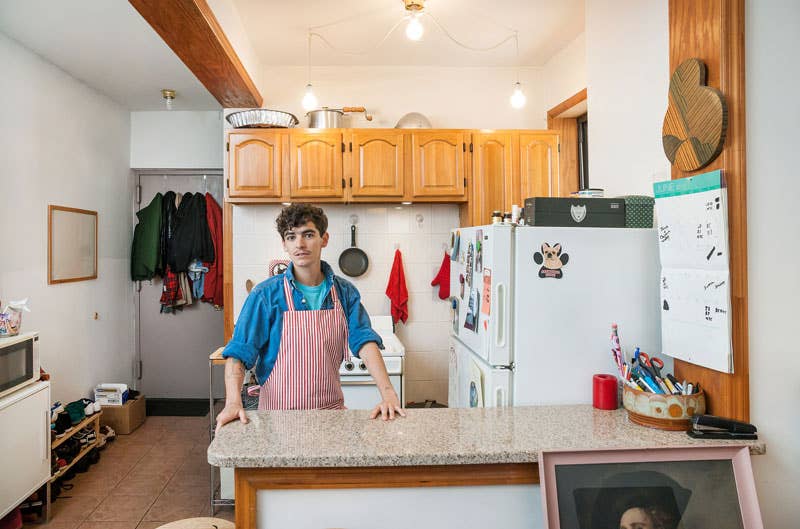 Culture
I Love My Kitchen Because: JD Samson
Best known as a member of the iconoclastic electropunk trio Le Tigre, these days JD Samson spends her days fronting her new alternative-pop group MEN, DJing a semi-regular queer throwback series at The Rusty Knot in New York's West Village, and exploring her relatively newfound talent as a home cook. In the modest but comfortable kitchen of her two-bedroom apartment in Williamsburg, Brooklyn, she
• The one thing I'm most proud of cooking here is a raspberry tart that I made to take to a friend's house for dinner. It was a layered tart, so I had to cook stuff in the oven and take it out like twenty times. You were supposed to put pie weights down and I didn't have any, so I used rice, but when I was dumping out the rice I ended up dumping the whole tart into the sink. So I had to make it twice. But I'm way more proud of the eventual dessert, because it took about eight hours.
• I moved to this apartment in September 2011, and what's funny is that I actually ended up in this building because the rent was cheaper because someone had been killed here right before we moved in. The people in our apartment moved out because they didn't want to live in a neighborhood where there were murderers.
• My kitchen is so basic, but there's something cool about that. When I left my old apartment I didn't bring any of the stuff that I had — I had all these really nice pots and pans — but I didn't have as much space, so I decided to start over. I literally bought things when I needed them instead of having a ton of stuff. It feels more organic that way, like starting from the bottom and being like "okay, I only have these pots and pans and this is all I can make." It forces you to be more creative, because recipes are always saying you have to have this or that special pan and so you end up being like "I'm not going to use that special pan. I can do this without that pan, and I will show you."
• I have a Cuisinart immersion blender thing that is actually really cool, especially in the winter when I love to make soups. Other than that the things I cherish in my kitchen are mostly things that people have given me. When I was at my grandma's house she gave me her teapot, I love that. She also gave me this really great garlic press that I've had for a very long time, I'm sentimental like that.
• The window above our sink looks out onto a cinderblock wall. I put a bird-feeder out there though, thinking "well at least some birds will come by." And it's actually really funny because every once in a while a bird will come by and be like "whoa, why is there food here?"
Interview conducted and condensed by Vanita Salisbury