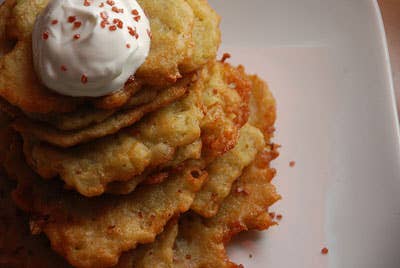 Culture
Potatoes, Hanukkah, and the Holiday Spirit
I am Jewish. And in New York, where I live, many folks who aren't Jewish consider themselves Jewish-ish if they speak a little Yiddish, eat some chopped liver, spin a dreidel, or cook a latke—or potato pancake.
Though latkes may be the domain of Jews on Hanukkah, potato pancakes are everyone's food.
Although they are primarily associated with Eastern European cuisine, potato pancakes are also featured in Irish, Swedish, Indian, Korean, and even American cooking. What is a McDonalds hash brown, anyway, if not a deep-fried potato pancake?
So this time of year, I encourage Jews and non-Jews to come together, fill those skillets with oil, and fry up some potatoes. Here's a recipe for Polish potato pancakes, an idea for fusion pancakes, and the award-winning pesto latkes from the 2000 and 2001 Latke Festival. If you're looking for a more traditional recipe, try our foolproof latkes or Joan Nathan's classic latkes.