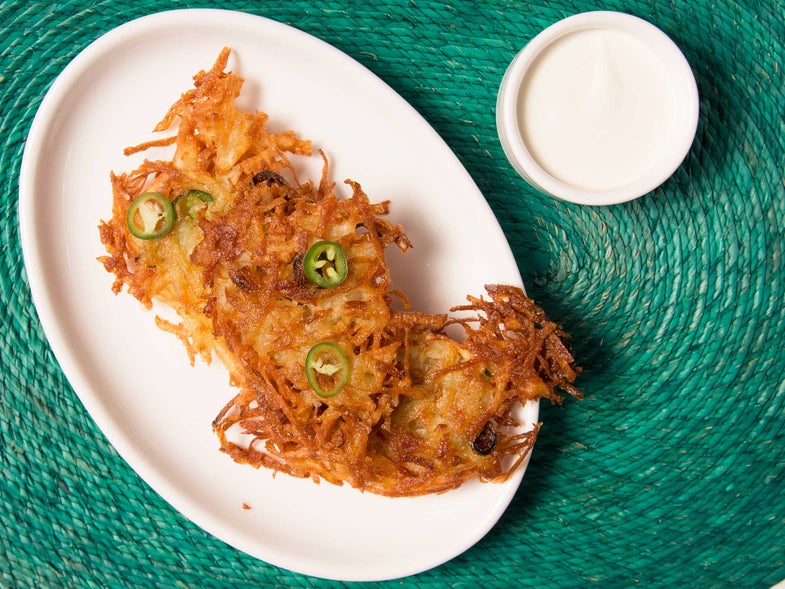 These are classic latkes, grated potatoes bound with matzo meal and egg, but the simple addition of jalapeño adds a new kick to an old Jewish classic. Medina serves his jalapeno latkes with a tangy, cooling horseradish crema.
Featured in: Give Your Hanukkah Spread a Mexican Spin
Potato-Chile Latkes with Horseradish Crema
This Jewish classic gets a kick from added chiles.
Time: 1 hour
For the Horseradish Crema:
1⁄2 cup crema or sour cream
2 tbsp. prepared horseradish
1 tbsp. rice wine vinegar
1⁄2 tsp. kosher salt
For the latkes:
2 large russet potatoes, peeled
1⁄2 cup matzo meal
1 tsp. kosher salt
1 egg yolk
1 serrano chile, stemmed and thinly sliced
olive oil, for frying
Instructions
Make the horseradish crema: In a small bowl, combine the crema with the horseradish, vinegar, and salt.
Make the latkes: Using a box grater, coarsely grate the potatoes into a medium-size bowl lined with a kitchen towel. Lift the edges of the towel and twist the potatoes in the towel to squeeze out excess moisture. Discard the liquid and return the potatoes to the bowl along with the matzo meal, salt, yolk, and chile and stir to combine. Refrigerate the mixture for 15 minutes.
In a 10-inch skillet, heat 1⁄4 cup olive oil over medium-high. Take 1 generous tablespoon of the potato mixture at a time and place into the pan, being careful not to crowd the latkes. Cook each latke, flipping once, until golden brown on both sides, about 5 minutes. Drain the latkes on paper towels then serve immediately with the horseradish crema.