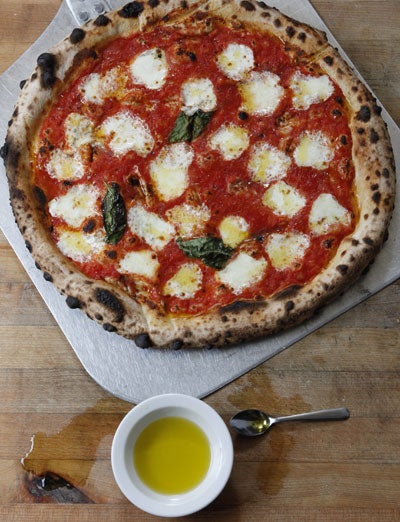 What separates real Neapolitan pizza from other styles? If you ask me, everything. Simple ingredients define this pie; there's no reason to add toppings that would overpower it. Its building blocks come from the Campania region of Italy, where pizza was born, and they play such an important role in lending it that authentic taste and smell and texture.—Tony Gemignani, Tony's Pizza Napoletana, San Francisco
A. Flour
There are several brands of tipo 00 flour—a supersoft, finely ground Italian flour—that can be used to make true Neapolitan pizza. The best and most famous is Caputo; the family that has owned the company for 86 years still runs it hands-on, and the quality and consistency of their flour is unmatched.
B. Tomatoes
San Marzano tomatoes from Campania are the only choice. Grown on and around Mount Vesuvius, where the soil is rich in minerals, this plum tomato has just the right meatiness and intensity of flavor. I prefer Cento brand.
C. Cheese
Two types of cheese are acceptable: mozzarella di bufula, made from Campanian buffalo milk, is rich and milky, and mozzarella fior di latte, made with cows' milk, is slightly less wet but full of intense flavor. Lots of brands are available; I prefer Grande brand fior di latte because of its high butterfat content and low moisture.
D. Extra-Virgin Olive Oil
You want to complement the pizza with the oil, so you don't want it to be too strong. I prefer an oil that isn't too grassy and doesn't have too much of a peppery finish. I tend to use two oils, to balance each other out: a Campanian oil like Dell'Orto brand that's a bit fruity, and Olivestri Siloro, from Umbria, which has a bit of a bite at the end.