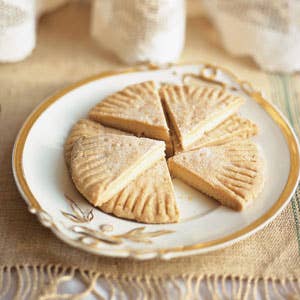 Culture
Sweetly Scottish: A History of Shortbread
Few can resist the delicate charms of buttery, crumbly shortbread.
At teatime, you may well find no better match for your brew than the appealingly plain, sweet, buttery cookie known as shortbread—a confection with simple charms but a rich history. Since medieval times the term short has been used to describe all things crisp and crumbly, but it wasn't applied to cake and bread until the 1600s, when it came to refer to baked goods that contained a lot of butter or shortening. The first shortbread recipe appeared in a Scottish cookbook dated 1736; early formulas called for yeast, but by 1850 most were utilizing only butter, flour, and sugar, combined in a ratio bakers still use.
Once considered a festive food consumed only on Christmas or on Hogmanay, the Scottish New Year's Eve, shortbread has evolved into a treat enjoyed year-round—and there are as many variations of it as days in the calendar. Queen Victoria liked hers seasoned with salt; classic shortbread from the town of Goosnargh in Lancashire is flavored with coriander and caraway; shortbread from Pitcaithly, in Scotland, is made with orange peel and almonds; the Scottish baking company Walkers, founded in 1898, has a ginger version of it. Less variation exists in the shape of the cookie. The dough is often pressed into circular molds with intricate designs, to make it recall the Yule bannock, an ancient, rounded and notched cake said to resemble the sun. Finger shapes are also common, as are the wedges called petticoat tails, reminiscent of bell-shaped crinolines and supposedly favored by Mary, Queen of Scots.
Shortbread is now such a cookie-aisle fixture that in the 1980s the European Union threatened to classify it as a "common biscuit" in order to impose new taxes; the Scottish Association of Master Bakers fought back, claiming that their beloved cookie belongs to an ancestral line of "flour confectionery". The bakers prevailed.