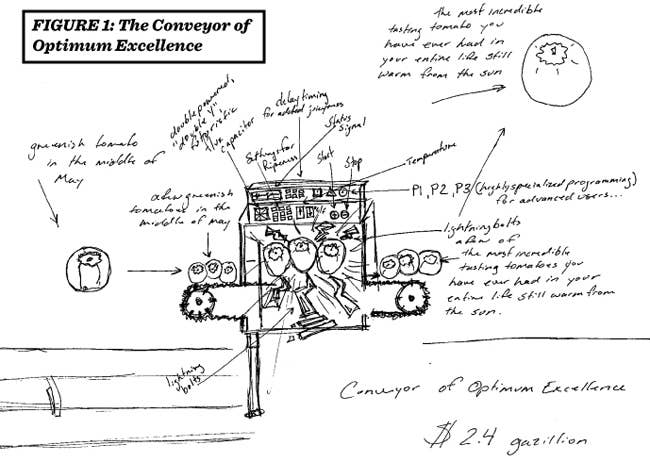 Techniques
The Kitchen Without Limits
Chefs Daniel Humm, Homaro Cantu, Jose Andres and more share their ultimate fantasy kitchen tools — adherence to the laws of physics not required.
In many ways, we're already living in the future: Kitchen technology is finally at the point where a chef can, without too much effort, serve a levitating amuse-bouche or an exquisitely miniature dish comprised of 86 individual ingredients. While most home cooks can only fantasize about having at our disposal the types of cutting-edge gadgetry stockpiled at the world's top restaurants, a creative chef can always dream bigger. We asked six chefs to defy the laws of time and space to develop their ultimate fantasy kitchen tool.
Daniel Humm, Eleven Madison Park
The Conveyer of Optimum Excellence:
1. A black hole in each trash bin to discard trash into a compost heap in a galaxy far far away.
2. A cryovac machine that bends the laws of time: instant dry age, instant 48 hour sous vide, instant marinade, etc.
3. A quality improvement machine: put in a mediocre ingredient, and it comes out the best in the world.
It might sound ridiculous, but I thought it would be cool to have a cookbook based on the Tupac Coachella hologram that could project an image of a first generation chef like Escoffier walking you through chateaubriand or other recipes and show you their technique. Unless a cookbook has great photos, it's even difficult for me to read through. That would be the ultimate kitchen tool, to be able to actually watch and see the technique. (See fig. 2)
My dream kitchen tool is a solar pot that could be used in developing countries where clean energy is not readily available. It would be "the pot that will feed that many"!
You know when you're on your computer desktop and you push your data into the recycle bin? This invention will take all of that data and turn it into thermal energy for a cooktop. There is something in that data, so instead of erasing it, it would just recycle that energy as fuel for cooking your food properly.
Andrew Brochu, Graham Elliot
I would love to have a kitchen inspired by the movie Cube that would have fully stocked, self-cleaning stations for every chef. I would have a central control station where I could climb between every kitchen to manage them.
I'd love to have a time machine. There are all these chefs I idolized growing up that I never had a chance to work with, so it would be awesome to go back in time and pick vegetables with Alain Chapel at the market in the '70s, or cook with the masters.