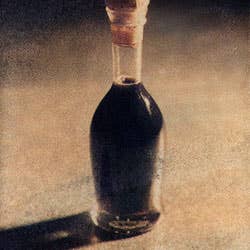 Techniques
The Truth About Balsamic Vinegar
A delightful marriage of sweetness and acidity, this oh-so-trendy condiment isn't what you think it is.
There's a pretty good chance that you've never had balsamic vinegar (or, as the Italians call it, aceto balsamico). What?!? you exclaim. Of course you have! You've had it on your panzanella, on your salade niçoise, on your chef's salad. You've dribbled it on fish, on meat, on chicken, on tofu. You use it every day. It's the Blue Nun of condiments. It goes with everything. You can't imagine how you ever got along without it …
But yet you did. What you've been using is most probably a product called Aceto Balsamico di Modena, which is usually just commercially produced wine vinegar with a bit more character than usual.
The real balsamic vinegar is, in its purest form, one of the great culinary wonders of the world—rich, sweet, spicy, honeyed, nectarous (but with a faint bite). As produced in the rural precincts of the province of Modena in north-central Italy, it begins not with wine (like most vinegars) but with the juice of local trebbiano grapes, boiled down to a sweet syrup. Yeast converts the syrup first into alcohol, then into acetic acid (vinegar)—but much of its sweetness is preserved along the way. Then the vinegar is aged, for decades and even longer, in a succession of small barrels made from a variety of woods.
Balsamic vinegar is a family treasure in Modena, and a national treasure as well. The Italian government grants it the same sort of Denominazione di Origine Controllata that it gives to wine, guaranteeing its authenticity. All balsamic vinegar of this sort, which is called Aceto Balsamico Tradizionale di Modena ( tradizionale is the important word), is bottled at a single consortium in the region, in flasks holding not quite three-and-a-half ounces. Some of them cost as much as $100 each—more when they're older.
Italians use balsamic vinegar in specific ways—as a tonic (either straight or in water), dribbled carefully on asparagus, parmigiano-reggiano, or strawberries, maybe as a flavoring in a salad dressing mostly based on ordinary wine vinegar. They do not put it on their tofu.