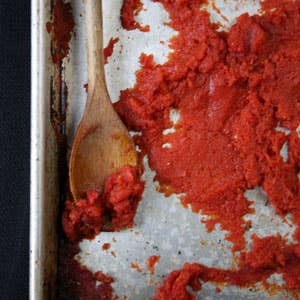 Culture
Tomato Punch
This indispensable pantry staple has roots in ancient methods of food preservation.
We've always loved tomato paste's versatility and its sunny flavor, but we hadn't spent much time thinking about the product—a thick distillation of fresh tomatoes—until we tested the recipes in this issue, including the ones for Livornese Cacciucco, Russian Borscht, and the lusty meat sauces featured in "City of Ragu" (April, 2008), all of which call for the ingredient. Whether added to vegetables as they're sauteed for a sauce or stock, mixed with liquid and simmered in a stew, or stirred into a soup to give it body, tomato paste lends depth or sweet notes, depending on the stage of cooking at which it is added.
We learned that this everyday ingredient has its roots in ancient methods of food preservation. In the kitchen history Pickled, Potted, and Canned (Simon & Schuster, 2001), author Sue Shephard explains that people have been making pastes of fruits and vegetables, by means of dehydration and cooking, at least as far back as the days of the Roman Empire, when bumper crops of grapes prompted cooks to develop a thick grape spread called saba. In regions where tomatoes were abundant, the advent of tomato paste wasn't far behind. In her 1954 book Italian Cooking (Penguin, 1984), Elizabeth David writes that before canned foods became common, Italians routinely put up their own paste by leaving tomato sauce to dry in the sun until it reached the "colour of dark mahogany and the consistency of stucco", at which point olive oil was added and the paste wrapped in paper, to be used throughout the winter in sauces.
Proving that good things don't always need updating, California chef Paul Bertolli, in his book Cooking by Hand (Clarkson Potter, 2003), documents a nearly identical ingredient—called estratto (strattu in Sicilian dialect), or extract—that he encountered while living in southern Italy. There, Bertolli watched local families prepare jars of estratto each summer by cooking chopped tomatoes with salt and olive oil, straining them, and spreading the mixture on large wooden platters, where it would "season" and dry for six days in the hot sun.
Bertolli returned to his home in California determined to create a homemade oven-dried estratto. "It's always a little different," he told us of the resulting substance, "but if you cook it slowly and your tomatoes are ripe, you maintain the sweetness of the sun-baked version." Bertolli's tomato paste is intensely flavorful and is markedly different from most store-bought ones (see Top Tomato Pastes for a few standout brands).