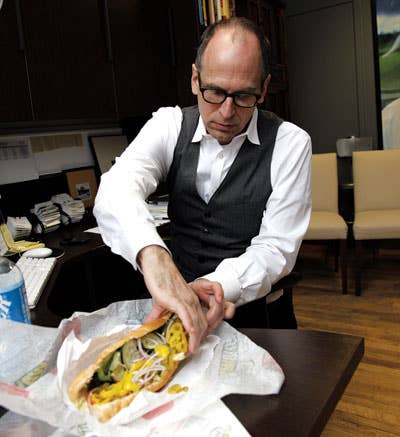 Culture
Editor's Letter: Love, With the Works
The sandwiches we adore are a delicious reflection of who we are
My mom, who passed away in 2010, was by her own admission not the world's greatest cook. But while she generally did everything in her power to avoid spending time in the kitchen, she knew how to make one heck of a sandwich. This was food that nourished the body and pleased the soul: cream cheese with chopped black olives between slabs of brown bread, say, or maybe smoked liver-wurst spread thick on white bread with rings of raw onion, iceberg lettuce, Grey Poupon, and mayo. Or my all-time childhood favorite: a luscious protein bomb of Genoa salami sliced gossamer-thin and piled onto rye with butter and a liberal grind of black pepper—the opposite of fancy, and the very definition of good.
The sandwiches I make these days are direct descendents of my mom's creations: uncomplicated, with just the right combination of textures and flavors, and the power to satisfy my most fickle cravings. Like my mom, I can almost always make a fine sandwich using whatever I happen to have in the fridge. The other day, that turned out to be not a whole lot: a small hunk of buttery tomme-style cow's-milk cheese I'd snuck out of the SAVEUR test kitchen, a near-empty jar of sun-dried tomatoes swimming in olive oil, a handful of super-peppery arugula, and half of a day-old baguette. I popped the bread in the oven to bring it back to life and diced up just enough tomatoes to lend a tangy sweetness. Then I split the warm baguette, nestled in a few pieces of the cheese, topped them with the tomatoes and some of those spiky greens, and presto! In less than five minutes, I'd created what has got to be one of the world's most winning lunches. (That's me, in the above photo, about to devour a much less, um, artful Subway sandwich.)
That's what I find so extraordinary about the sandwich: As commonplace and convenient as this food is, it counts as a crowning culinary achievement, a nearly instantaneous reflection of our tastes and whims. The more kinds of sandwiches I tried while putting together this special issue of SAVEUR—and I tasted dozens, from English tea sandwiches to Israeli-style schnitzel--the more I came to believe that this really is the perfect food.
So, this issue is for you, Mom, and for all the other cooks (and non-cooks) out there who have found ingenious ways to put a little love between two slices of bread.