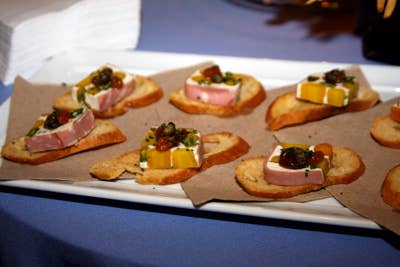 Culture
Eating Our Way Through Amanda Hesser and Melissa Clark's Double Cookbook Launch Party
Last night at New York's Chelsea Market, a crowd of chefs, writers, bloggers, and food lovers toasted three great new cookbooks. The evening's hosts were Amanda Hesser and Melissa Clark, both debuting their New York Times-related titles — Hesser's multi-thousand-recipe Essential New York Times Cookbook_ draws from over 150 years of _Times recipe content (it was reviewed in SAVEUR issue #132); Clark's In the Kitchen With a Good Appetite is the cookbook-ization of her recurring Times column of the same name — and they shared the signing table with the charming Dorie Greenspan, celebrating the recent publication of her book Around My French Table.
The crowd around the signing table was large, but the crowds around the food stations were even larger. Hesser called in the talents of nearly twenty of her chef friends, who turned out dishes ranging from the classic (Sara Jenkins served her restaurant Porchetta's namesake sandwich) to situationally inspired. ("They're a twist on the 'Eggs Suffragette' from Amanda's book," Gramercy Tavern's Michael Anthony told us of his vividly pink beet-stuffed deviled eggs. "I figured it was appropriate.") _
As the happy eaters swarmed from table to table, taking in savories like anchovy-butter-spread flatbread with puntarelle (thanks to Frankies 457) and sweets like miniature Grapple pies topped with a dollop of grape-swirl ice cream (a smash hit from Locanda Verde pastry chef Karen DeMasco), an occasional break in the crowd revealed a familiar face. Nora Ephron nibbled a lamb meatball from Txikito, Adam Roberts of the Amateur Gourmet watched a team from Russ and Daughters mix real egg creams (made with heavy cream!), and Hesser's Food52 partner Merrill Stubbs held court over saffron-spiked shrimp canapes from chef George Mendez of Aldea. Take a peek at the scene in our gallery.