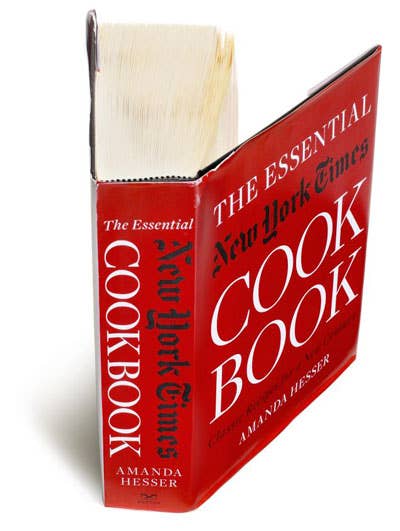 Shopping & Reviews
Book Review: Recipes of Record
The New York Times' new culinary opus strikes a careful balance between upholding an archival mission and delivering solid recipes.
Like much of my generation, I started cooking with the help of Craig Claiborne, whose New York Times Cookbook (Harper & Row, 1961) offered new dimensions to my food world: Indonesian sambal, crepes Suzette, shrimp remoulade, and more. This sprawling book, culled from Claiborne's columns for the Times, was a best seller for nearly 20 years.
Now, half a century later, when our cooking styles have changed nearly as much as our technology has, Times writer Amanda Hesser offers a current perspective on the way America cooks and eats. Drawing on 150 years' worth of dishes and drinks published in the Times, she includes well over a thousand recipes in The Essential New York Times Cookbook (Norton, 2010). Many were nominated by Times readers via e-mail and letters to Hesser (the most frequently requested: a scrumptious plum torte that first ran in 1983) Others were picked by Times staff. Each appears with its provenance, and Hesser tested them all.
The result is a tremendously appealing collection of recipes that tell the story of American cooking: some—like lobster rolls or grilled hanger steak—are popular standards today; others are early versions of enduring favorites. It took me two days to cook the okra soup with beef and oysters from 1882, but as the rich aroma of this gumbo rendition filled my kitchen, I was enraptured. I enjoyed preparing a lusty green goddess salad from 1948, as well as reading the salad's history in the recipe's headnote. In fact, many of the recipes can be read for entertainment because of Hesser's excellent introductions. Lots, too, are accompanied by serving suggestions that reveal more of the book's riches: recipe after recipe from Times columnists and readers, as well as chefs, presidents, and other luminaries. The serving suggestions for the sprightly chickpeas in ginger sauce (1999) led me to discover a spinach puree (1986) cribbed from Ismail Merchant, a man who was clearly as good a cook as he was a filmmaker.
Given its wealth of material, the book's organization is complex. Included is a huge general index, along with chapter indexes; and recipes within each chapter are arranged chronologically, emphasizing the book's historical orientation. Still, the history is imperfect: Hesser has updated many recipes, introducing modern tools and ingredients. Though I wanted to know what the original 1879 recipe for larded potatoes looked like, I understood, when stuffing the spuds myself, why Hesser ditched its unwieldy larding needle in favor of an apple corer. (The original recipes are available on the Times' website.) The book strikes a careful balance between upholding an archival mission and delivering solid recipes. No matter how you prefer to cook and eat, you'll find a lot to like inside.