Recipes
Pear Tarte Tatin
Swap out the apples for their elegant orchard cousins in this rustic French dessert.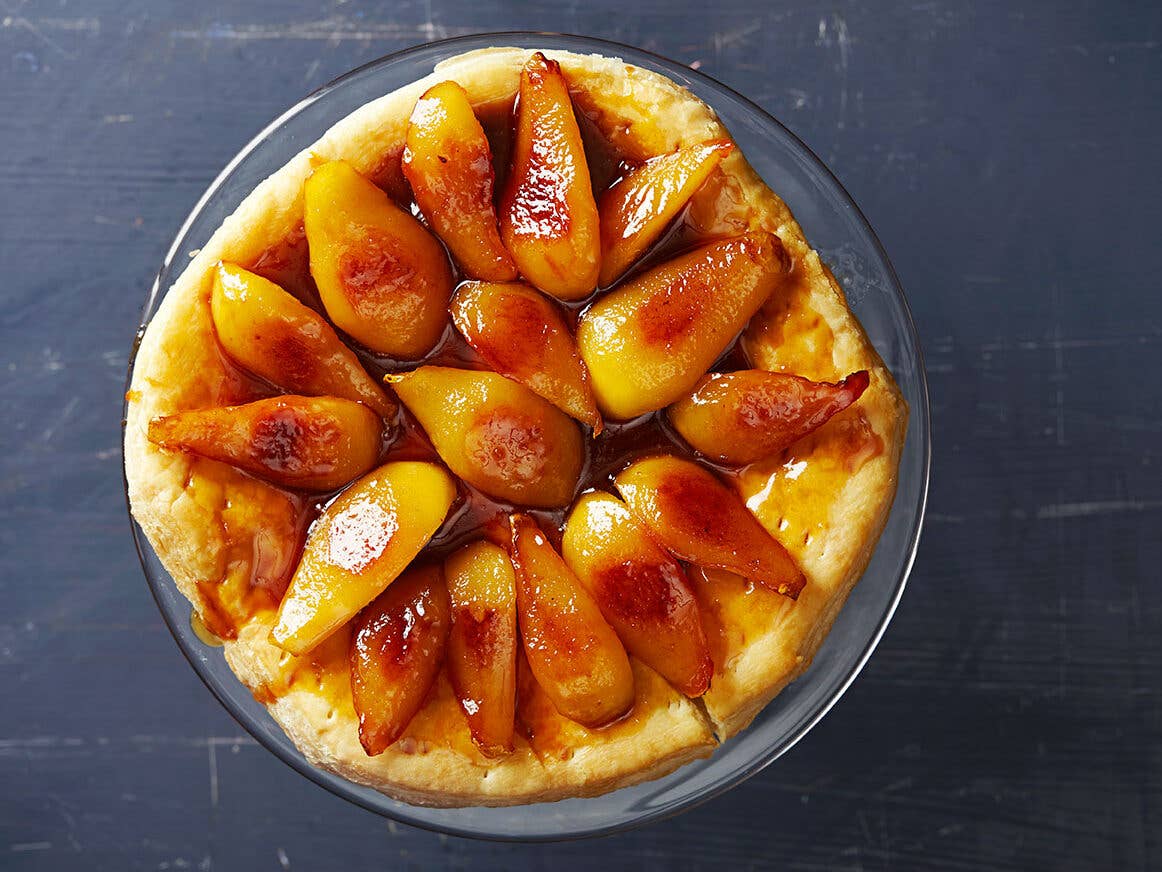 According to culinary legend, the original tarte Tatin was created by the Tatin sisters, Stéphanie and Caroline, at their hotel in Lamotte-Beuvron during the late 19th century. The inverted pastry is usually made with apples, but firm-fleshed pears are also suited to this method. Comice pears remain firm when ripe, making them an excellent choice, but Anjous and Bartletts are great alternatives.
Ingredients
For the Pastry:
1 cup all-purpose flour
1 tsp. salt
6 tbsp. unsalted butter, cold, cut into ½-in. cubes
2 tbsp. shortening, cold
For the Filling:
2 lb. firm pears, peeled, halved lengthwise, and cored
2 tbsp. fresh lemon juice
1 1⁄4 cups sugar, divided
6 tbsp. unsalted butter
Instructions
Step 1
Make the pastry: In a large bowl, whisk together the flour and salt. Using a pastry cutter or your fingers, rub the butter and shortening into the flour mixture until it resembles coarse crumbs. Add 3 tablespoons of ice water 1 tablespoon at a time, and knead until the dough just holds together. Wrap the dough in plastic and refrigerate for at least 1 hour.
Step 2
Make the filling: Position a rack in the center of the oven and preheat to 425°F. On a cutting board, place one of the pears cored-side down. Starting from just below the stem, make 4 evenly spaced cuts lengthwise leaving the stem end intact. Repeat with the remaining pears, transfer to a bowl, and gently toss with the lemon juice and ¼ cup of the sugar. Set aside to macerate for at least 20 minutes.
Step 3
Meanwhile, in a 9-inch cast-iron skillet set over medium heat, melt the butter. When the foam subsides, add the remaining sugar and cook, stirring continuously, until it turns light amber. Remove from the heat.
Step 4
Drain the pears (discard the liquid) and arrange them round-side down atop the caramel with their stems pointing toward the center. Gently fan the slices.
Step 5
On a lightly floured surface, use a flour-dusted rolling pin to roll the dough into a 10-inch circle about ¼-inch thick. Drape the dough over the pears, using your hands to tuck the pastry around the fruit. Cut four ¼-inch steam holes in the center and bake until the pastry is golden brown, about 25 minutes.
Step 6
Tilt the skillet slightly, and using a baster, transfer the excess juices to a small bowl. Carefully invert the tarte onto a large plate. To the empty skillet, add the juices and turn the heat to high. Reduce until thickened, about 3 minutes, then spoon or brush it over the pears. Serve warm or at room temperature.