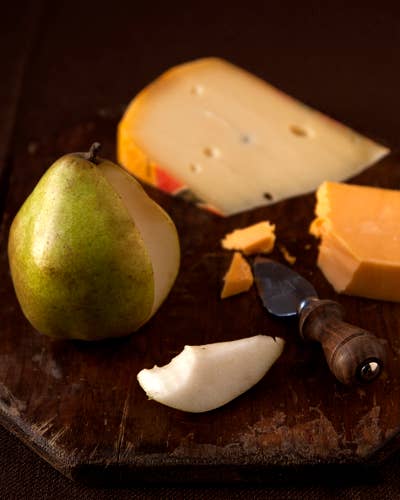 Techniques
Tasting Notes: 10 Types of Pears
Our guide to the different varieties of tastes and textures.
Sampling ten types of pears here at the SAVEUR office, the differences in flavor and texture were surprisingly clear; each has its own personality: biting into the sweet, bright Green Anjou is a completely different experience from the almost overwhelmingly floral Starkrimson. Pears of all stripes are widely available in most food stores and markets across the country through fall and winter; here are ten of our favorites. See our tips for how to buy, store, and cook with pears »
Green Anjou
Bright green even when ripe, the Green Anjou is easily identified by its squat, egg-like shape. Sweetly mellow with a smooth and juicy texture, this is the kind of pear to eat for breakfast: sliced over warm cereal, its flavor is both comforting and bright. While it's delicious eaten raw, it's versatile, holding up just as well to baking, poaching, and roasting. The most abundant variety in the U.S., these pears are always easy to find. The firm flesh would work well in this Pear Tarte Tatin.
Red Anjou
Similar in size and texture to its green cousin, the Red Anjou is sweeter and milder, with subtle hints of sweet spice replacing the Green Anjou's citrus notes. Use just as you would the green in any application, though the glowing red skin adds a nice pop of color when sliced into green salads.
Bartlett
This green-gold traditional canning pear is what comes to mind when you think of "pear flavor." Mild and sweet with subtle, fragrant citrus notes, when they're a little green best any way but raw: canned, pureed, or baked. When ripe, the soft flesh bruises easily but rewards eaters with copious juice.
Red Bartlett
With a bright, fresh sweetness and delicate floral hints, this pear is all about flavor. Smoother and sweeter than its yellow cousin, the Red Bartlett is similarly good for canning and preserves, and a much better choice for eating out of hand.
Bosc
Bosc pears are a favorite for poaching and baking since their firmer texture means they retain their elegant shape when cooked. Boldly flavored, with an almost smoky sweetness and a gentle earthy musk, they're a pleasure to eat. For a special dessert, try using them in this French Tarte Bourdaloue.
Concorde
The Concorde is appropriate for just about any circumstance, but on its own, it's never going to bring you to your knees. Sweet and fragrant with slight hints of vanilla, it is a good choice for baking and poaching, holding its shape well at high heats. Another perk: the flesh doesn't brown in the air as quickly as other pears, making it a good aesthetic choice for garnishes and salads.
Seckel
Here's a little pear worth seeking out: with velvety flesh that sings in notes of sweet champagne, enjoy this pear out of hand, or balance its sweetness with some good sharp cheese and a glass of wine. Roasting the pears transforms the grained, juicy flesh into a decadent side dish.
Comice
Lusciously textured and earthy in flavor, these mellow pears make exceptional desserts, and pair well with cheese. Try the sweet pear served raw, or poached like these Chestnut Honey Pears.
Forelle
"Forelle" means "trout" in German, a namesake reflected in this small pear's red-spotted green skin. Firmer and tarter than other varieties, this pear resembles an apple in both taste and texture, great for eating out of hand or sliced with salads, cheese, or a drizzle of honey.
Starkrimson
The Starkrimson has a lingering taste of perfume and a smooth, soft texture. This pear is best baked, which diminishes its strong floral flavor — it can be cloying when eaten raw.