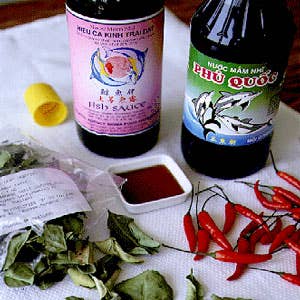 Ingredients for our Vietnamese recipes are surprisingly easy to find in the U.S. We recommend Nicole Routhier's The Foods of Vietnam (Stewart, Tabori & Chang, 1989) for more information.
1. Fish sauce (nu´o'c mam) A thin brown sauce of fermented anchovies.
2. Kaffir lime leaves Available fresh, frozen, and dried, they add a lemony flavor to broths.
3. Thai chiles Tiny hot red and green peppers used for spice.
4. Dried rice paper (banh trang) Available in various sizes, round or triangular; used for spring and summer rolls.
5. Cellophane noodles (m`ein/bun tau) Also called bean threads; add texture to soups and fillings.
6. Rice stick noodles (banh pho') Flat, thin noodles made from rice flour and water, available in three widths; the medium is most popular for pho.
7. Rice vermicelli (bun) Thin, brittle, white rice noodles, used in soups and salads, and as an essential side dish.
8. Coconut milk (nu´o'c du´a) Used in sweets and curries, and available canned or frozen.
9. **Rice flour (bot ga.o) **Made from long-grain rice; used for making sizzling pancakes.
10. Tamarind (me chua) The pulp of this sour-tasting fruit, sold in soft blocks, must be soaked and strained.
11. Wood ear mushrooms (nam meo) To add texture; when soaked in water, they expand to four times their size.
12. Lemongrass (xa) An aromatic tropical grass. Tough outer leaves are removed, the inner stalk crushed and chopped.
13. Dried lemongrass Shredded and dried, to be reconstituted.
14. Holy basil (rau que ´) Purple and green, with an intense anise flavor.