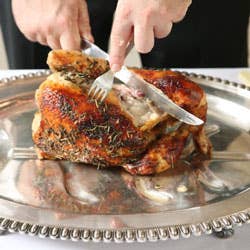 1. Set chicken on its side with the breast away from you. Place a fork against the thigh to steady chicken and, using a carving knife, cut between the body and the leg to begin to separate the two.
2. Pierce the breast with the fork to steady the chicken, and complete the separation of leg from body by working the knife through the connecting joint. Set the leg aside on the carving platter.
3. Hold the breast down with the fork. Using the knife, make an incision alongside the wishbone. Make a deep cut along the breastbone to remove breast meat. Halve and set aside on carving platter.
4. Separate the drumstick from the thigh by cutting through connecting joint while holding the leg steady with the fork. Turn the chicken over and repeat preceding steps on the other side.