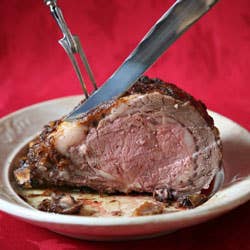 1. Using a carving knife, cut a thin slice off one side of the rib roast to create an even base. Place the roast on a large carving platter, cut side down, with the bones to your left.
2. Steady the roast by pressing the carving fork firmly against the topmost bone. Using smooth, even strokes, make a horizontal cut toward the bone to make a thick slice.
3. While continuing to hold the roast steady with the fork, make a smooth, downward cut as close to the bone as possible to separate the slice from the rest of the roast.
4. Using the knife and carving fork, transfer the slice to a warmed serving platter. Repeat preceding steps until you've worked your way to the bottom of the roast.