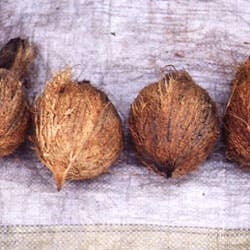 Coconuts grow so plentifully in Kerala that the state is sometimes known as the Land of Coconuts. Not surprisingly, these brown orbs are a mainstay of the local cuisine. Freshly grated coconut and fresh coconut milk are worth the effort; dried unsweetened coconut and canned unsweetened coconut milk may be substituted, but they aren't nearly as flavorful.
DRAINING: With an awl or an ice pick, puncture one of the coconut's three "eyes", drain the water into a bowl, and take a sip. If it tastes or smells musty, it's spoiled; try another coconut.
OPENING: Bake the drained coconut (see above) on a cookie sheet in a preheated 325° oven until large cracks form in the shell (about 15 minutes). Let the coconut cool, then whack it with a hammer to loosen the shell. Pry out the meat and remove its brown skin with a vegetable peeler.
GRATING: Grate the peeled coconut pieces on the medium-size holes of a box grater. One coconut yields about 3 cups of grated meat. Stored in the freezer in an airtight container, it keeps for 1 month.
EXTRACTING MILK: Fresh coconut milk is made by combining grated coconut and plain water. To make "first milk", a thick liquid, put 1 grated coconut in a food processor with about 1⁄2 cup water, and pulse 3-4 times. Pour the mixture into a fine sieve set over a bowl, and press out liquid with your fingertips; this makes about 3⁄4 cup. (This milk will curdle if boiled, so it's added at the end of cooking to give flavor and thickness.) "Second milk" is thinner and won't curdle. Mix the pressed coconut from the first milk with about 3⁄4 cup water, and repeat the process above; this makes about 1 cup. Discard grated coconut. Fresh coconut milk, if stored in the freezer in an airtight container, keeps for several months.