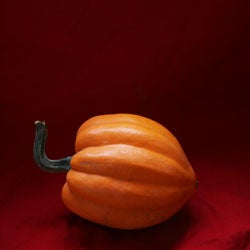 1. Cheese Pumpkin
With a flat-lidded frame whose shape evokes a waxed wheel of cheese, the cheese pumpkin is one of the oldest cultivated varieties of pumpkin. Cheese pumpkins grow quite large, averaging between six and 12 pounds, and have vibrant, sweet orange flesh and a smooth, tan body that when hollowed out becomes a beautiful serving vessel.
2. Sweet Dumpling
This petite squash has striking, dark green stripes and firm, mild flesh that is sweeter and drier than that of many other varieties of winter squash. Its small size makes it perfect for one serving, and the peel is soft enough to be eaten, too.
3. Red Kuri
The red kuri is a textured oriental squash with a pear-shaped body, bright orange peel, and an extremely hard shell. Its meaty flesh is especially well suited to savory dishes.
**4. Golden Acorn
**
With its brilliant ocher peel and petite, symmetrically bowed silhouette, the golden acorn is a squash beauty queen. Golden acorn squash are delicious when baked and topped with a smear of butter and cinnamon or maple syrup.
**5. Crown Prince
**
Like a ghostly gray-blue giant, the crown prince can grow to a size of more than 14 pounds. These pumpkins keep very well through the winter and are tasty in a variety of preparations, including pumpkin cake, pumpkin gnocchi, and pumpkin soup.
**6. Golden Papaya
**
The golden papaya is a medium-size oriental squash with smooth, mottled green and yellow skin. When cooked, it is incredibly sweet and pairs well with curry and coconut.
**7. Baby Pam
**
With its brilliant orange, round, ribbed body, the baby pam looks like the Platonic ideal of the pumpkin, only in miniature. But unlike its larger, look-alike cousins, the baby pam is a "sugar pie" pumpkin, which means that it's just as appropriate for baking as it is for decorating.
**8. Banana Squash
**
The banana squash is a comical-looking, dappled orange and green, cigar-shaped specimen that grows so long that it is usually cut into small chunks before being sold and eaten. Like butternut squash, it has lovely gold, yielding flesh.
9. Buttercup Green
Small and squat, the buttercup has a shiny, forest green exterior with subtle gray undertones. Its firm and fruity flesh is ideal for stuffing or added to stews.